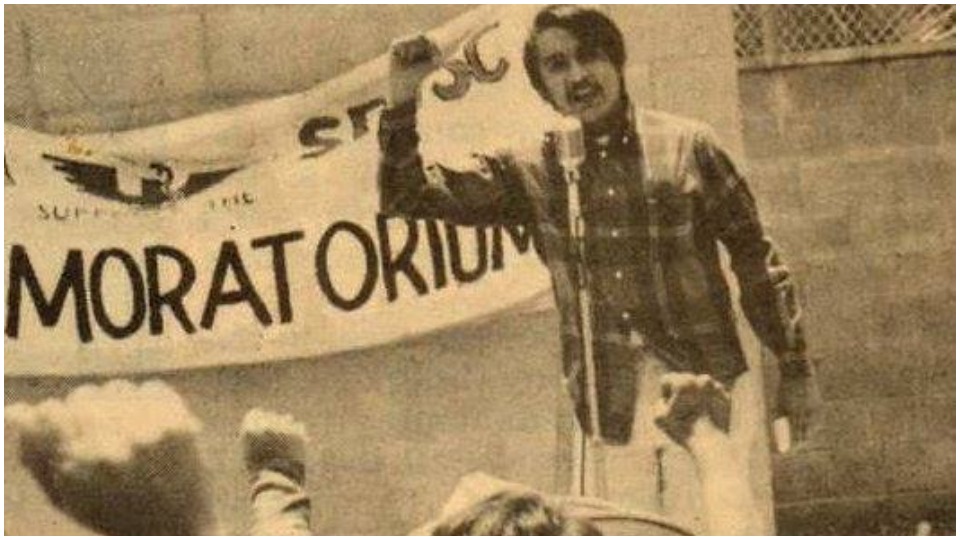 LOS ANGELES—Mi Vida Boutique and the Southern California Chapter of the National Writers Union UAW Local 1981 hosted an evening of activist culture in the largely Latinx area of Highland Park, north of downtown Los Angeles. The event on July 30 drew songwriters, poets, novelists and Native American bird dancers. Members of the NWU and others in the audience of over 25 commented on the rich and varied display of talent in what was the first of a series proposed by union member, playwright and community activist David Trujillo.
Teresa del Carmen Gonzalez, a writer, former UTLA (teachers union) member, student activist and defender of the rights of minority children in the Los Angeles public schools, was the mistress of ceremonies. After her welcome she offered a presentation on Emma Tenayuca (1916-99), an activist woman who at a very young age organized factory workers in pecan shelling and cigar making. Tenayuca also founded two locals of the International Ladies Garment Workers Union in San Antonio, Texas. The workers there were forced to go strike for better working conditions and wages when bosses and owners refused to share the profits of the work done by overwhelmingly Texan and Mexican women workers.
Ron Baca read highly emotional memories of vivid moments spent with friends of youth who left their lives, sacrificed for war industry profits, on fields of death in Vietnam. Miguel Roura, an immigrant now citizen and brother NWU member, recalled his rise out of being tracked in schools as a "slow learner" after momentarily overcoming childhood timidity by rising to solve a simple division problem the teacher had placed on the blackboard. Roura went on to become a teacher of English at Roosevelt High School where he fought to improve and correct, for the next generation, the poor education he had received at Lincoln High School in East Los Angeles in the late 1960s. Recalling another moment, while a freshman at UCLA at the beginning of the semester, and rising again over timidity, he chose to respond to an older college Chicanx activist, Jaime Soliz, who was barking over the noise of campus life for college students to get in a van and go support the students in East Los Angeles in the now historic and famous High School Walkouts.
Rouda also recognized the historic work and mentoring done by audience member Rosalio Muñoz, historian, former UCLA student body president, a Vietnam draft card resister and a leader of the famous Chicano Moratorium against the Vietnam War, the largest march and demonstration ever organized and composed primarily by Mexican Americans against the Vietnam War. Muñoz currently is curating a Chicanx historical exhibit and is an activist at the Church of the Epiphany in Lincoln Heights, Los Angeles.
Noelle Reyes, artist and proprietor of Mi Vida Boutique, shared how her writing at an earlier age had morphed into the beautiful art work and creative clothing design carried at the shop. She also expressed her personal commitment to continue the work for social justice by giving back to her community in the form of providing a venue space for the evening's activity.
Gloria Flores presented her recent book, Bird Dance. The bird dance is a Native American tradition of the California Quechan Indian Tribe. Accompanying Flores were three Native American women in full costume who performed the dance and explained its meaning and use.
David Trujillo read a small section of his next work, a short story entitled, "Bullhead Torres and the Capone Boys." It tells of a witness to the murder of farm workers trying to organize their union. He also explained that he is now putting out feelers for a San Francisco-area production of his play Many May Not Return, which had successful runs in Los Angeles and Chicago.
The activist writer series is meant to bring cultural activists together to promote art, voter registration and voter turnout in 2020 in order to defeat the anti-people, anti-union and warmongering U.S. president and his administration. In that vein the chorus of one of the songs (written and premiered by yours truly) that evening says:
Grab your phone and tweet your neighbor, grab your phone and text your friend,
Get a move on, don't be lazy, there's a planet to defend.
There will be rejoicing, come election day
When the people finally go to vote, and the voters have their say.