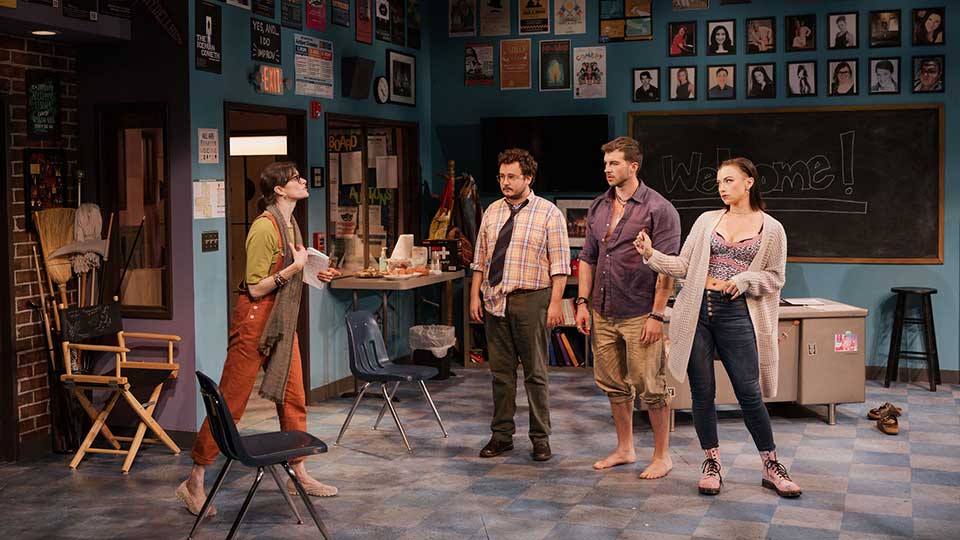 SANTA BARBARA, Calif.—What is to be done about Thanksgiving? What does it even mean anymore? How do we celebrate it? Should we at all? And most importantly, how do we teach it to our children?
What happens when an earnest, politically savvy, vegan drama teacher "anywhere but the Los Angeles area" prepares to stage a play for elementary school kids that bypasses all the old myths, that tells the truth about invasion, colonial settlement, Native genocide, in a way that will entertain and educate, but not terrorize the little ones?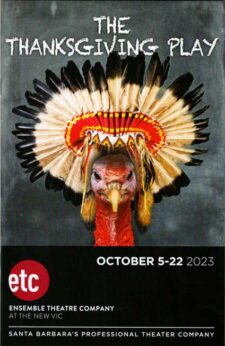 Playwright Larissa FastHorse (Sicangu Lakota Nation) employs heavy dollops of satire to address these questions in The Thanksgiving Play. "I use a lot of satire," she told Bruce Norris in an interview in American Theatre (February 2019). "What I love about satire—I don't know, maybe I'm wrong, but I feel like it's one step up from comedy. Because comedy seems to be the basement of no respect in theatre—though it is, in my opinion, the hardest thing to write and perform well. On this play, I say it's a comedy within a satire. I structured it that way. I guess I fight to say 'satire' because 'comedy' is death for critics: 'It's just a comedy.'"
Audiences at the New Vic will howl with delight at the antics on stage at Santa Barbara's sole professional actors' union Ensemble Theatre Company, watching four characters stumble over one another pronouncing their well-practiced vocabulary words of empathic allyship. Unless you happen to be Native yourself, FastHorse knows that white people are producing theatre, white audiences are attending theatre: Our laughter cannot disguise the knowing discomfort of self-recognition in the mirror she's holding up to us.
"Theatres, like ETC, have a responsibility to help bring new perspective and voices to the forefront, especially as we all navigate today's evolving societal norms," says Scott DeVine, ETC's executive director. "Bringing The Thanksgiving Play to the New Vic delivers on that responsibility by providing our audiences with the opportunity to experience the creative work of the only Native American Broadway playwright, Larissa FastHorse. Our hope is that this production will inspire conversations around our collective history as we all embark upon the holiday season."
A full-color page in the program, "Honoring Santa Barbara's Chumash History," signifies quite a bit more commitment than the perfunctory land acknowledgments we hear so often at the theatre and other public events.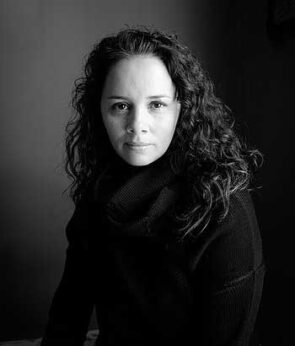 The award-winning writer and MacArthur fellow FastHorse is the first Native American woman known to have had a play produced on Broadway (at the Hayes Theater). Her play returned to Broadway earlier in 2023 in a production by Second Stage Theatre. In her own bio, FastHorse acknowledges the last known Native American antecedent on Broadway, the gay male Cherokee Lynn Riggs (1899-1954), author of Green Grow the Lilacs, which was turned into the musical Oklahoma.
"[B]eing half-white myself," FastHorse says, "I'm someone who can 'pass' in many ways. So all of those things that were painful in my childhood—growing up feeling outside my Lakota people and being called a half-breed—those things have turned into my superpower, right? I can code-switch like nobody, and I understand the white world of theatre and how those things work in a way that, unfortunately, most Native folks haven't been given access to. I do think colorism plays a part in it too—that I'm a 'safer' Native: I'm an attractive, female, not-too-dark Native. All those things probably play a part in why I'm in the room."
The Thanksgiving Play was published in full in that same 2019 issue of American Theatre.
"We are so fortunate to be able to bring The Thanksgiving Play to Santa Barbara," says the play's director Brian McDonald. "Audiences can expect a hilarious journey that dissects the absurdity of political correctness and challenges the way we celebrate Thanksgiving. I cannot wait to serve this delicious theatrical Thanksgiving platter that will leave patrons thankful for the power of humor and the unifying nature of theater. Together, we embark on a journey of self-discovery, highlighting the absurdity of well-intentioned endeavors and the transformative power of recognizing our limitations."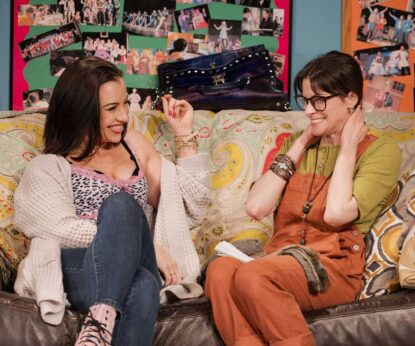 The hard-working cast are fully invested in their split-second farcical timing for an hour and a half without intermission. Devin Sidell is the drama teacher Logan, who has invited three others into the project of collaboratively creating the school play. Her boyfriend, the insufferable yoga dude and street performer Jaxton (Adam Hagenbuch), is the very model of a major woke ally whose positive stereotypes of Indigenous peoples are almost as offensive as the negative ones promulgated throughout American history. ("Do you know how hard it is to be a straight white man and feel less than?")
Caden is a high school history teacher and amateur writer who has come prepared with a fact-based script that is over the top in every way: too much information, too adult, too explicit, too violent. Logan has secured a small grant to hire a Native actor to counsel the production and, mentored by Logan, star in it. That would be Alicia (Ashley Platz), the ambitious buxom ingenue with limited talent and education who turns out to be at best Native-adjacent.
How will their good intentions combine to concoct a pageant for children that somehow manages to celebrate both Turkey Day and Native American Heritage Month? The performative wokeness is side-splittingly, outrageously funny—and all too familiar. In the end, can white people really say anything about Thanksgiving? Curiously, the most honest person in the room, with the least pretense and most self-knowledge, and who grows and learns, is the one from whom we hardly expect those qualities.
In a more recent interview for American Theatre (April 14, 2023), FastHorse says, "[T]he one thing about Indigenous people in this country is that we have an understanding that there's nothing new. It all just keeps coming around. When Trump was in office, I was like, you know, this is not new for us. We've actually seen worse. We've seen outright genocide. We've been hunted for bounty. There's always a new one, and they keep coming and going and we keep persevering"—even as presidents, starting with George Washington, urged that Natives be extirpated.
Can we ignore the fiery accusation against the British monarch in our Declaration of Independence? "He has excited domestic insurrections amongst us, and has endeavoured to bring on the inhabitants of our frontiers, the merciless Indian Savages, whose known rule of warfare, is an undistinguished destruction of all ages, sexes, and conditions." Talk about projection!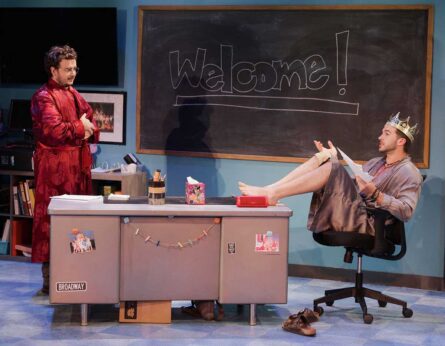 "We are living the longest black comedy in the world," FastHorse continues. "A complete melding of comedy and tragedy in our lives is with us every single day and has been for centuries." She pointedly observes that she can tell when Native people are in the audience: They laugh at in-jokes the whites don't get.
Well, then, I asked my companion, a mother and grandmother who's raised kids, How should we look at—celebrate—Thanksgiving?
What's the main thing people think about at Thanksgiving? she answered. Not Pilgrims and Indians, not pumpkin and succotash. They think family, togetherness, warmth, home, delicious food, autumn harvest, and bundling up for winter, a safe place with folks you know. Maybe the whole origin story needs to be downplayed, at least for the youngest kids. Introduce age-appropriate learning as they grow.
That would be a far cry from one of the most humorous, though embarrassingly squeamish features of the play—a series of Thanksgiving holiday skits that educators can find searching online, with extremely racist, old-fashioned, and wrong pseudo-information and caricatures of Indigenous peoples. I can only assume these are real school videos, not made-up, but even a casual glance at some of the standard children's textbooks will be evidence enough that such views dominated our culture for centuries—and will go on doing so if the War on Woke wins the day.
Is the humor too self-conscious, too forced, too much? Do the actors prance around like New Age Marx Brothers in a madcap post-modern sitcom? Is the enacted violence against Native peoples a little too vivid? Are there too few moments of sincere introspection? Perhaps so, for some theatergoers. But even they will leave the theater with an elevated, or at least renewed sense of sober American citizenship that must necessarily contemplate a better future for our First Nations.
Scenic and lighting design is by Mike Billings, and sound design is by Randall Robert Tico. Costume design is by Abra Flores, with properties by Jenna Scordino. Casting is by Michael Donovan Casting. Ward LeHardy is the dramaturg.
The Thanksgiving Play runs through Sun., Oct. 22, at The New Vic, 33 W. Victoria St., Santa Barbara. Performances are Weds. and Thurs. at 7:30 pm, Fri. and Sat. at 8 pm, and Sun. at 2 pm. An added performance takes place on Weds., Oct. 18 at 2 p.m. Tickets are available through the ETC box office at (805) 965-5400, or online at etcsb.org.