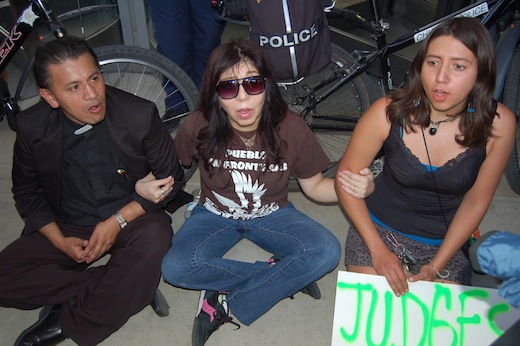 CHICAGO – Declaring, "No human being is illegal", immigration justice activists and undocumented youth marched on the Immigration Court here May 15 to demand a halt to detentions and deportations of undocumented immigrants and their families.
Demonstrators marched from Little Village, the heart of Chicago's Mexican American community to the court where they blocked the building entrance resulting in three arrests.
The protest was part of a week of actions greeting the NATO summit May 20-21 in Chicago.
"We are protesting immigration judges who are ignoring the memorandum issued by the Obama administration to not deport people who don't have criminal backgrounds," said Jorge Mujica, a leader of the protest. "The immigration agent arrests you, but it is the judge that effectively deports you."
"Out of the million that have been deported, 600,000 didn't have any criminal background. They were just workers with jobs. Many were parents of US children who were U.S. citizens," said Mujica.
Also participating were groups opposing the construction of a new 785-bed immigrant detention center in Crete, Illinois, which would be operated by the private Corrections Corporation of America (CCA).
"Immigration and Customs Enforcement (ICE) is partnering with CCA, who is making a killing in the prison industry," said Rozalinda Borcila of Moratorium on Deportations Campaign. "This is a parallel prison system that is being built with absolutely no checks and balances."
Borcila said the detention centers are being advertized as spas and family friendly. However, detainees, including children, have no guaranteed right to individual bond hearings or individual due process rights as guaranteed by the US Constitution.
"We need immigration reform to deal with globalization. Instead we are getting detention reform and privatization that pushes more people into detention" she said
"CCA and ICE claim that 200 jobs will be created," said Artemio Arreola of the Illinois Coalition for Immigrant and Refugee Rights. "But they will close three other facilities and eliminate 195 jobs to do it."
Arreola called upon the Illinois General Assembly to pass SB 1064, which has already passed in the state senate. The bill would prevent the privatization of the jails.
According to Mujica the privatized jails are charging the United States between $119-$135 to house a detainee over night. There is tremendous pressure by CCA and other private contractors to fill the jails and keep rounding up immigrants in order to maximize profits. The agreement in Illinois calls for a guaranteed 80% capacity which immigrant reform groups fear would fuel more roundups.
"It used to be detainees were held for 24-48 hours before they were deported. Now detainees are held for 4-9 months. Every night counts for the private corporations who are making a business out of immigration," said Mujica.
Further anti-NATO actions include:
Wed., May 16 – Housing is a Right: No Evictions, No Foreclosures!
Thu, May 17 – Planet over profit and war
Sat, May 19 – Health care not warfare
Mon, May 21 – Shut Down Boeing!
May 18 – 19 – Counter-Summit for Peace and Economic Justice Coordinated by AFSC, National Peace Action and others
May 18 – National Nurses Union March against G8
May 20: March and Rally to Protest NATO, starting at noon at Petrillo Bandshell. The Iraq Veteran's Against the War (IVAW) will conduct a March for Justice and Reconciliation, where they will return their medals to NATO.
Photo: Protesters sit down May 15 in front of the Immigration Court in downtown Chicago to draw attention to the draconian deportation and detention practices of Immigration and Customs Enforcement. (PW/John Bachtell)