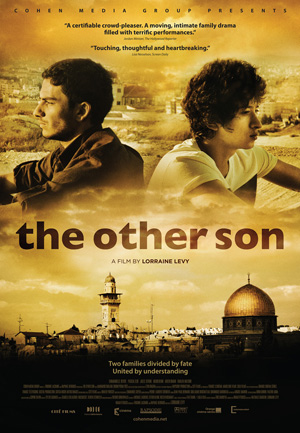 What does it mean to be a parent? A Jew? A Muslim? Israeli? Palestinian? What is the nature of identity politics when you don't even know what your identity is? The new French film The Other Son addresses these questions in another installment of the lengthening stream of movies focusing on the Israeli/Palestinian blood feud.
When 18 year-old Joseph Silberg reports for mandatory service in the Israeli military, blood tests reveal he is not the biological son of Alon, an Israeli army colonel, and Orith, a prominent physician, but of Said and Leila Al-Bezaaz, Palestinians living in the West Bank. As newborns, the two families' sons were switched in a Haifa hospital on January 23, 1991, during the Gulf War, when the infants were evacuated to safety from Scud missiles. As a consequence of this fateful mistake, the Silbergs' true son, Yacine, grows up in Palestine with the Al-Bezaaz family. These revelations turn the two families' lives upside down, forcing them to reassess core values and beliefs.
A prominent "character" in the film is the Wall, the separation between prosperous, bourgeois Israel and the occupied, seething West Bank. The gaping economic schism between the two sides plays out in the film in a myriad of ways, large and small. On Yacine's trips to the Israeli seaside to visit his biological family, he takes a day job selling ice cream to sun-worshiping beach goers, many of whom just happen to be beautiful young women. For him it's little more than a lark. Returning home to the West Bank, he gives his mom the money he earned-more than his Palestinian dad makes in an entire week working as a mechanic. Although Mr. Al-Bezaaz must spend his working hours underneath automobiles, he is in fact a trained engineer with no opportunity to ply his true profession.
Scenes exploring sex-role stereotypes reveal that there is no unanimity among the under-twenty crowd regarding compulsory military service in Israel. Joseph's female contemporaries relish the idea of serving; conversely, his male friends openly discuss avoiding conscription by pulling every available string.
The two boys' mothers, while deeply shaken by the shocking turn of events, possess the cooler heads, seeking cooperation in the face of the crisis. As the story ripens, the universality of a mother's love for her children shines through. Their husbands, predictably enough, work through their pain and confusion by acting out in passive-aggressive and territorial fashion confronting their forever changed familial landscapes.
Similarities each boy shares with his birth family are highlighted in touching ways. Yacine has just returned from high school in France where he was preparing to enter medical school. His ultimate goal is to become a doctor, a telling echo of his biological mother's profession, and to someday build a hospital on the West Bank to serve his people. Similarly, Joseph is a sensitive musician, shown in a lovely scene during his tense visit to the Al-Bezaaz home, where he breaks the ice singing a well-known Arabic song at the dinner table to his birth father's skilled stringed accompaniment. The rest of the family, even the angry brother Bilal, chimes in with soulful, symbolic harmony.
The screenplay by Lorraine Levy (who also directs), Nathalie Saugeon, and Noam Fitoussi is something of a modern-day interpretation of the story of Isaac and Ishmael, the patriarch Abraham's two sons, one by his Jewish wife and another by his servant, Hagar. The Bible tells us that the two sons came together at the end of their father's life to bury him. In its earnest and at times moralistic way, the fairytale of The Other Son also tells us that this ancient blood-brother enmity can be overcome. The film might have benefited from extracting a bit of humor out of this quintessentially Gilbert & Sullivanesque baby-swapping set-up that screamed out for release in some absurdist joke-making.
An unexpected act propels the piece toward its dénouement. The two families convene, questions are posed, others are answered. Can't we all just get along? Is it nature or nurture that makes us who we are?
Movie review
The Other Son
Directed by Lorraine Levy
2012, France, 105 min., PG-13