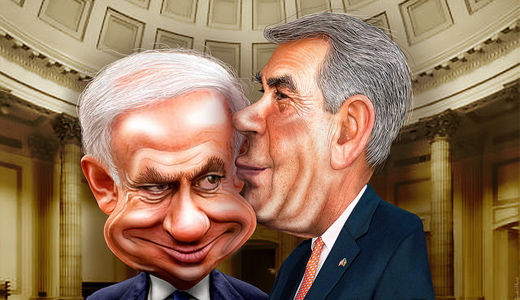 It was a spectacle that had few if any parallels in the modern history of nations: a foreign head of state invited by an opposition party to directly intervene into a debate over a country's foreign policy.
But that is exactly what happened when House Majority Leader John Boehner, deliberately not consulting with the White House or State Department, invited Israeli Prime Minister Benjamin Netanyahu to address a joint session of Congress.
The insult was obvious and precipitated a boycott of the address by 60 members of Congress along with the president, the vice-president and others in the administration. Not so obvious was yet another challenge by the far-right to the role of government regarding its responsibility for statecraft: One political party in a divided government abrogated the traditional, constitutional right of the executive to conduct foreign policy.
But Benjamin Netanyahu was brought to Washington to help do just that. The aim was to brazenly derail the Obama administration's attempt, along with four other countries, to reach a nuclear deal with Iran.
Despite the Israeli prime minister's lame and false claim that his address was "not political" – and this from a candidate facing a general election in two weeks – Netanyahu lambasted Obama's negotiations with Iran, insisting that the Iranian government could not be trusted. He claimed further that the 10-year time period for the agreement was far too short and that Iran's nuclear production facilities would be left in place. He implied over and over again that the administration was naive and hadn't a clue as to whom they were dealing with.
And yet in a world in which ever more countries have acquired the technological capacity to produce nuclear weapons, what options are there other than diplomacy and negotiation? While production facilities can be taken off line or destroyed, the scientific and technological know-how cannot. And even production facilities can be quickly replaced.
And surely an important irritant in the Greater Middle East is the widely known, if not officially admitted, fact that Israel possesses nuclear weapons – the sole nuclear-armed country in the region.
Engagement and negotiation are the only realistic alternatives to military diktat, terrorism and devastating war. As for trusting a problematic government, remember that when our own government first entered the nuclear arms race some 70 years ago, the barbarism of segregation still ruled our land, thinking anti-capitalist thoughts was criminalized here, and so was intercourse between people of different races and same-sex couples. It took a broad based domestic peace and civil rights movement to compel a sea change in public attitudes and prevent further use of nuclear weapons.
So too with other countries including Iran. One thing is sure, military bluster, intervention and a steadfast refusal to find a solution to the Israel-Palestine conflict will only make the region and the world less safe.
At the end of the day, negotiations leading to complete nuclear disarmament are the only sure way to step away from the brink and bring about a sustainable and lasting peace. A majority of Americans, including Republicans, favor a negotiated solution with Iran. Congress would be ill-advised not to heed the public's strong desire.
Photo: Israeli Prime Minister Benjamin Netanyahu, left, and House Speaker John Boehner, R-Ohio, play "kissy-face." | DonkeyHotey CC 2.0