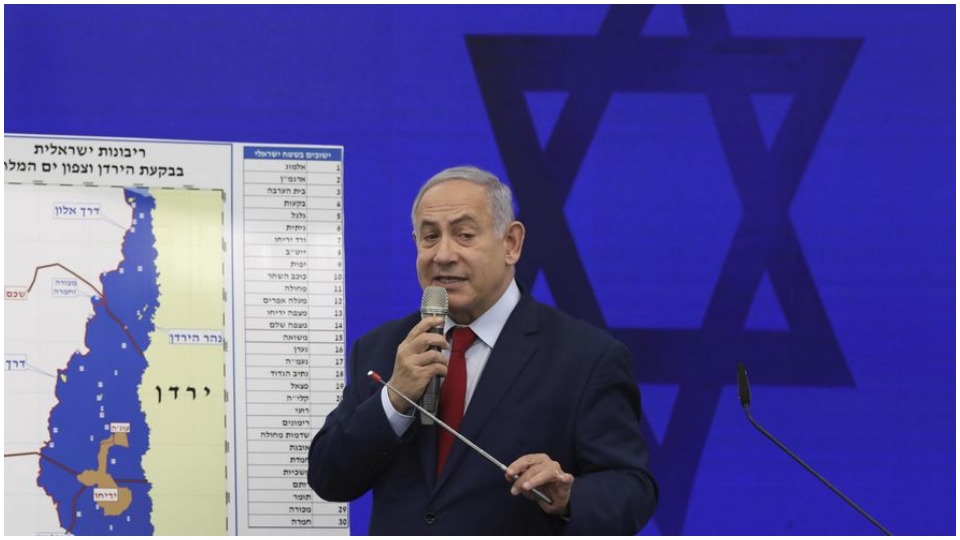 Israeli Prime Minister Benjamin Netanyahu's promise to annex a third of the West Bank after the general election was globally condemned yesterday as a "burial of peace."
Netanyahu promised "Jewish sovereignty" over the Jordan Valley and northern Dead Sea "in coordination" with the U.S. if he is returned to office next week.
"We haven't had this kind of opportunity since the Six-Day War, and may not have it again for another 50 years," Netanyahu said on Tuesday.
The Israeli leader did not say what would become of the more than two million Palestinians in the region but noted that the annexation would need to wait until the publication of U.S. President Donald Trump's plan for a peace agreement between the two nations.
Israel has occupied Palestinian lands in the West Bank since the 1967 war. There are 400,000 settlers in the West Bank, along with a further 200,000 in East Jerusalem.
Palestinian Authority President Mahmoud Abbas said he will disregard all agreements signed with the Israeli government if Netanyahu annexes any part of any Palestinian land.
Jordanian Foreign Minister Ayman Safadi called the move a "dangerous escalation that shatters the foundations of the peace process."
Palestine Liberation Organization Secretary General Saeb Erekat tweeted that the region had seen "enough wars."
"We need to end the conflict and not to keep it for another 100 years, as Netanyahu plans," he said.
United Nations spokesman Stephane Dujarric said: "Any Israeli decision to impose its laws, jurisdictions, and administration in the occupied West Bank is without any international legal effect.
"Such a prospect would be devastating to the potential of reviving negotiations, regional peace, and the very essence of a two-state solution."
The EU also said it would not recognize any change to Israel's borders that was not agreed to by both sides, while U.S. Democrats Bernie Sanders and Ilhan Omar warned the move would be the end of a possible two-state solution or any peace deal.
In contrast, the regional council leader of Israeli settlement bloc Gush Etzion said that applying sovereignty to the West Bank was a "dream come true" and that the rest of the "homeland" must follow.
The Sovereignty Movement, which advocates annexing the entire West Bank, said it made the "grim" chances of establishing another Arab state unlikely.
Morning Star