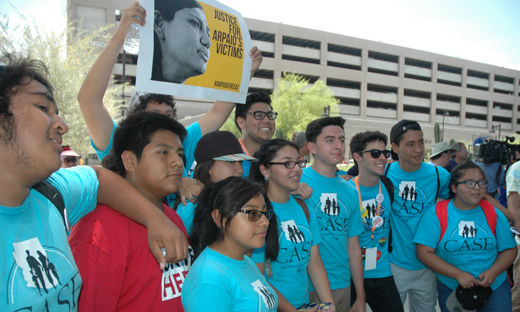 PHOENIX – Some delegates to the massive Netroots Nation conference in Phoenix, July 16-19, discussed unions' role in progressive causes – and the need for progressives to support unionists and workers' rights.
But seminars on that issue and others took a back seat to the top topics of the conference, comprehensive immigration reform, the battle against anti-Latino racist local sheriff Joe Arpaio, and the battle against racial injustice, whose advocates took over a presidential candidates' forum.
The conference drew thousands of activists from labor, civil rights, environmentalist, progressive media and other causes. It also drew two Democratic presidential hopefuls: Sen. Bernie Sanders, Ind.-Vt., and former Gov. Martin O'Malley, D-Md. The purported front-runner, former Secretary of State Hillary Clinton, who addressed the first Netroots conference a decade ago, pointedly stayed away from this year's meeting.
Unionists at the confab included a large delegation from the Communications Workers, a former top Unite Here activist, and AFL-CIO officials Liz Shuler and Tefere Gebre. The latter two spoke off-the-cuff.
CWA delegates were part of a panel on re-enfranchising people with felony convictions, most of whom are minorities. Another panel was headlined "Unions as the answer to the defining issue of our time," income inequality.
Unionists at Netroots also dived into broader democracy issues, including voting rights and money in politics, two topics of the 52-group multi-million-member Democracy Alliance retired CWA President Larry Cohen and the union founded.
And they discussed the anti-fast-track fight in Arizona – and lessons learned from that fight nationwide over presidential trade authority. That fight will continue, AFL-CIO President Richard Trumka said in a separate speech in Texas, as labor will lobby to defeat the worst pact fast-track allows, the Trans-Pacific Partnership.
Unions and their allies ultimately lost the fight over fast-track, which opens the door to so-called pro-plutocrat "free trade" pacts without worker rights and with threats to state, federal and local pro-worker laws. Intensive lobbying and arm-twisting by business, Congress' ruling Republicans and President Barack Obama (D) won him fast-track.
"Citizens and activists across the country are fed up with a government that seems to no longer respond to their needs, but rather the donor class and special interests that don't represent the vast majority of Americans," said CWA Democracy Programs Director Tova Wang, and Democracy Initiative Political Strategist Gregory Moore.
"All our progressive goals are not disparate, but only achievable by connecting them under the umbrella of money in politics and voting rights," the CWAers added.
The sessions with Sanders and O'Malley were taken over by activists protesting oppression of African-Americans.
Tia Oso, executive director of the Black Immigrant Network, walked on stage, shook hands with O'Malley and welcomed both him and Sanders to Arizona.
"Welcome to Arizona where a black trans-woman cannot walk down the street. Welcome to Arizona where Martin Luther King Day was repealed by a Republican governor," she said.
"We want to talk about individuals that come from Cameroon, and Somalia, and Jamaica, and Central America. Are you going to talk about the Afro-Mexicans that are being caught at the border? Are you going to talk about Arizona and our state legislature, 75 percent of whom are members of ALEC?" Oso asked.
ALEC is the secretive radical right American Legislative Exchange Council, a business-GOP cabal, which met at the same time Netroots did, but in San Diego. ALEC crafts union-smashing laws as well as the shoot-on-sight state legislation that let a so-called Neighborhood Watch volunteer kill unarmed African-American teen Trayvon Martin in Florida – the first of the unjustifiable killings that Oso and other activists cite.
ALEC's Republican puppets then push such laws – from union-busting to shoot-on-sight to Arizona's notorious anti-Latino SB1050 — through compliant legislatures.
At Netroots, Oso's group "held space" and recited the names of persons of color who died at the hands of police. "If I die in police custody, know that silence helped kill me, white supremacy helped kill me" they intoned.
The protesters made it clear that they wanted to hear how the candidates would address state and police violence against people of color. They were not satisfied, they said, with statements about broad economic policies and proposals.
Netroots convention-goers insisted the advocates let O'Malley speak, but they were rebuked. "We are only obligated to listen to the truth!" was one remark.
Sanders got similar treatment when he tried to make the point that large multinational corporations control both the media and the economy, subjugating workers and minorities.
"We want you to talk about black lives right now at this moment," one advocate responded. None of what Sanders said "matters if I'm dead," another shouted. "If I die in police custody, income inequality didn't kill me!" a third yelled.
Patrick J. Foote of the People's World contributed material for this story.
Photo: Arrest Arpaio not the people! Local activists and attendees at Netroots Nation 15 march to the Phoenix Sheriff's Department demanding Sheriff Joe Arpaio be arrested. Earchiel Johnson/PW flickr