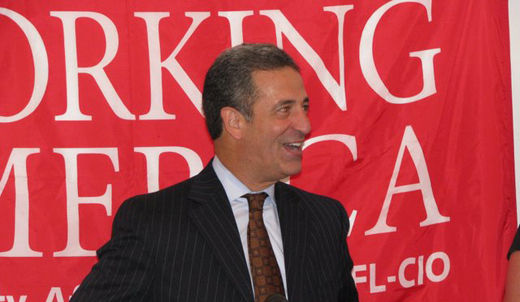 A bipartisan bill calling for a plan and a timetable to withdraw U.S. forces from Afghanistan was introduced into Congress April 14 by Senator Russ Feingold, D-Wis., with Representatives Jim McGovern, D-Mass. and Walter Jones, R-N.C.
The measure calls on the president to submit to Congress a plan for the "safe, orderly and expeditious" withdrawal of military forces and military-related contractors, with a timetable to complete the redeployment, and then to report progress to Congress every 90 days. It does not set a specific date for withdrawal.
The measure expresses concern that a "massive, open-ended" U.S. military presence in Afghanistan is unlikely to advance efforts to combat Al Qaeda, and could even be counterproductive.
Rather than engage in nation-building there, the bill says, the U.S. should start cutting troop levels and shift to a "sustainable counterterrorism policy."
Writing on Congress Blog, Feingold called for "a comprehensive global counterterrorism strategy" emphasizing "security sector reform, human rights, economic development, transparency, good governance, accountability and the rule of law," instead of putting so many military resources into Afghanistan.
In a telephone interview, Jim Fine, legislative secretary for foreign policy at the Friends Committee on National Legislation, called the bill "the next step that Congress could take to put the U.S. on a course of de-escalation and withdrawal from Afghanistan."
The 138 votes garnered by Rep. McGovern's earlier measure for an exit strategy may have encouraged President Obama to name a date to begin a transition in Afghanistan, Fine said, adding that floor speeches supporting Rep. Dennis Kucinich's resolution to withdraw U.S. troops also "helped push us in the direction of de-escalation and withdrawal."
Fine said building co-sponsorship is vital to assure a vote, possibly in connection with the supplemental funding bill expected next month.
"We should not underestimate the importance of this step-by-step, relentless push to persuade Congress to recognize popular sentiment and insist the administration wind this war down," he said.
Peace Action policy and organizing director Paul Kawika Martin said he also sees the new bill as an important step on the road to ending the war in Afghanistan. While defeat of supplemental funding is unlikely, he said, "there may be enough people willing to say, 'It's great the president said he will begin drawing down the troops in July of next year, but we also need an end date.'"
Other peace organizations also back the Feingold-McGovern-Jones measure.
"The military dominated approach to Afghanistan needs to be checked and balanced by Congress, and this bill marks their first step toward taking that responsibility seriously," Win Without War said in a statement. "Pouring more U.S. troops into Afghanistan does not make us safer. In fact, it only adds fuel to the fire. It's time to close our open-ended military commitment to the corrupt Karzai government."
Just Foreign Policy spokesperson Robert Naiman said in a statement that the bill can also help encourage a negotiated political settlement in Afghanistan. "So long as the United States refuses to agree to a timetable for withdrawal of U.S. forces, a political solution is almost surely impossible," he said. "As soon as the United States is willing to agree to a timetable for the withdrawal of U.S. forces, a political solution is increasingly likely."
Rep. Jones co-sponsored Rep. McGovern's earlier measure and was among five Republicans to support Rep. Kucinich's call last month for U.S. troop withdrawal from Afghanistan. Senator Feingold has repeatedly called for a timetable for U.S. withdrawal.
Last year Rep. Barbara Lee, D-Calif., introduced a measure to bar funding for sending more troops to Afghanistan.
Photo: http://www.flickr.com/photos/labor2008/ / CC BY 2.0