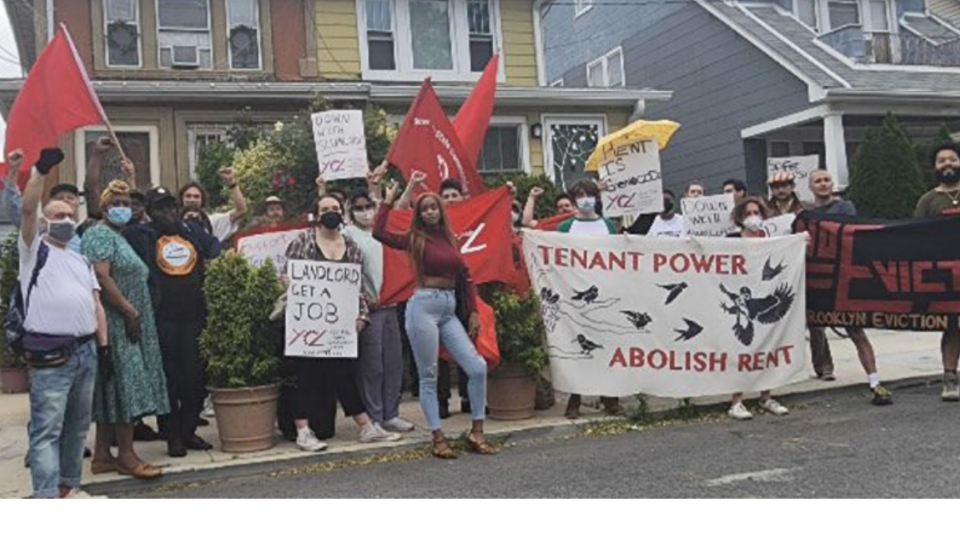 BROOKLYN, N.Y.—On July 7, a coalition of tenant organizations and community members came out to support tenant Khadija Haynes (co-author of this article), who in April passed out from carbon monoxide poisoning in her basement apartment, apparently due to neglect by her former landlord.
In response, a coalition held a rally to hold all abusive landlords accountable. The groups included Brooklyn Eviction Defense (BED), Crown Heights Tenant Union (CHTU), Not One More Block, and the Young Communist League (YCL). These organizations continue to demand not only that there is accountability for Haynes but for all working-class renters who experience tenant abuse. The groups rallied outside of the tenant's former home at 1008 East 40th street, East Flatbush, Brooklyn.
The large group marched from the nearby Amersfort Park and arrived at Haynes' old apartment, where a list of speakers demonstrated the power working-class people have in the fight for tenant rights. As neighbors came out of their homes, they listened intently to details of the treatment Haynes says she faced at the hands of her landlord; maltreatment which is interwoven into and upheld by the state. Similarly, this event showed that tenant abuse is not isolated to Haynes' case alone, of course, but is happening every day within working-class communities.
Although this case of tenant abuse was particularly vicious, the tendency for landlords to abuse tenants is a foundational reality of capitalist housing relations. Haynes' experience of housing abuse is symbolic of an entire system built on unequal property relationships between tenants and landlords.
In New York City, real estate companies continue to grow, and the price of rents follows closely behind. It is apparent not just in the "re-development" and gentrification of working-class areas by major property companies, but also through the selling and renting of illegal apartments by smaller landlords. High rates of competition and limited housing options mean that landlords are able to rent out any dangerous apartment since someone will take it out of desperation.
In working-class communities, a multitude of systemic attacks carry on, including inadequate housing codes, evictions, and aggressive policing policies. Haynes' speech at the rally emphasized that tenant unity is one of the strongest ways to combat this abuse. Abuse initiated by individual landlords must be met with the collective struggle of solidarity within the community. As Haynes explained, she was left in a vulnerable position because of her abusive landlord but also isolated from the community.
"No tenant should have to be abused when we see what our people are going through…. We have to call for community, we have to call to protect our people so they don't have to be subjected to living in deplorable conditions."
Capitalism's natural "housing crisis"
Haynes' story is important, as it represents thousands of other tenants' daily experiences. The neighborhood where she lives, East Flatbush, has had 1,167 eviction filings since 2020. This individual case is a microcosm of the abuse working people face at the hands of the housing system. As U.S. cities become more unaffordable, hazardous living conditions will become more the norm and, inevitably, lead to instances of injury and death. As the livelihoods of poor and working people are continually threatened, they are forced into dangerous apartments, including poorly maintained basements and other cramped units.
Furthermore, as real estate companies drive prices up further, individuals will be subject to more illegally converted and increasingly deteriorating apartments by unscrupulous landlords looking to cash in on rent inflation.
The housing shortage is a particular symptom of capitalist greed, a combination of higher rents, gentrification, and real estate competition trending toward monopoly. Under the capitalist system, lower-income tenants must often choose between living in a dangerous apartment or facing eviction and homelessness.
In Haynes' case, she had to live in a dilapidated basement apartment because it was the only housing option available. In a city where rents are on a steady rise and affordable apartments seem like distant memories, the competitive nature of the housing market forces a tenant to accept any apartment on offer. But these forced housing choices can result in dangers to tenants' health, as in Haynes' situation.
Writer and activist Friedrich Engels, Karl Marx's Communist Manifesto co-author, noted well over a century ago that the "housing crisis" automatically arises in a capitalist society where, "workers are crowded together in masses in the big towns, at a quicker rate than dwellings come into existence for them under existing conditions; in which, therefore, there must always be tenants even for the most infamous pigsties; and in which finally the house owner in his capacity as capitalist has not only the right but, in view of the competition, to a certain extent also the duty of ruthlessly making as much out of his property in house rent as he possibly can."
Uniting tenants
Across New York City, working people have to face the painful ultimatum of taking an illegally converted apartment or risk homelessness and dispossession. Often, there is no other choice for the average person.
During the tenant rally in East Flatbush, the police followed coalition and community members as they marched from Amersfort Park to Haynes' former residence. On the surface, it seemed as though the police were there to try to control the protest and ensure it did not lead to violence. However, it became more apparent that officers were also present to conduct surveillance on the protesters, protect the landlord, and ensure there was a barrier between the residence and the abused tenant. Ultimately, the presence of the police only made the voices of resistance grow stronger.
The coalition intends to fight alongside everyone in the area who is a victim of a housing system that values profit over basic rights. This abuse will continue to occur in our neighborhoods unless community organizations and members come together.
When working people are under attack from rising rents, gutted funding for public housing, and police violence against Black and brown communities, this coalition will respond. The housing coalition will ensure that tenants not only understand their rights but guarantee those rights through collective power.
As with all op-ed and news analytical articles published by People's World, any opinions reflected here are those of the authors.