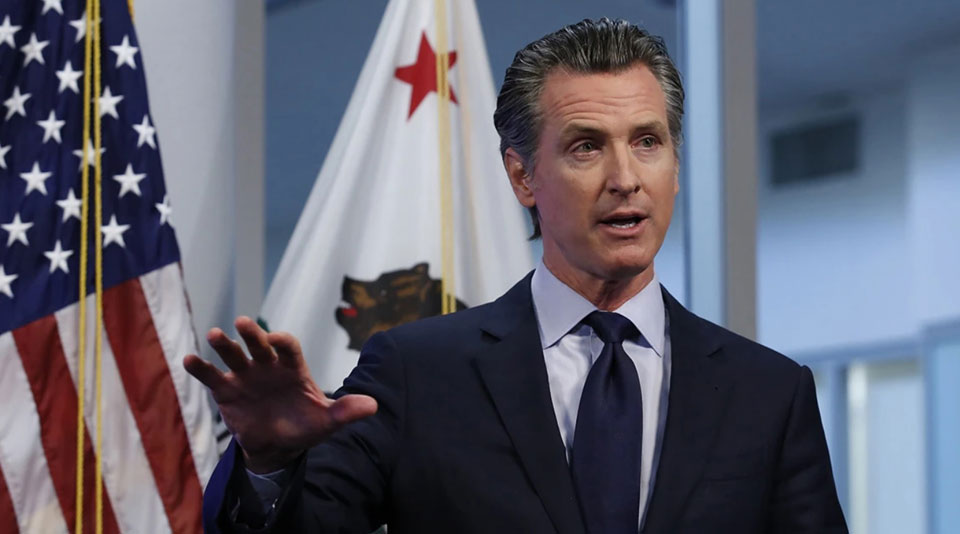 Under a new law California Governor Gavin Newsom signed July 22, individuals will be able to sue those who manufacture, distribute, transport, import or sell dangerous and illegal assault weapons and ghost guns in the state.
Senate Bill 1327, Firearms: Private Rights of Action builds on a concept Newsom advanced late last year after the U.S. Supreme Court upheld the Texas law that lets private citizens sue those who perform or facilitate an abortion that's illegal under Texas' extremely restrictive law. The measure was introduced in February by state Senator Bob Hertzberg, D-Van Nuys, with co-authors state Sen. Anthony Portantino, D-La Cañada-Flintridge and Assemblymembers Phil Ting, D-San Francisco; Mike Gipson, D-Carson and Chris Ward, D-San Diego.
It will go into effect on July 1, 2023, and contains a clause taking it out of effect if courts invalidate the Texas law.
Newsom signed SB 1327 during a press conference on the campus of Santa Monica College, Santa Monica, Calif., where a mass shooting took the lives of six people, including the gunman, in 2013. He was introduced by Mia Tretta, a rising senior at Saugus High School in nearby Santa Clarita, who survived a 2019 shooting at her school in which a fellow student took the lives of her best friend and another classmate, and severely wounded her.
Tretta told of learning that the shooter, a 16-year-old Saugus student whom she didn't know, had brought his father's ghost gun to school. "I would quickly learn that these unmarked, untraceable, build-it-yourself firearms were the fastest-growing public safety threat in our country," she said. "Anyone with a credit card, the skills to build an Ikea dresser and some spare time can make the same gun that took the lives of two classmates and changed mine forever."
When she left the hospital, she and her family decided to fight to make sure "no one had to go through what we did." They joined Moms for Action, Students for Action and Every Town for Gun Safety.
Tretta called SB 1327 "a new tool" in that fight. "Governor Newsom visited me in the hospital after the shooting. He asked if there is anything he can do. Well, sir, you are doing it. You, Governor Newsom, are saving lives."
Thanking Tretta for her courageous work to "shape the future, shape the debate," Newsom told the gathering, "We're not waiting for others to take action, we're taking action here today, stepping in and doing what is perhaps the most impactful thing we have done in decades in the State of California to advance our efforts on gun safety, by getting these weapons of war off the streets of California."
The governor said that over the years, the work of legislators like those introducing the many gun-control bills he has already signed this year has enabled California to "set the tone and tenor for the gun safety debate in this country … that's exactly what we're doing here today."
As he expressed great appreciation for the work of Sens. Hertzberg and Portantino in moving the bill forward, Newsom declared, "Yes, we're leaning in, we're going into uncharted waters. I'm proud of that, I'm proud of this bill."
Calling gun violence "America's disease, unique in the world," California Attorney General Rob Bonta said the U.S. is the only place in the world "where so many everyday places have been locations for unspeakable gun violence."
Bonta said decades of work to build the strongest gun safety laws in the nation have led to California having one of the lowest firearm mortality rates in the country – 37% lower than the national average.
"Today," he said, "we are using a tool that so far, the Supreme Court has allowed – a private right of action, but with a California twist to support action that is constitutional. Not to undermine constitutional rights as Texas has done, but to lift up life and safety and health by allowing people to sue others when they manufacture, distribute or sell guns that are already prohibited – high-caliber weapons, assault weapons, ghost guns."
State Sen. Hertzberg emphasized the governor's role in initiating SB 1327. Newsom and the bill's authors worked together to develop the legislation, studying the law and reviewing court cases, "making sure we did this in an excellent, appropriate way."
Added Portantino, "If Texas can use a private right of action to attack women, we can use a private right of action to make Californians safer, and that's exactly what we're doing here."
It's no surprise that the gun lobby views SB 1327 in a very unfavorable light. In a statement issued right after Newsom signed the legislation, the Firearms Policy Association called the bill and other measures a "continued assault on the peaceable people of California," and "nothing short of a revocation of the natural rights of those he was elected to represent."
But the American Civil Liberties Union is also raising significant concerns that have led it, too, to oppose the bill. In a May 2 letter, ACLU California Action's Director of Governmental Relations Kevin G. Baker told SB 1327's authors that while his organization shares the governor's commitment to reproductive freedom and his concern about illegal guns, the measure "would set a dangerous legal precedent – not only undermining fundamental principles of due process but eliminating the judiciary as a check and balance against the political branches, effectively unraveling the separation of powers doctrine."
Among other gun safety laws Newsom signed last week:
Assembly Bill 228, by Assemblymember Freddie Rodriguez, D-Chino, requiring the California Department of Justice to inspect gun dealers at least every three years, unless they are in a jurisdiction having its own inspection program.
AB 2239, by Assemblymember Brian Maienschein, D-San Diego, creating a 10-year ban on the possession of firearms by individuals convicted of child- or elder-abuse.
SB 906, by Sen. Portantino, requiring local educational agencies to annually provide information to parents about child access prevention laws and laws on safe storage of firearms. The law also requires school officials to report to law enforcement any threat or perceived threat of a homicidal action.
A gun safety law the governor signed earlier in the summer, AB 1594 by Assemblymembers Ting, Gipson and Ward, sets a firearm industry standard of conduct requiring gun makers and sellers to enforce reasonable controls to keep their products from being used unlawfully and bars the gun industry from making or selling an abnormally dangerous firearm-related product. The bill also lets individuals sue if they suffer harm because those standards weren't met.