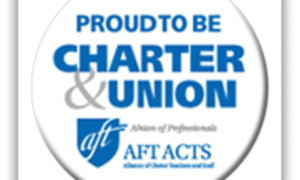 CHICAGO – One hundred teachers at four charter schools run by ASPIRA, Inc., of Illinois filed for union recognition March 19. Two-thirds of teachers at the schools signed authorization cards, far in excess of what is legally needed.
The teachers are seeking to organize with Chicago Alliance of Charter Teachers and Staff (Chicago ACTS), affiliated with the American Federation of Teachers. Workers at ASPIRA will join 123 teachers at three other Chicago charter schools, run by Civitas, who joined the union and negotiated their first contract last year.
George Smith, a math teacher at ASPIRA's Mirta Ramirez Computer Science High School since it was established in 2003, said teachers at his school were ready for a union two years ago. But then ASPIRA opened two other campuses and the new teachers weren't ready yet.
"What really drove this was the desire for transparency in how ASPIRA was spending money and a greater active voice in curriculum, schedule and professional development," said Smith. The charter school management has frozen teachers and parents out of the decision making process, he said.
The curriculum was like the "flavor of the month," and often depended on where ASPIRA got outside funding from, Smith said. It was impossible to track academic results and prevented continuity from year to year in curriculum and graduation requirements.
"Our action sends a strong and clear message to ASPIRA that we believe forming our union will lead to greater collaboration and better results for our students," said Alexa Sorock, a humanities teacher and department head at ASPIRA Early College High School.
Early College High School teachers had been promised reimbursement for taking graduate-level classes, but then were never paid. This became a sore point.
According to Carlos Fernandez, lead organizer for Chicago ACTS, the ASPIRA teachers received support from members of ASPIRA's board of directors, elected officials, the community and the Chicago Teachers Union. Parents and students have been very supportive, added Smith.
"The negotiations will begin for a new contract once the certification takes place. We anticipate negotiations will be difficult given the Chicago Public Schools budgetary constraints," Fernandez told the People's World.
In light of a projected $700 million budget shortfall, Chicago Public Schools CEO Ron Huberman demanded that the teachers union reopen its contract and make concessions or face massive layoffs and increased class sizes. Charter school funding will be cut by 18 percent, forcing many smaller charter schools out of business.
James Thindwa, civic engagement coordinator with Chicago ACTS, said the unionization of charter school teachers will bring "transparency and an expanded set of eyes. It will result in a wiser prioritization of expenditures. This will potentially impact who decides to establish charter schools, making it difficult for those who are only in the business to make a profit."
The desire by teachers and staff to join Chicago ACTS comes as Chicago Public Schools management is ramping up efforts to establish more charter schools. There are now an estimated 2,000 non-union charter schoolteachers in Chicago.
The growth of charter schools has been encouraged here as part of Renaissance 2010, a big-business-inspired plan to privatize and reorganize the city's public education including closing scores of schools and dismissing their staffs. The Chicago Teachers Union believes some are using the charter movement to bust the union, driving down teacher salaries and benefits.
The Chicago experience has become the model for President Obama's national education policy, led by former Chicago Public Schools CEO and current Secretary of Education Arne Duncan.
Chicago ACTS is part of a growing new education reform movement which rejects the "simple narrative that lays problems at the doorstep of teachers and unions," says Thindwa. "There is a growing recognition that the education crisis takes place within a complex economic and social environment."
The union authorization cards, signed by two-thirds of the teachers at the four ASPIRA schools, have been presented to the Illinois Education Labor Relations Board, which must certify the union within 90 days. State law requires 50 percent plus one vote of teachers to unionize.