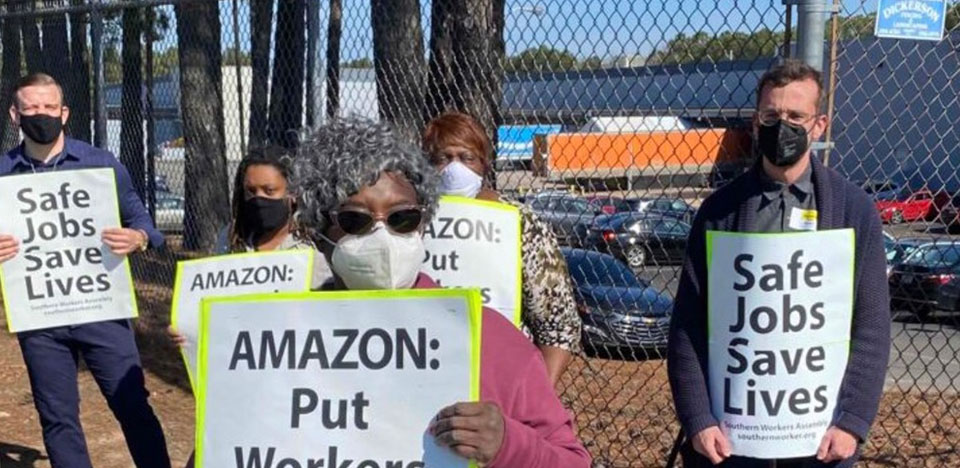 RALEIGH-DURHAM, N.C.—Inspired by the Amazon Labor Union's Staten Island victory against the monster warehouser and retailer, Amazon workers in North Carolina have created their own grass-roots union and set off on a campaign to organize its RDU1 warehouse in Raleigh-Durham.
The drive by Carolina Amazonians United 4 Solidarity & Empowerment (CAUSE) went public around Memorial Day. It's one of two big worker-related actions which landed on the monster, owned by one of the three richest people in the U.S., Jeff Bezos, in one week.
The other, on June 2, was the National Labor Relations Board's Brooklyn office's decision to charge Amazon with unfair labor practices. It said Amazon broke labor law against the ALU during the union's drive to organize Staten Island warehouse JFK8. Despite the lawbreaking and Amazon's expensive union-buster, ALU won 2,464-2,131 in April at the 8,300-worker plant.
CAUSE's drive to unionize the Raleigh-Durham warehouse centers on the company's discrimination against workers—notably a wheelchair-bound employee forced to keep up the same line speeds as others—and conditions so bad that one worker compared working for Amazon to being the Biblical Hebrew slaves who toiled in Egypt.
The groups of Amazon workers on Staten Island and in North Carolina share common characteristics. They're younger than most unionized workers and they have higher proportions of workers of color. Like other low-wage workers including in fast food, retail, port truckers, and adjunct professors, they have had it up to here with corporate and capitalist exploitation.
Progressive groups in North Carolina are helping the Amazon workers there. That drive may be tough: Right-wing Republicans dominate the gerrymandered legislature and North Carolina is the second-least unionized state in the U.S. Only neighboring South Carolina is worse.
And as AFL-CIO Policy Director Bill Spriggs pointed out in a June 1 panel discussion sponsored by the New York City Central Labor Council, "The same people who don't like voting and democracy don't like unions."
In a series of tweets to CAUSE, workers described conditions in the Raleigh-Durham warehouse.
Masked against the coronavirus, they also marched outside the facility's gate toting signs declaring "Safe jobs save lives" and "Amazon: Put workers first."
The signs refer to Amazon's record, or lack of it, in protecting workers against the virus. ALU was born after Amazon trumped-up a "spreader" charge against Chris Smalls, the worker who had led a 2020 lunchtime walkout at JFK8 to protest Amazon's refusal to protect workers.
"Amazon is changing the unpaid time off policy," by cutting it back, one tweet started. "It's dumb decisions like this that make our organizing efforts easy. @JeffBezos & @ajassy: Thanks for helping CAUSE build solidarity in the South."
The wheelchair-bound worker's fate drew several tweets. "If every Amazonian deserves a voice why did Amazon block our paraplegic coworker from posting and delete his comments about the racism & discrimination at RDU1?" one tweeter asked.
"Chaison McGuire is an AM (assistant manager) in Pack Singles at RDU1 who's a benefit of white privilege," a second tweeter replied. "He's been accused of sexual harassment & discrimination by several employees. Chase wrote up & spoke in racist undertones to a Black paraplegic. We demand his termination effective immediately!"
"A few days ago it was a white Autistic brother whom the management at RDU1 was bullying. Today it's a Black paraplegic. When will the discrimination end at Amazon? #SignThePetition #JoinCAUSE #DontQuit #OrganizeAmazon," a third tweeted.
The Biblical comparison was a longer post:  "Can someone PLEASE explain to me why we work like Hebrew slaves in the Egyptian sun for 10 hours a day and we're ONLY getting a 30 min lunch break which is really ONLY a 15 min lunch break," that worker wrote.
"God forbid if we go to the restroom, here comes an AM (assistant manager) accusing US of T.O.T (time off task). Slavery is outlawed in the U.S. Stop treating us like slaves and treat us with DIGNITY and RESPECT!!! RDU1, get it together!"
Amazon challenged the JFK8 voting result, alleging the NLRB in essence put its thumb on the scale for the union. The board's announcement said Amazon, not the NLRB, broke the law.
Tops in NLRB's charges in the Staten Island case: That Amazon's frequent and constant "captive audience" meetings, featuring employer and union-buster harangues, break labor law by violating the workers' right to decide what arguments they want to hear—or not hear.
That carries out the intent of a recent enforcement memo by General Counsel Jennifer Abruzzo, NLRB's top prosecutor. She states such closed one-sided meetings violate the 1935 National Labor Relations Act, by leaving workers not free to refuse to hear the boss's arguments.
The board said Amazon not only forced workers into illegal captive audience meetings, but illegally promised extra benefits if the JFK8 workers voted the ALU down, and threatened to pull current benefits if the union won.
Amazon also threatened to pay the Staten Island JFK8 workers minimum wages—which are higher in New York City than elsewhere—if they unionized, and threatened to retaliate against workers who advocated adding Juneteenth to Amazon holidays.
Juneteenth, on June 19, marks the date in 1865 when the last group of enslaved Southern Blacks, in Texas, learned they had actually been freed by President Abraham Lincoln's 1863 Emancipation Proclamation. It's now a federal holiday.
Similar labor law-breaking led to an apparent ALU election loss at a smaller Amazon Staten Island warehouse. ALU is challenging that outcome, too.