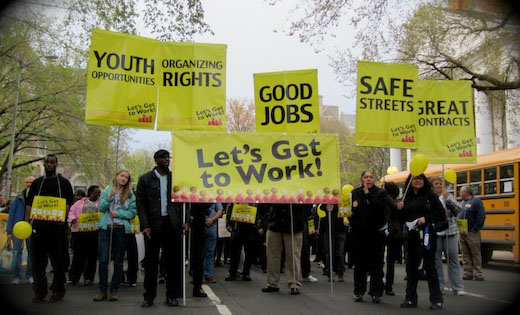 NEW HAVEN, Conn. – A ribbon-cutting ceremony with Gov. Dannel Malloy and workers who are now employed through the new "jobs pipeline" program, marked the official opening of New Haven Works. The project was established in March by the Board of Aldermen, the City of New Haven, labor, local residents and employers.
Through agreements with employers and ongoing case management, New Haven Works will provide a pool of qualified candidates who are New Haven residents for local businesses and institutions, creating a local "jobs pipeline."
"Even though I had more than 10 years experience in Internet technology, I was unemployed and couldn't find a job," said Josue Rodriguez.
"In March, I gave my resume to New Haven Works. Within a few weeks I had an interview with the School of Forestry at Yale where I was offered a temporary position on the spot. Now I am planning a career path in IT at the university. It is great to see my work experience and my desire to learn recognized and valued by Yale University and New Haven Works," he said.
This local initiative for jobs comes as Sen. Bernie Sanders and Rep. John Conyers introduce the Youth Jobs Act to Congress to address the crisis of youth unemployment and poverty across the nation.
The pipeline in New Haven grew out of thousands of door-to-door conversations in the 2011 city elections. In 20 of 30 wards, voters elected representatives to the Board of Aldermen who are union members of Unite Here, 1199 and AFSCME or community allies. Their first act was to create a study group that led to the jobs pipeline.
The media has repeatedly disparaged this group of Alders, claiming that union members do not represent the interests of the neighborhoods where they live and serve. In fact, this group of Alders, enriched by their experience as union leaders where they work, have achieved major accomplishments in the city for jobs, the needs of youth, and curbing violence.
In 2011, as now, the biggest issue on the minds of residents was the need for stable jobs with a living wage and benefits.
Last April, 2,000 people joined the "Let's Get to Work" march and rally which was called to support the jobs pipeline, youth opportunities and good contracts for workers at Yale University, the city's dominant employer.
At the front of the march were youth from New Elm City Dream, who had organized their own march to link the need for jobs for youth and jobs for all to the crisis of violence in the city. Nearly half of all African American and Latino youth in New Haven are unemployed.
Last June, the unions at Yale, Locals 34 and 35 Unite Here, won a groundbreaking contract including provisions to open as many as 1,000 jobs to New Haven residents in the next four years through the jobs pipeline.
The population in New Haven is majority African American and Latino residents. The loss of nearly all the industrial jobs in this former manufacturing center has left the city with high rates of poverty and unemployment, or underemployment in low-wage, temporary part-time jobs. New Haven Works is a step toward giving city residents a chance at the relatively good jobs at large employers like Yale University.
But local action alone cannot overcome the national jobs crisis of up to 20 million unemployed or underemployed. For every local step forward, continual cuts at the federal level have resulted in loss of jobs by government workers, non-profits, contractors and suppliers, and research workers.
In Congress, the Youth Jobs Act (S 1170 and HR 2381) introduced this week would provide $3 billion in immediate funding to employ hundreds of thousands of low-income youth and economically disadvantaged young adults in summer and year-round jobs. The measure also would provide young people with the job training and skills they need to succeed in the workforce.
The legislation is modeled on a proposal in President Barack Obama's American Jobs Act that the president proposed to Congress last year. It would also build on the success of an economic stimulus program that Congress passed in the wake of the 2008 financial collapse that created more than 370,000 jobs for young Americans.
The fight for jobs locally and nationally are inter-dependent. The union-community coalition that came together around the city elections and the 2011 jobs program, was instrumental in electing Sen. Chris Murphy, a champion for jobs and working people, to the U.S. Senate. Initiatives like New Haven Works, can make a real difference on the local level, while building the coalitions needed to change national policies toward providing good, useful, productive jobs for all.
Photo: Two thousand people marched in April 2012 to press for the creation of a jobs pipeline. (Connecticut Center for a New Economy)