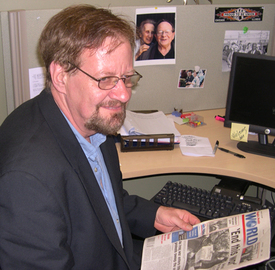 The People's Weekly World/Nuestro Mundo editorial board welcomed John Wojcik to the newspaper's staff as labor editor May 1. Wojcik, 56, replaces Roberta Wood, who was elected secretary-treasurer of the Communist Party USA last November. Wood will remain on the editorial board.
Wojcik has some 15 years of experience in the labor movement as an active member of the United Food and Commercial Workers union. At his job as a meat cutter at a Shop Rite in northern New Jersey, Wojcik was elected shop steward and elected to his local's contract negotiating committee. Wojcik also organized local anti-Wal-Mart actions in Lodi, N.J.
"To be elected by your co-workers was a high honor for me," he said. "To have that kind of confidence from people you work with every day means a lot." Wojcik has taken an 18-month leave of absence to work as labor editor. He will be based in Chicago.
Wojcik worked for the Daily World and People's Daily World in the l970s and 1980s. During that time he covered electoral, civil rights and labor battles, including the fight to free the first Black mayor of Tchula, Miss., Eddie Carthan, from trumped up, racist charges; the exposé of Dow Chemical's dioxin poisoning of Times Beach, Mo.; and the many-sided fightback against Reaganomics.
Originally from Brooklyn, N.Y., Wojcik was active in independent politics there and worked to bring Democratic activists to the anti-apartheid picket lines and civil disobedience actions in front of the South African consulate.
"John will continue the great tradition of journalist/activist, which makes this newspaper so unique," Wood said.
Labor journalism is practically nonexistent in the mainstream media, Wood said. "The little news that's reported about working people and unions gets put in the business section and told from the business point of view — not the workers'.
"That's the difference between this newspaper and other outlets," she said. "And that's the kind of difference John has already made and will continue to make."
talbano @pww.org