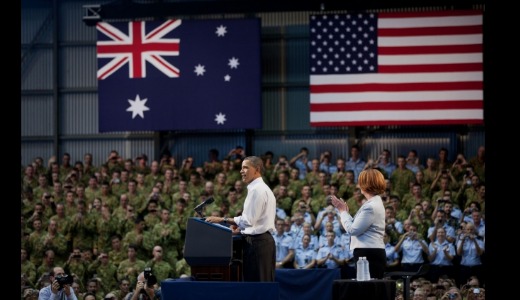 On Nov. 17, President Barack Obama announced in Darwin, Australia, U.S. plans to increase its military presence in the East Asia-Pacific area.
Specifically, the president, who was joined in a news conference by Australian Prime Minister Julia Gillard, announced the creation of a U.S. Marines base in Darwin, which is on Australia's North coast, close to Southeast Asia.
Some 250 Marines, along with military hardware, will constitute the initial force. Eventually 2,500 Marines will be circulated through the base.
The United States has had a military alliance with Australia since World War II, but this development is a significant new projection of forces in the region.
The U.S. announcement, which also coincided with a get-together of the Association of East Asian Nations (ASEAN) in Indonesia, comes in the context of ongoing friction with China on a number of issues including, currency and trade practices, U.S. and NATO intervention in Libya, and South China Sea jurisdiction.
The United States has been ostentatiously supporting the claims of its ASEAN ally, the Philippines, over the waters, which not only are militarily and geopolitically important, but are also thought to contain hundreds of billions of dollars worth of petroleum reserves.
The U.S. is boosting its military presence in the Philippines also. Other countries in the area, including socialist Vietnam, also challenge some of the Chinese claims over the waters.
Although President Obama stated in Darwin that the new U.S. deployment is not aimed at China, several days earlier U.S. Secretary of State Hillary Clinton said that the U.S. plans a more robust presence in the area specifically to counter Chinese influence, and its economic rise. Part of this may involve a rapprochement with Burma (Myanmar), in an effort to reduce Chinese influence on that country.
U.S. military might has too often been used to protect corporate profits and control strategic regions of the world for their narrow interests. Oil and rare earth metals come immediately to mind.
While the president has said the U.S. "welcome[s] a rising, peaceful China," many in U.S. ruling circles see China as a competitor for the earth's natural resources.
Plus, this new base should be seen in the context of an overarching foreign policy that still seems to be based in the anti-Communist Cold War and containment approach.
More U.S. military force in the Asia-Pacific area is provocative and unnecessary. Instead of building more military bases, we should be closing them. The money dedicated to this new military buildup would be far better utilized in creating jobs and protecting the social safety net right here in the United States.
Asian-Pacific nations are perfectly capable of reaching negotiated settlements of their regional disputes without U.S. interference.
Photo: President Barack Obama delivers remarks honoring 60 years of the U.S. and Australian Alliance to a crowd of some 2,000 soldiers and guests at the Royal Army Air Force Base in Darwin, Australia, Nov.17. (White House/Pete Souza)