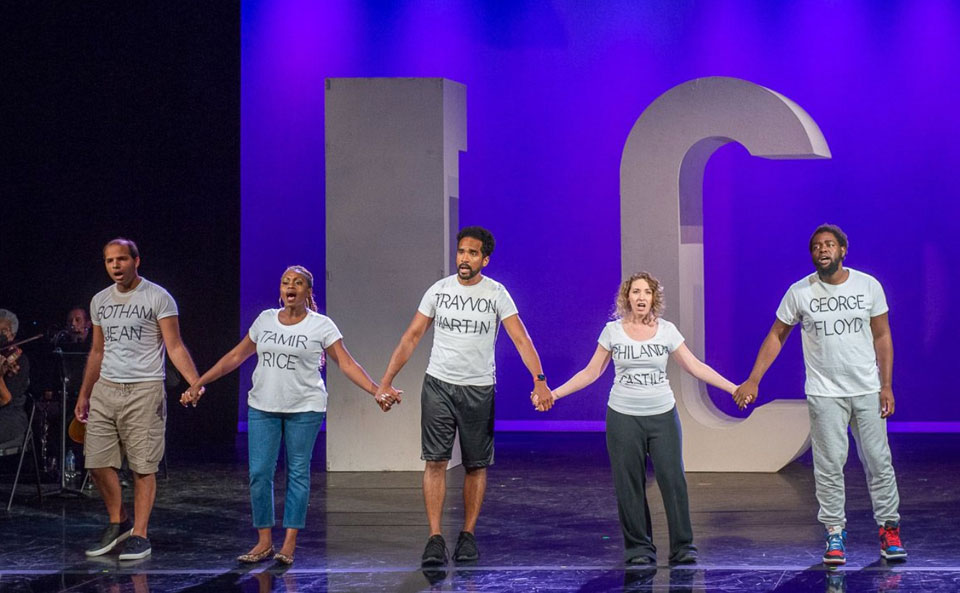 NORTH HOLLYWOOD, Calif. —  "It would be impossible to find a more relevant topic for contemporary theatre," wrote Arts Knoxville when I Can't Breathe received its first production back in February. The new opera by composer Leslie Burrs, with a libretto by Brandon J. Gibson, was a co-commission with Marble City Opera, Pacific Opera Project, Cleveland Opera Theater and Opera Columbus, inspired in the wake of constantly repeating instances of police and vigilante brutality and murder against African Americans.
I Can't Breathe received its second production and the West Coast premiere this past weekend in three performances by Pacific Opera Project, May 13-15 (seen May 15), at the El Portal Theatre in North Hollywood. In 2020, the innovative, affordable, and entertaining (read: hip) company founded in 2011, was awarded The American Prize in Opera Performance.
POP Artistic Director Josh Shaw reflects that "POP is of course known for our comedies and our emphasis on entertainment, but producing new and meaningful opera is also part of what we do, and something we can do well. When I was approached with this project, it seemed far too relevant and too important to postpone to a future season. We attempt to reach all of L.A. with POP's brand of approachable opera, and that includes new works like these that are vital to the broadening and continuation of the art form." The three L.A. performances were well attended, though not sold out.
The Knoxville premiere included six monologues or "monodramas." Unarmed fictionalized characters from different walks of life sing of how their interactions with law enforcement went so horribly wrong, and lives are forever changed. Manners, appearance, education, and not even full, peaceful compliance are enough to protect people of color from a system trained to treat them as inherently dangerous. When one is asked if he has a receipt for his purchases, he searches for it in his pocket and the officer interprets the move as "reaching for a gun."
In most cases these scenes are strongly based on real-life incidents involving such individuals as Trayvon Martin, Botham Jean, and Philando Castile, though the principal characters are named only by their archetype. Some critical details of their cases have been changed for artistic effect. For example, Martin was gunned down by a vigilante, not a cop; and Castile's actual fiancée who was in the car with him and their daughter, was not Caucasian. Sometime before I saw the opera here, one of the six scenes, that of The Father, was dropped, apparently "for personal reasons" on the singer's part. In order of their scenes, the five remaining solo singers were The Athlete (Orson Van Gay), The Scholar (Geoffrey Peterson), The Mother (Jayme Alilaw, the only holdover from the original Nashville cast), The Thug (Michael Washington), and The Lover (Audrey Yoder).
The opera both opens and closes with the entire cast lamenting these hard losses and asking, "How many more?" At the end, four of the singers had names of actual victims on their shirts. (In the Knoxville production, the cast of solos were joined by three additional performers from the Marble City Opera chorus.)
The production was designed by Josh Shaw, who also co-directed with Sierra Hammond. The conductor of the small nine-piece chamber orchestra, mostly strings, was Joshua Foy. With one intermission, the show ran about two hours.
Any reviewer of a new opera needs to keep in mind the life of French composer Georges Bizet. His last and greatest opera Carmen debuted on March 3, 1875. The critics gave it a drubbing—"amoral," "dull and obscure," they opined. Though Bizet had not been in good health, his depression over what he called "a definite and hopeless flop" led to his death three months later to the day at the age of 36. On the night of his funeral, June 5, the Opéra Comique gave Carmen a special performance in his memory, and the critics now fell into line declaring it the masterpiece they had condemned only weeks before. It remains one of the most celebrated operas in the entire repertoire, its tunes hummed in kitchens around the world.
With that cautionary note in mind, Burrs and Gibson have conceived a work in six (here, five) scenes, each a solo voice relating a single, similarly tragic, crime (except it's extremely rare to get a cop convicted for murder). Each scene is like a cantata unto itself. Burrs's style has been called "urban classical," a fusion of Big Band, funk, jazz, contemporary but not overly dissonant conservatory, minimalist and smooth like a constantly flowing stream over a stony riverbed, and well crafted. He uses a similar style for all his scenes, creating a thick, dense cushion for the solo voice with little dramatic and emotional content. To my ears, the vocal component likewise had a sameness in approach, one character's language, vocabulary, speech and musical rhythms not especially distinct from the others. The stories are the essence of this work.
Generally speaking, if a composer sets a play or script to music, it's because the words tell only half, and maybe even not the most important half, of what is meant to be communicated. Even an opera with a short, bare text can be effective because the weight of the storytelling is in the music, which conveys locale, class, mood, feeling. Here the reverse is the case. I Can't Breathe strikes a listener as an ancient melodrama, music accompanying a spoken play in order to heighten and bring out the emotional input of the script, but not intended to stand alone. Some of the earliest opera was like that—a vehicle for relating a story, but not meant to be memorable music in and of itself. The vocal line itself, as here, would occasionally soar and wax lyrical but hewed closely to a kind of parlando recitative not far removed from the narration in a Bach oratorio.
As an indication of how unrelated the characters are from scene to scene, personally, historically, dramatically, musically and vocally, the absence of The Father in this production made absolutely no difference! As we discussed the opera afterward over dinner, many in my party believed that the music itself, ironically not being the dominant contribution to the opera, could well have been dispensed with, and actors could have recited their monologues far more effectively as solo theater scenes. I might not go quite that far, but I would say that as isolated as one scene is from the next, other than thematically, a concert artist could well program a scene for their vocal range in a recital, and the rest of the opera would not be missed.
Having said which, each of the stories has its own fascination, powered by the inevitability we see coming, like a Passion Play we ritually reenact each year, knowing full well the outcome. In the clever staging, we first see the enormous pillars of white letters on stage, maybe 8 feet high: I C B. These turn out to be movable pieces that become beds, couches, bookshelves, counters and other props.
The Athlete begins with the three males in the cast practicing their graceful basketball moves, the whump! of the ball lending a fresh percussive effect. He used to be an overweight kid who once "couldn't breathe" even walking much less running up a hill, and now, after a lot of disciplined training, he's aiming for a professional sports career. But a man stops him on the street after he's made a small convenience store purchase, and in a matter of seconds he is dead.
In The Scholar, a young straight arrow with three graduate degrees in chemical engineering is moving into a condo that his new employer has set up for him. He begins work on Monday. With his hands full of boxes, he somehow represents a threat to the woman in the elevator. He's done everything right and knows he'll be successful. But he knows Blacks don't get a second chance, so he knew he had to do it right the first time. He opens a bottle of wine, orders a pizza, settles into his new couch with a book and hears a voice shouting, "The suspect is still here." And another good man done gone.
The Mother is an especially moving story, in which the 17-year-old son acts with her on stage. He was born to her and her wonderful husband after three disappointing miscarriages. Then the husband dies in a car accident, and a couple of months later she learns she's pregnant again. Never having known his father, David is her son, whom she's nurtured so carefully and lovingly. He's out with his friends when the car is pulled over for a traffic stop. David reaches to turn the radio down….
In The Thug, we learn how a kid grows up in a divided family with an inexperienced, uncaring mom. He's reduced to selling himself on the street—for his innocence, his warmth, his compassion—and gets into a fight when an older boy at school calls him a couple nasty names. From then on he's a labeled a "thug." "They don't send Black kids to shrinks," he tells us. Eventually he winds up with a patch of sidewalk in front of a flower shop, where he sells socks and odd items. Cop comes along asking about license, permit, taxes. Next thing he knows, he's on the ground, hands tied behind him, not resisting, can't breathe….
In The Lover, we hear from the fiancée. She and her man and their little daughter are driving and they get stopped in broad daylight. He states he has a gun permit, and his gun is in a lockbox in the trunk. Hands up, he's shot anyway, the whole incident recorded on her phone. The official report said, "Suspect had a weapon." Cop gets administrative leave with pay, she gets a funeral. Eventually the police return his possessions to her—his wallet, his phone, and a velvet box with the engagement ring he was going to present to her that day. "Is it worse to be the killer, the killed, or me?" she wonders.
In the final chorus, profound questions are asked. How many more Black bodies? More orphans? How many are imprisoned in cages and coffins? "We are not threats to your existence just by living…we hold our breath waiting while you decide if we die..brought here in chains and now free to be executed…four hundred years is long enough!"
Podcasts concerning the opera can be heard; they're available on the POP website.