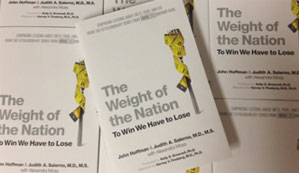 It looks like Michele Obama is right on obesity.
According to a new study released by the Institute of Medicine, or IOM, the fight against obesity can no longer be relegated to simply urging individuals to do better, but must become a nationwide battle.
According to Harvey V. Fineberg, president of the IOM, "Obesity is both an individual and societal concern, and it will take action from all of us – individuals, communities, and the nation as a whole – to achieve a healthier society."
The Institute found that the problem of obesity is not simply a matter of concern for individual health, as important as that is. According to their report, "America's progress in arresting its obesity epidemic has been too slow, and the condition continues to erode productivity and cause millions to suffer from potentially debilitating and deadly chronic illnesses."
The first lady has come under repeated criticism from the right wing for trying to set up a "nanny state" because of her efforts at prevention of childhood obesity. Obama has taken the lead in the fight, publicizing it and setting up the Let's Move foundation, which aims at tackling childhood obesity.
"Solving this complex, stubborn problem requires a comprehensive set of solutions that work together to spur across-the-board societal change," read the report, titled "Weight of the Nation" and released yesterday at the Centers for Disease Control and Prevention's conference.
The IOM does not, as many on the right have accused health eating proponents of doing, suggest that individuals should be left with no choice over their diets or lifestyles, but instead argues the nation should "aim to support individuals' and families' abilities to make healthy choices where they work, learn, eat, and play."
"For example," noted a press release from the IOM, "healthy food and beverage options should be available at competitive prices everywhere that food is offered and an effort should be made to reduce unhealthy products."
Further, the institute argues, fast food and other chain restaurants should ensure that at least half of children's meals offered "comply with federal dietary guidelines for moderately active children and charge little or no more for these options, the report says."
The recommendations extend to virtually everywhere that food is sold: "Shopping centers, convention centers, sports arenas and other public venues that make meals and snacks available should offer a full variety of foods, including those recommended by the dietary guidelines."
Government is at least part of the solution, the group says, through both fiscal policy and school reforms. The IOM, noting that children spend half their waking hours in schools and eat up to half of their daily calories there, argues, "[S]chools can be a gateway to health habits" and "should be given the resources and support to implement federal nutrition standards for meals and products served in vending machines, concession stands, and other venues."
This is not the case in most school districts. In New York City, for example, the Department of Education has a contract with Snapple, the company that produces highly-sugared "fruit" drinks, giving that company a monopoly on school vending machines.
The report recommends, also, that students of all ages should "have opportunities to engage in at least 60 minutes of physical activity daily" through gym classes, as well as be taught basic nutrition.
Schools across the country have cut gym classes in trying to grapple with local budget shortfalls.
While promoting government and business policy changes, the IOM is seeking to take its case directly to the public. Along with HBO, the CDC, the National Institutes of Health, Kaiser Permanente and the Michael and Susan Dell Foundation, the organization began the "Weight of the Nation" initiative, which will include an HBO documentary series.
According to the press release, "The initiative seeks to spur individuals and groups to get involved in local efforts to promote healthy eating and activity."
For more information, the IOM is directing people to the Weight of the Nation website. A full list of recommendations can be found here.
Photo via Institute of Medicine.