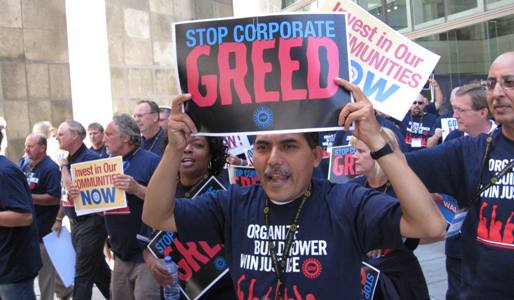 DETROIT — "There is a new King in the house," declared Detroit NAACP President Wendell Anthony to the 2,000 United Auto Worker delegates, guests and friends who had marched June 17 from the union's convention to Detroit's financial center.
Led by Anthony, newly-elected UAW President Bob King (the "King" Anthony referred to), NAACP President Ben Jealous, International Brotherhood of Teamsters President James Hoffa and Detroit Metro President Saundra Williams, the marchers chanted, "Good jobs now, make Wall St. pay."
When marchers answered the call, "justice" with the response, "power", and shouted "Enough is enough, let's take America back," one quickly understood that more than the signing of contracts was being demanded. It felt like a new day.
Jealous announced the Oct. 2, "One Nation, One Dream" rally for jobs and justice that the NAACP, and now the AFL-CIO, have endorsed.
"It was time to put this country together from those who want to take it apart," said Jealous.
Anthony told the crowd it was also a June day in 1963 that Martin Luther King came to Detroit for a rally and speech that set the stage for the great March on Washington.
Earlier in the day, UAW's King gave a rousing acceptance speech and charted a path for the union of being "out on the streets rebuilding the social justice we all believe in."
He said the first act of the new Executive Board would be to endorse the Oct. 2 rally in Washington.
King noted the UAW must speak and work for all working families. "We can only achieve it and keep it, if we do it for everybody."
Waxing philosophical, King said that sometimes people call us dreamers, idealists, and say we have to be more realistic. "I want to be known as an idealist, a dreamer."
He said great leaders such as Martin Luther King, Nelson Mandela, Rosa Parks, and Cesar Chavez, were dreamers and idealists.
We are not going to let those in power say the dreams we have are impossible to achieve, said King. "We are going to be a sower of seeds for social and economic justice for all Americans."
King also laid out what should be a vigorous campaign to organize Toyota, starting with the former NUMMI plant in Fremont, Calif.
The UAW organized plant was jointly operated by GM and Toyota and built Toyota Corollas. Toyota's decision to move Corolla production to a nonunion operation in Mississippi will be fiercely resisted by the union. "We are calling on Toyota to recognize the rights of workers to come into the union."
While the Tesla Corporation has announced plans to build electric cars in the plant, they have not committed to hiring its former workers and, as King noted, the small production run of Tesla is far less than the former Toyota Corolla production.
It was a speech interrupted by standing ovations and delegates interviewed afterwards were charged up.
Edan Dhanraj, Local 2322 organizer at the Labor Studies program at the University of Massachusetts, cited King's emphasis on organizing. "Just inspiring to me. Myself and all my colleagues feel the same. It gives us more momentum."
Regarding the midterm elections and the need to insure Republican do not make gains, Carl Perkins of GM powertrain local 1181 said, "I'm definitely fired up about the midterm elections, we have to keep the direction going forward."
Standing up for all working families, not just union members, was a message heard throughout this convention.
Tim Stewart, alternate delegate from local 3000 who works at Auto Alliance in Flat Rock, Michigan, where the Ford Mustang and Mazda 6 are made said, "He did a great job. He's on the more progressive, activist side. The UAW has done a great job and because of that we got a little complacent. I've probably been guilty of it too. Now it's time to wake up and get back after them so the rest of this country can enjoy the fruit of their blessings."
Photo: UAW delegates march June 17 to Detroit's financial center demanding Wall Street pay for massive jobs creation. (John Rummel/PW)