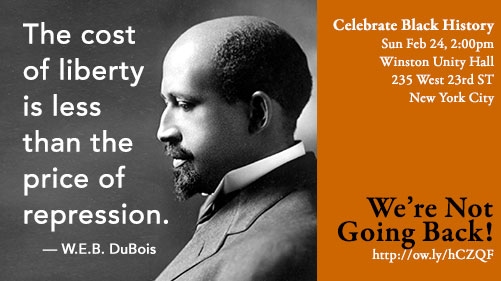 The event will be streamed live on this page at 2pm EST the day of the event. Tune in!

Streaming live video by Ustream
The Majority Voted Against Racism
Unity is the Mandate

WE'RE NOT GOING BACK!
Celebration of African American Culture & Struggle
Performances by: The People's Chorus, Amiri & Amina Baraka, Kahlil AlMustafa

Featured Speakers:
Pearl Granat, SEIU 1199 Vice President,
Maria Ramos, Labor Activist,
Chris Owens, Bkln. Reform Democrat
Keynote Address:
Jarvis Tyner, Communist Party USA
Wine & Cheese Reception Following Program
Sunday, February 24, 2013 2:00 – 4:30 pm

Henry Winston Unity Hall

235 West 23rd Street New York, NY
Suggested donation of $5 or what you can afford.
We're Not Going Back! Host Committee:
Annie Allen, Mary Arnold, Ras Baraka, Gary Bono, Jesse Campoamor, Chris Butters, Bill Davis, Libero Della Piana, Guy DeVeaux, Kamau Franklin, Pat Fry, Raglan George, Angela Givens, Lucia Gomez, Marvin Holland, Estelle Jacobs, Jason Javier, Florence Johnson, Judith Leblanc, Lashawn Lesley, Alfredo Lopez, Luis Matos, Louise Meriwether, Charlene Mitchell, Radhames Morales, Larry Moskowitz, Matt Murtagh, Estevan Nembhard, Cara Noel, Kimberly Ortiz, Radhames Perez, Bill Perkins, Ydanis Rodríguez, Danny Rubin, Joe Sims, Irene Tung, Janice Walcott, Gail Walker, Sam Webb
A People Before Profits Educational Fund Sponsored Event
­­­­­­­­­­­­­­­­­­­­­­­­­­­­­­­­­­­­­­­­­­­­­­­­­­­­­­For More Information Contact: (646)523­9203 estevan@cpusa.org