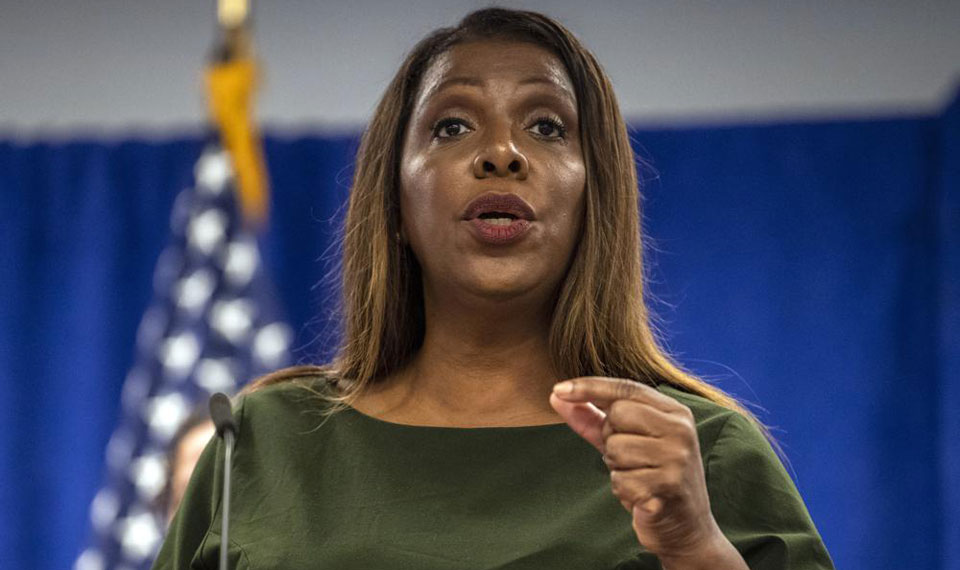 NEW YORK—New York Attorney General Letitia "Tish" James became the first legal heavyweight to throw the book at Donald Trump, his kids and his company, unveiling in a civil suit the tale of years of financial fraud, including during Trump's time in the Oval Office.
Good government groups hailed the case. Additional criminal charges could also come because James sent her findings on to the FBI, the U.S. Attorney for Manhattan, and the IRS, all for criminal investigation.
Trump's frauds are so long-standing and pervasive—including lying about his wealth and cheating on his New York taxes–that the FBI even found some evidence in the trove of illegally taken presidential papers which its agents carted away from his Mar-a-Lago, Fla., mansion on August 8.
Those papers included "correspondence concerning taxes and accounting information" about Trump's deals, James's suit said. The whole point: To get bigger bank loans while avoiding paying state taxes.
While the legal language is dry, James was anything but subdued in her televised press conference.
"There aren't two sets of laws for people in this nation," she declared. "Former presidents must be held to the same standards as everyday Americans."
And borrowing the title of a ghost-written Trump bio, James added: "Claiming you have money that you do not have does not amount to 'The art of the deal.' It's the art of the steal."
In order to procure bank loans Trump often overestimated the value of his individual pieces of property by as much as 16 times their real value.
James's court filing was the first of two pieces of bad news on the same day for the former Republican Oval Office occupant. Both move him closer to eventually having to face the music, judicially.
Late in the day, a three-judge federal appeals court panel in Atlanta, in an unsigned, unanimous opinion, overturned a lower court judge's ban on letting the FBI peruse documents its agents carted away from Mar-a-Lago. Trump named two of the appellate judges who sided with the Justice Department.
The U.S. District Judge, trump appointee Aileen Cannon, whose order the Appeals Court threw out, had said executive privilege claims could block DOJ from reviewing the documents—even though they had top secret markings, were stolen by Trump and had national security implications. The appeals court said she's wrong.
"The district court likely erred" in barring the department from "use of the classified records in its criminal investigation" and in requiring "the United States to submit the marked classified documents to a special master for review," the panel wrote. That's what DOJ argued. "We agree."
"We cannot discern why" Trump "would have an individual interest in or need for any of the 100 documents with classification markings," the three judges continued. He "has not even attempted to show he has a need to know the information" in them.
James's court filing, in both its damning details about Trump's financial lies and its more-advanced stage, is a more-immediate threat, even if it's a civil suit and not a criminal case.
"Donald Trump falsely inflated his net worth by billions of dollars, thereby enriching himself and cheating all of us," James said once her three-year investigation caught up with him. "Actions have consequences."
Help from Donald Jr., Eric, and Ivanka
"With the help of Donald Jr., Eric, Ivanka, and other defendants, Trump variously unlawfully inflated and deflated his net worth by billions to obtain and satisfy loans, get insurance benefits, and pay lower taxes. In short, he lied to gain massive financial benefits for himself," James stated.
Other defendants include the family firm and trusts that own or owned Trump properties in New York, Chicago, D.C., L.A., New Jersey, Florida, Aberdeen, Scotland and elsewhere. Trump controls the trusts.
Should James win the civil suit, Trump would be barred for life from running businesses in New York. The family company couldn't buy New York real estate for five years. Neither Trump nor the firm could seek loans from New York banks for five years. And the former Oval Office occupant would be barred from sitting on any corporate boards. The kids would face long business bans, too.
James's filing to the State Supreme Court in Manhattan said that after the investigation, hundreds of interviews, digestion of millions of pages of documents and taking testimony from 65 key players, she found Trump, his firm and Ivanka, Eric and Donald Trump Jr.—who are Trump Organization officers—defrauded New York State of at least $250 million in taxes. James wants that sum back.
Trump's frauds are many, and expensive. He even vastly misstated the value of his own Fifth Avenue apartment in Manhattan, to gain a tax break. It jumped by $127 million from 2015 to 2016, but that increase was hidden in his finances by a claimed drop in value of his Seven Springs estate in tony Westchester County, N.Y.
One big whopper among the lies concerned the Chicago building at 401 North Wabash Ave. James reported that for the first three years, starting in 2009, "This property's value has been excluded from the statements because, according to sworn testimony, Mr. Trump did not want to take a position that would conflict with his contention to tax authorities that the property had become worthless, and thus formed the basis of a substantial loss under the federal tax code.
"However, in 2012, using the building or its components as collateral, Mr. Trump and the Trump Organization obtained a $107 million loan on the building from Deutsche Bank. The loan received a $45 million expansion in 2014. Mr. Trump's supposed net worth of $4 billion reflected on his statement was used to personally guarantee the initial loan at an interest rate approximately four percentage points lower than it would have been without his guaranty."
James adds, several times, that Trump's net worth was far below the $4 billion he claimed. The truth, not that lie, would have raised questions about his collateral—personal guarantees—for various bank loans, especially those from Deutsche Bank.
The Deutsche Bank loans occurred, though James did not say so, after repeated past Trump bankruptcies literally froze him out of U.S. financial markets. That forced him to turn to Germany for loans and, some news reports said, Vladimir Putin's bankers in Russia.
And while Trump lumped his golf clubs together each year—to hide wild swings in their values and revenues–James's investigators found an 1100% markup from when he bought the Jupiter, Fla., club, increasing from the actual $5 million price in 2012, to $62 million the next year. "For every year from 2013 to 2020, virtually all of the value attributed to Jupiter was fraudulently overstated due to several deceptive methods and assumptions," the suit adds.
Trump showed "persistent and repeated fraud and illegality, which in this case includes violating other state laws prohibiting the submission of false financial statements, the falsification of business records, and the commission of insurance fraud," James' written statement said.
"Persistent" fraudulent conduct
The word persistent, James dryly noted, "connotes the 'continuance' or 'carrying on' of fraudulent conduct. Here, the key individual players remained the same over the course of several years," including Trump, Trump Organization Chief Financial Officer Allen Weisselberg and Donald Trump Jr.
Trump even inflated Mar-a-Lago to ten times its worth, with a double act of cheating by misusing it after moving from Manhattan.
"The Mar-a-Lago club was valued as high as $739 million based on the false premise that it was unrestricted property and could be developed and sold for residential use, even though Mr. Trump himself signed deeds donating his residential development rights and sharply restricting changes to the property. In reality, the club generated annual revenues of less than $25 million and should have been valued at closer to $75 million," the suit said.
Trump signing the deeds was another pattern. He didn't delegate, the suit says. Instead, Trump OKd everything, every step of the way, even while in the White House—which violates federal law, though James didn't say so.
"Donald J. Trump reviewed and approved statements and certified their accuracy. Donald Trump, Jr., as trustee, certified the statements' accuracy. Moreover, these defendants engaged in the same or similar conduct consistently over the course of several years—relying on prior years' information to prepare new valuations, continuing the use of deceptive wording to describe valuations…and continuing deceptive strategies used on the prior year's statements."
As might be expected, Trumpites took to  twitter to excoriate James, without bothering to look at the evidence. Some Trumpite tweeters ranted about why she didn't investigate street crime in New York City, a dog whistle for pursuing Blacks. So did one of his kids. James is African-American.
Good government groups praised James's suit.
Typical was the statement of Noah Bookbinder, a former federal corruption prosecutor who now heads Citizens for Responsibility and Ethics in Washington:
"Donald Trump and his family have run a corrupt enterprise for years. Even before his presidency, Trump apparently did everything in his power to profit the Trump Organization while keeping those he went to for loans and insurance in the dark about his company's true financial position.
"If his co-opting of the federal government as essentially a subsidiary of the Trump Organization was not bad enough, Trump appears to have committed repeated fraudulent acts, illegally inflating the value of his company to benefit the company and himself.
"We commend Attorney General James for bringing this suit. Should the Department of Justice judge it warranted on the facts and the law, they should bring criminal charges as well. Trump has escaped accountability for too long. It's well past time to pay the piper."