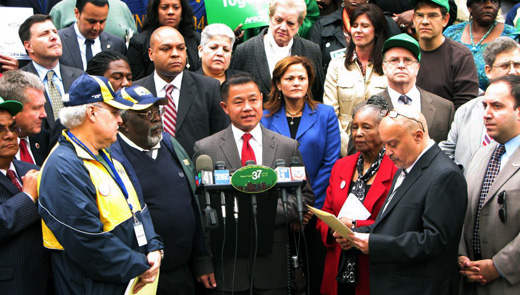 NEW YORK — A number of mayoral candidates in New York are making an effort to distinguish themselves from current Mayor Michael Bloomberg in some important policy areas. Unlike Mayor Bloomberg they are saying, for example, that unions are not to blame for the city's economic problems and at least one candidates says he does not like what the current mayor says is necessary to fight crime – a police department policy of "stop and frisk."
The policy differences emerged at a recent debate sponsored by DC 37, a big union representing many city workers.
The debate, held at the Borough of Manhattan Community College, drew not only workers who are members of unions but people impacted by the economic crisis in many different ways.
It opened with a statement by radio personality Bob Hennelly that "one in five New Yorkers live in poverty; the number of New Yorkers on food stamps more than doubled; in 2010, there were 800,000 people on food stamps, now, that number is closer to 1.8 million."
The Coalition for the Homeless reported that 50,000 people stay in shelters every night; half of those are children. Rents in the city account for 49 percent of income budgets.
The questions directed to the candidates came from the groups that sponsored the debate: the unions, and community and tenant group like La Fuente, TenantsPac and Community Voices Heard.
Sal Albanese (former city council member), Pastor Eddie Delgado (endorsed by Rubin Diaz), Bill DeBlasio (current Public Advocate), John Liu (current NY City Comptroller) and Bill Thompson (past NY City Comptroller) participated. DeBlasio, who arrived first, and Thompson last both received polite applause, but when Liu entered it was clear that he was the favorite of this audience. And during the question and response Liu received the most enthusiastic reaction.
Christine Quinn, the front runner, did not show and when the moderator made the announcement, the audience reacted with what seemed to be moderate disappointment but because of Quinn's positions-that are too close to Mayor Bloomberg's – they were not surprised.
The Bloomberg administration has said unions are the roadblocks to the recovery – not Wall Street. DeBlasio had this to say on this question, "I've fought Bloomberg every step of the way. This administration has been practicing union busting with a velvet glove. Contracting out and undermining not only the labor movement but the city's economy."
All of the candidates were in agreement with the above statement from DeBlasio. Liu said, "This is a discussion on the future of New York City, the future after Michael Bloomberg is out of here."
Liu was the only candidate that said he would end the Stop and Frisk policy of this administration while others talked in terms of modification. Raglan George, Executive Director of DC 1707, asked about the continuing cuts to early child care. "Are you going to try to have a line in the budget every year for children?"
Bill Thomson answered, "Restore 10,000 slots. This is a war against women and workers. We have to move this city in a different direction. Restoring and expanding these slots means openings for children and jobs for the people of New York."
Other major questions that will impact the quality of life for working class New Yorkers in the near future were also addressed, and all of the participants expressed basic agreement on those issues.
In spite of the conviction of two of Liu's fundraisers, Liu remains in the race and the clear favorite at this event in this campaign. However, it will become clear in the near future as to whether the convictions will be too much to overcome. City matching funds and/or big union endorsements are in the balance.
Photo: DC 37 Facebook page.