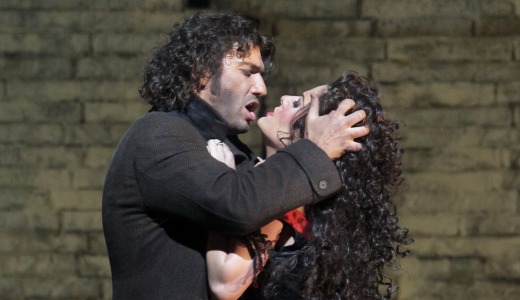 New York City Opera, one of the city's cultural treasures, stood at a crossroads this week, after contract talks broke down Nov. 30 between management and its two main unions.
The American Federation of Musicians, Local 802, and the American Guild of Musical Artists said opera management had unlawfully declared an impasse in the talks, despite the unions' intensive efforts to reach an agreement, including their readiness to make "extraordinary" concessions.
The two unions represent orchestra and chorus members, as well as directors, stage managers and principal singers who come in for specific performances.
In recent years financial pressures have forced City Opera to cut its season of performances drastically, from a one-time high of 12 to 16 operas a year with 130 performances, to a curtailed schedule of 16 performances.
The unions said the talks have focused on General Manager George Steel's plan to replace the 68-year-old professional company with ad-hoc freelance musicians and performers. They said this would eliminate dozens of jobs and would cut annual pay of the remaining instrumentalists and singers from about $40,000 a year to $4,000 while leaving Steel's pay at $400,000, far outstripping the orchestra's total payroll.
They also sharply criticized what they called Steel's "poor management decisions," including his decision to leave the opera's traditional home at Lincoln Center for the Performing Arts- also home to the New York Philharmonic and the Metropolitan Opera – for performances at various New York City venues.
Local 802 President Tino Gagliardi called management's proposals "a matter of paucity of vision. Steel talks about how the opera is broke, but doesn't understand that playing to large Lincoln Center audiences is the fastest way out of the fiscal crisis caused by his incompetent management."
Gagliardi said Steel has made "abysmal choices" in all areas, from revenue-generation to repertoire, and "his appalling choices are now about to decimate this beloved institution."
Gail Kruvand, chair of Local 802's City Opera negotiating committee, said the unions have "made a good faith effort to say that yes, we are willing to sacrifice – as we have in the past – for the sake of ensuring that the grand tradition of the city opera lives on." But she said the performers "must work as full partners with management" to produce quality repertoire, and called Steel's "intransigence" a "death knell for one of New York's cultural treasures."
AGMA's national executive director, Alan Gordon, declared the opera "will exist under collective bargaining agreements that protect its performers or it doesn't deserve to exist at all."
The unions, which for the first time have been bargaining together, said that while they hoped bargaining would resume, they were filing unfair labor practices charges with the National Labor Relations Board and would meet together to decide next steps. Performances are not scheduled to resume until Jan. 9.
City Opera was founded by then-Mayor Fiorello LaGuardia in 1943, to be the "people's opera." Among singers who performed there early in their careers: Renee Fleming, Beverly Sills and Placido Domingo.
From 1966 to 2010 City Opera was part of Lincoln Center. Besides its fall and spring opera seasons there, it had extensive outreach programs including educational performances for 4,000 students in more than 30 schools.
The company mounted innovative performances, including the only Carmen this writer ever saw where the plot made sense: Carmen was a guerrilla leader in the Spanish Civil War, and her interactions with Don Jose and Escamillo were part of the fight to save the Spanish Republic.
Also, La Traviata in a contemporary setting, with Violetta's illness AIDS rather than tuberculosis.
Photo: In this image provided by the Metropolitan Opera, Jonas Kaufmann, left, and Kate Aldrich perform in Bizet's "Carmen" at the Metropolitan Opera in New York City on April 28, 2010. (AP Photo/Metropolitan Opera, Ken Howard)