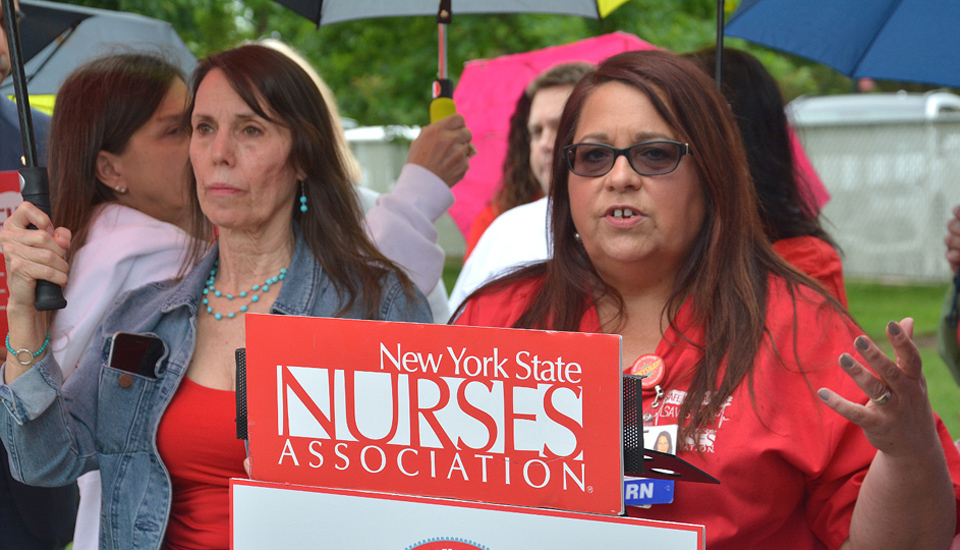 STATEN ISLAND, N.Y. – The New York State Nurses Association rallied outside Staten Island University Hospital on Sunday demanding the state government in Albany pass the "Safe Staffing for Quality Care Act."
On yet another rainy day in New York City. NYSNA members and their supporters stood outside SIUH's North Campus, umbrellas in hand and voices raised. The rallying cry was patient safety. The Nurses' Union is demanding improved staffing to patient ratios which will improve quality of care and allow nurses to spend more time with individual patients, providing support and comfort as well as medical treatment. The rally was part of a statewide effort. On Staten Island NYSNA represents nurses from the borough's two major hospitals: Staten Island University Hospital North Campus and Richmond University Medical Center.
Several of the nurses who spoke noted that each time a registered nurse, a licensed professional, is unable to provide the quality of care mandated by their code of ethical standards they must complete a "Protest of Assignment" (POA) document which is subsequently submitted to management. At SIUH alone over 1800 POAs have been submitted to management over the past three years.
Patricia Kane, a registered nurse with over 30 years' experience is NYSNA's treasurer. She is also a candidate for the New York State Assembly (Assembly District 61).
Kane summarized the issue: "We have an ethical obligation to our patients and to our community. When we feel we cannot provide our patients adequate care because we don't have enough resources to do so, we are obligated to inform our supervisors who make those assignments, and delegate that duty of care to us."
SIUH responded to the claims of short staffing, saying that its staff to patient ratios, and thus its hiring practices, are based on "legitimate staffing needs, not mandated quotas like those advocated by NYSNA."
Steve Lawton, president of Communications Workers of America Local 1102 and a NYSNA supporter who spoke at the rally disagrees.
"What does 'legitimate safety needs' mean when profit is related to what they are talking about? Does legitimate mean how much profit they make?" Lawton said.
NYSNA and their supporters are urging legislators to pass Assembly Bill A1532 and Senate Bill S3330 (the "Safe Staffing For Quality Of Care Act") which would require acute care facilities to maintain specified minimum levels of staffing, ensuring that the staff-to-patient ratio is sufficient to protect patient safety. Passage of the bill would effectively resolve the staffing issue in favor of the union – and the patients.