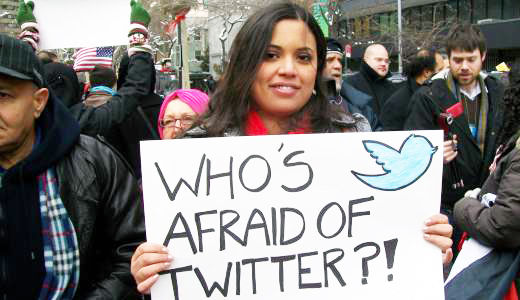 UNITED NATIONS – Several thousand people – Egyptians, Egyptian Americans and other New Yorkers – showed up here Jan. 29 in solidarity with the pro-democracy movement in Egypt and to demand that the U.S. stop propping up Hosni Mubarak's dictatorship with billions of dollars in military aid.
Much like the protests threatening the Mubarak dictatorship, this demonstration was organized on the fly, via Facebook and other social networking sites. As images of the standoff poured out of Egypt, New Yorkers began posting "events" on Facebook, urging people to come out to rally in solidarity. As the organizers learned of each other, they coordinated the time and place of the demonstration.
"Come show your support for the brave Egyptians who are fighting tirelessly for their freedom, dignity, and rights," read one of the Facebook event pages. "Bring flags, banners, posters, and your voice."
An impressive display of homemade banners was on display, as well as Egyptian and American flags. A number of people, hoping that Egypt's potential revolution would go in the same direction as Tunisia's, waved Tunisian flags.
Unlike traditional demonstrations, which are organized weeks or even months in advance, the list of speakers was more informal, with various community members taking hold of the bullhorn.
A moment of silence was announced, in honor of those slain by Egyptian security forces. Still, it took a few minutes for the message from the soapbox to reach the entire crowd – chants of "Down with Mubarak" erupted every so often.
After one speaker told the crowd,"Getting rid of Mubarak doesn't mean giving Egypt to the Muslim Brotherhood," the crowd erupted in cheers.
"Stability doesn't have to mean dictatorship," said a different speaker. "The United States should have an ally in an Egyptian democracy – without Mubarak! And we won't accept replacing a dictator with another."
He was referring to Omar Suleiman, whom Mubarak had just appointed as Egypt's new vice president. Suleiman has a long history of working with the CIA, including with its notorious "secret rendition" program. According to a former U.S. ambassador to Egypt, Suleiman knew all about "some of the negative things that the Egyptians engaged in, of torture and so on. But he was not squeamish, by the way."
As of now, more events have been created by Facebook users, asking people to come to various demonstrations in solidarity with the people of Egypt. The same type of demonstrations have taken place across the country, including 2,000 people in Chicago.
Image: Dan Margolis/PW