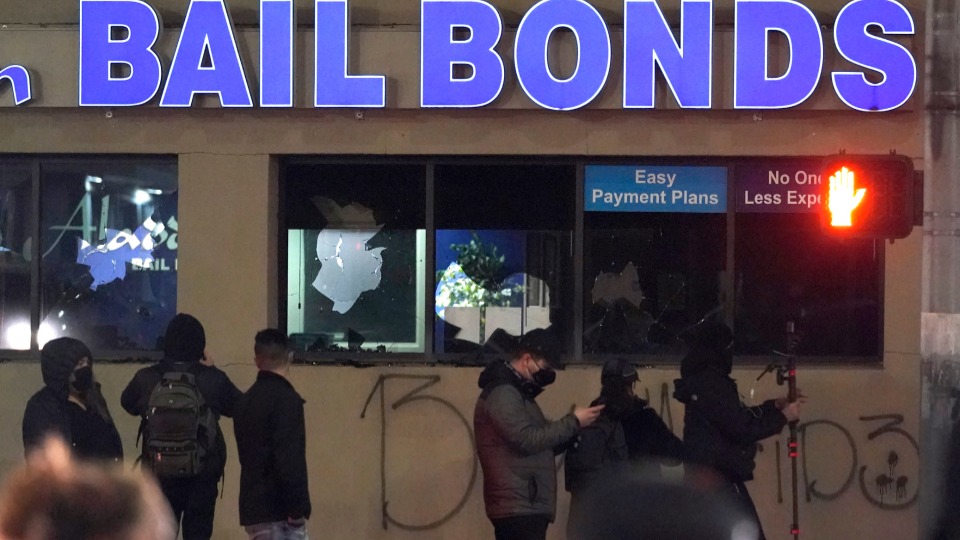 NEW YORK—The State of New York may have changed governors, but its undemocratic annual budget process remains. This year's biggest casualty? Probably bail reform.
Former Lt. Gov. and now Gov. Kathy Hochul presided for her first time since former Gov. Andrew Cuomo resigned last August amidst multiple sexual harassment accusations and the threat of impeachment. To many lawmakers, her more congenial style is welcome but not enough. As Sen. Michael Gianaris (12th District, western Queens) put it, Cuomo and Hochul are matched "in terms of looking out for corporate interests and her ideological positioning."
This year, as in the past, the "three in a room" negotiated the final package. Hochul, the Majority Leader of the Senate (Andrea Stewart-Cousins, 35th District, southern Westchester county), and the Speaker of the Assembly (Carl Heastie, 83rd District, northeast Bronx). It's a tradition that needs discarding.
More damaging is that budget negotiations determine much policy. So the legislators (again) avoided debate on many issues.
The glitziest example concerned Western New York. The state government and Erie County (Buffalo) combined will give $850 million to Terry Pegulas, owner of the NFL franchise Buffalo Bills, to help him build a new stadium. This is the most generous package of its kind in U.S. history (but will probably be outdone in a city near you). With a net worth between $5.8 and $7.0 billion, Pegulas is the current poster child for corporate welfare.
Ana Maria Archila, candidate for lieutenant governor, echoed the progressive complaint about the deal. She called it a "broken approach to economic development. The focus should be on investing in people, not stadiums."
And Hochul's pledge for a smoother, more transparent process? Lost between leaks to the press and then a press conference after promising to not negotiate through the media.
The most contentious issue was bail reform and criminal justice. Bail isn't supposed to be a fine, a form of punishment. Its purpose is to ensure that the accused will appear at pretrial hearings and trial. The money is returned to the defendant after the verdict. Closely related is pre-arraignment detention, when the accused is jailed until trial. Theoretically, bail or pre-arraignment detention are reserved for heinous crimes, dangerous defendants, and flight risks.
In a class society, the haves can post bail but the have-nots usually can't. With wealth and income inequality so tied to race and nationality, Black, Puerto Rican, Dominican, Mexican, and other similarly discriminated-against groups suffer disproportionately. Judges are far more likely to impose pre-arraignment detention if the accused is Black or of various Latino backgrounds.
Studies suggest that people detained before trial are more likely to plead guilty, be convicted, receive harsher sentences, and become involved with the criminal justice system again. "Pretrial" prisoners often lose their jobs and custody of their children. So abolishing bail and pretrial detention for all but major offenses and particular defendants is a humane policy.
If the accused crime was deadly, then there's not too much debate over the need for bail or pretrial detention. But for shoplifting or possessing small amounts of drugs? We are now talking punishment.
To mitigate this damage, the state's liberal and progressive lawmakers enacted bail reform in 2018 (and tweaked it subsequently). Kept on the books was cash bail for three types of crime: violent felonies, sex offenses, and witness tampering. The new law prohibited bail for most misdemeanors and non-violent felonies. And it worked. The jail population "significantly" declined since the 2018 reforms became effective in 2019.
For the coming year's budget, there were major rollbacks in the policy. Before itemizing the changes, the final budget does deserve a salute for rejecting the "dangerousness" standard. If accepted, judges could detain suspects or impose bail based on the perceived level of risk or danger faced by the public instead of on specified, objective criteria. Fortunately, that incredibly subjective action did not become legal.
The state added items to the possible bail bucket: Some sex trafficking offenses; second-degree burglary in living areas of a home; promoting obscene sexual performances of children; some crimes involving assault; all charges alleged to have caused the death of someone; sale of a gun to a minor; and possession of a gun with the serial number worn off.
Much of the general population would say those additions are democratic reforms if laws are indeed to protect law-abiding people's well-being. If progressives can't admit to this, they lose much credibility.
But the giant breach is an addition to the already-existing repeat offense provision of the bail law. Pretend someone is accused of a felony or "top-level misdemeanor" that "involve[s] harm to an identifiable person or property." That person is released before trial, then is accused of another felony or top-level misdemeanor before the original trial. Because of the second offense, the person is now eligible for bail.
In many felony cases, there should be little controversy—some gun possession cases; having a history of gun use; if the defendant is accused of seriously harassing someone else; violating orders of protection. These instances are typically short steps toward violent crimes.
With the new budget, however, theft is included as a crime involving such harm unless the judge rules that the theft is "negligible" and not "in furtherance of other criminal activity." Assembly member Latrice Walker (55th District, Ocean Hill and Brownsville areas of Brooklyn) went on a hunger strike to protest bail reform givebacks prior to the final budget. She warns of the lack of precise definitions of key terms.
"If we [the lawmakers] don't say what we mean, then someone else [a judge] will tell us what we mean," Walker told the Assembly.
Top-level misdemeanors include theft of less than $1,000 and could possibly include jumping the subway turnstiles. At $2.75 one-way, that is (partial) lunch money for the working poor. What about stealing baby formula because other household resources are drained for the month? Petty crimes driven by poverty? In racist America and New York State, such cases disproportionately comprise Black and Latino people because they are disproportionately poor.
Walker pointed out the criminalization of poverty in such cases and the inattentiveness to foreseeable ways to avoid petty crimes. In advocating for the reverse gear on bail, the New York Police Commissioner told lawmakers of a specific suspect, released on bail reform, who committed a specific crime. The problem with his story? That very person was sitting in Riker's Island jail at the time he was allegedly repeating offenses.
Why the push for the tightening up? The Brennan Center asserts there is "no clear connection" between bail reform and the recent increase in crime. But facts are guiding neither the arguments nor the policy changes. Nor some recent elections.
The public is hammered with the false message that bail reform has led to the recent increase in crime. In last year's municipal elections on Long Island, extreme right Republicans defeated centrist Democrats. In the Buffalo mayoral contest, the incumbent defeated in the primary, Byron Brown, won too easily in his write-in campaign against the Democratic primary winner, India Walton. In these and other elections, a major theme was that bail reform accelerates crime. Those who supported bail reform lost.
What might be most disturbing are opinion polls. When the bail reform law was passed, 55% of the state's voters thought it was good, and 38% thought it was bad. Today, by a 56%to 30% margin, most voters think the law is bad. Whether Democrat, Republican, or Independent/Other, the percentage of voters who think bail reform is good has declined, while the percentage who think it is bad has increased.
It is true that the phrasing of a poll's question often pushes the answer in a certain direction, but not this time. The question asked this March was, "Three years ago, New York passed a law eliminating monetary bail for people facing misdemeanor and non-violent felony charges. Do you think this law has been good for New York or bad for New York?" In January 2020 and April 2019, the question asked was essentially identical. Neither inaccurate nor leading to a pre-determined answer.
The margins are worse when asked if the law led to an increase in crime. Sixty-four percent say YES and 24% say NO. Opinions get more reactionary when the question asked is whether judges should have more discretion to set bail based on the seriousness of the crime or the prior record of the accused—82% YES, 11% NO.
Why? Racism is a huge factor. By a 56% to 39% margin, voters admit that more discretion for judges will mean more people of color (and poor people) will be unfairly incarcerated. So locking up more people pre-trial is "good" for the state even though it is "bad" for Blacks and other racial and national minorities! Add to the mix: Our long-running ethos of "lock 'em up and throw away the key."
Yes, the public is misled, and politicians are hiding behind this awful polling data. In many cases, the politicians put out the very falsehoods they later hide behind. Similar to the build-up to the second Gulf War, when the Bush administration leaked false information to the press, then at press conferences cited the resulting journalism in support of its narrative. ("We aren't making this up. You can read it in the New York Times!")
With bail reform, public opinion is headed in the wrong direction, and progressives and liberals are losing the battle of ideas. Sure, reaction is outspending progress. But that is always the case, though opinion is becoming more liberal or remaining stable on many other issues: the right to an abortion, legalizing marijuana, radical change to our dysfunctional healthcare system.
Too many on the left and in the progressive camp accept public opinion when it progresses but cannot deal with it when it regresses. It is an inconsistent opinion. Because I am citing it and acknowledging its reality, in the case of bail reform, does not mean I like it. It does mean that others and I refuse to close our eyes and ears.
For that very reason, the focus here has been mostly on changes to the state's bail laws that are (or should be) beyond debate. And a leader for progressive reform, Assembly member Walker, does not think that we should let those accused of "committing some egregious crime" walk without bail (or perhaps without pretrial detention). She is clear on exactly what is wrong with the budget's bail reform. Despite that, the Republicans are sure to accuse her otherwise.
We are being out-hustled. We must reach more voters with the truth in ways that will persuade them back to where they were merely three years ago. We must do better.