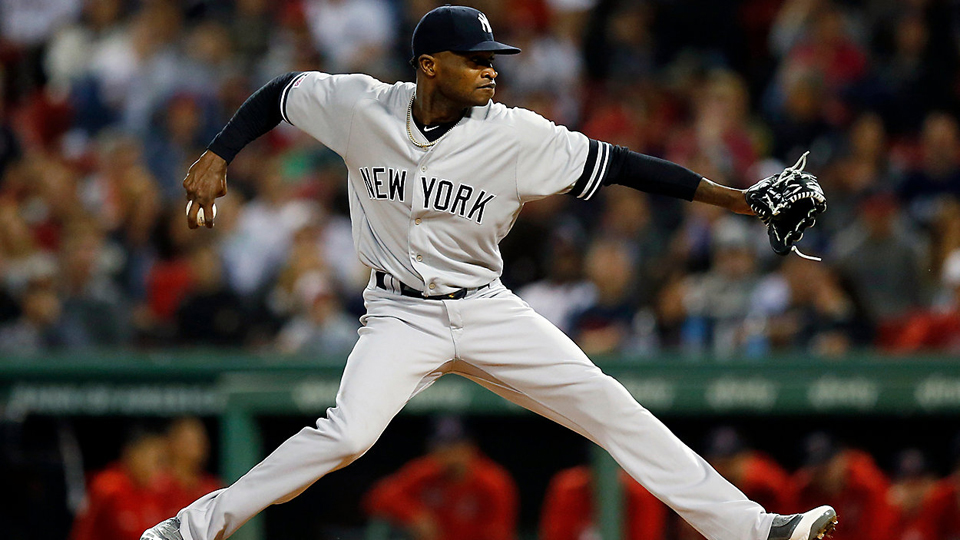 New York Yankees pitcher Domingo Germán spent the tail end of last year's baseball season benched following a September 2019 suspension over allegations of domestic violence.
On Thursday, Jan. 2, Major League Baseball announced he will be missing the first 63 games of the 2020 season as part of an 81-game ban for violating the MLB and MLB Players Union's domestic violence policy.
"My office has completed its investigation into the allegations that Domingo German violated Major League Baseball's Joint Domestic Violence, Sexual Assault and Child Abuse Policy," Manfred said in a statement. "Having reviewed all of the available evidence, I have concluded that Mr. German violated our Policy and that discipline is appropriate."
The alleged domestic violence incident involved his girlfriend, with whom he as a child with, and took place at their home.
Following the announcement, Germán announced he had agreed not to appeal the discipline under the collective bargaining agreement's grievance procedure.
Germán will be eligible to return to the game June 5 against the Tampa Bay Rays, barring any further developments.
The Yankees said in a statement they "remain steadfast" in its support of MLB's investigative and disciplinary process regarding Germán.
"We are encouraged by Domingo's acceptance of his discipline, and we sincerely hope this indicates a commitment to making a meaningful and positive change in his conduct," the team said.
As part of the discipline, Germán will participate in a domestic violence treatment program, and will also donate to Sanctuary for Families, a New York-based nonprofit providing aid to victims of domestic violence.
To date, Germán's suspension is the longest imposed under the joint domestic violence policy for a player who was not formally charged by law enforcement.
This suspension will also delay Germán's eligibility for free agency from after 2023 to after 2024. His $577,500 salary will not be paid for the time missed while placed on administrative leave, and he can expect a similar salary for 2020, which again, will not be paid until he is off suspension.
The 27-year-old right-hander was the Yankees' winningest star pitcher last season going 18-4 with a 4.03 ERA in 24 starts and three relief appearances. Anticipating such a decision from the Commissioner's office, the Yanks have been preparing to go on without their ace for much of 2020, signing Gerrit Cole to a $324 million, nine-year contract back in December 2019.
Let the spring training countdown begin.