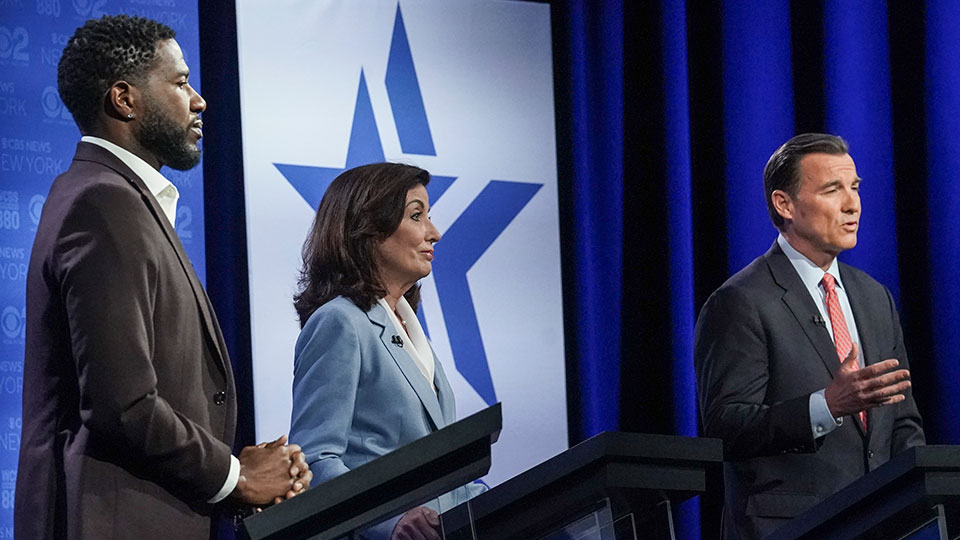 As usual, big money has been shaping New York's June 28 primaries, especially the governor's race. Is there any drama? With that office, perhaps. With the lieutenant governor's race, certainly. And the Assembly? Left unity is prevailing, regardless of whether any nametags on the legislators' seats must change.
Also on the ballot are judges and party leadership positions. Since the state has (again) two primaries, wait for August 23 to vote for state senate and House candidates.
Democratic Party gubernatorial race
Gov. Kathy Hochul is the unelected incumbent who finished Gov. Cuomo's third term. Since the leak of the draft Supreme Court opinion that would overturn Roe v. Wade, Hochul has concentrated on abortion rights. Nearly every Democratic elected official, virtually all unions, and many moderate social change organizations endorse her, the state's first female governor.
To her right is Rep. Tom Suozzi (NY-3, Long Island). His slogan is the face of pragmatism: "A common-sense Democrat who gets things done." Not listing endorsements on his website, he has stumped on reducing crime and cutting taxes. His voting record is centrist.
To Hochul's left is Jumaane Williams, NYC's Public Advocate. He lost by only six points when he ran against her in the lieutenant governor primary four years ago. Williams does not have union endorsements—trade unions that go against incumbents have hell to pay if insurgent candidates (predictably) lose. However, many liberal and progressive organizations, including the Working Families Party and the New York Progressive Action Network, and the most advanced elected officials have endorsed him. His platform is unquestionably advanced, and activists consistently see him at demonstrations and gatherings.
Praising Williams as "the best choice" for "working people," Sochie Nnaemeka, New York State WFP director, adds, "This is a serious crossroads moment in New York."
Thus far, Hochul has raised over $30 million, Suozzi nearly $9 million, and Williams over $125,000. The governor's contributions include eight over $50,000. With contribution "limits" like these, people's candidates will always be soundly outfunded. Practically all of Williams' money is from small donations.
Hochul's incumbency and the war chest are driving the polls. Except for Asian voters, who favor Suozzi, every demographic group—by race/nationality, gender, income, geography, education—favors her.
The Cook Political Report rates the seat as solid Democratic, and the Race to the White House has her winning no matter her opponent. However, the WFP and others are still working hard for Williams to show the governor the progressive vote strength.
However, there are fears. Hochul is shunning in-person events and has little presence in Black and Latino neighborhoods in the state, especially in New York City. Some campaign gurus and other elected officials worry this could lower the turnout in June and November, with three negative consequences.
First, Lt. Gov. Antonio Delgado might lose his primary, forcing Hochul to run in November with an opponent's partner. Second, key House and state races could become unnecessarily competitive against Republicans. Thirdly, lack of enthusiasm and turnout could possibly contribute to a Republican victory in the governor's race in the fall. The last Republican governor, George Pataki, won his first term with a low Democratic turnout.
George Arzt, a Democratic strategist since the 1980s, said, "Everyone is scratching their heads. She's held no rallies and she needs to get out the vote."
Crime and punishment gubernatorial primary
In last year's local elections, Long Island Democrats were punished over their support for state-level bail reform. Republicans effectively campaigned on the general public's mistaken belief that fewer mandatory instances of cash bail increased the crime rate.
This year's GOP candidates for governor are repeating the same play. At the first Republican televised debate, all four candidates pledged to fire Manhattan District Attorney Alvin Bragg for his progressive direction of the office.
The frontrunner has been Suffolk County (Long Island) Rep. Lee Zeldin (R–NY 1). He defended Trump in the impeachment proceedings and voted against certifying Arizona's and Pennsylvania's electoral votes. Maintaining consistency, he voted against establishing the Jan. 6 Commission. Also running is Rob Astorino. He served as a Westchester County legislator and executive but has lost other races for governor (2014) and state senate (2020).
Andrew Giuliani was a special assistant to President Donald Trump Trump. His father, former NYC Mayor Rudy Giuliani, was a leading force to upend President Joe Biden's 2020 victory. The candidate-son is a contributor to the extreme right cable station Newsmax and tells audiences Biden stole the 2022 election.
Multi-millionaire Harry Wilson, to his credit, served in various positions for President Barack Obama. And Wilson acknowledges that Biden won in 2020. Otherwise, he's all for "supporting the police to fight crime" and "lower taxes."
In most polling, Zeldin has led the other three alternate positions. However, a late May poll showed Giuliani ahead. Recent figures of cash on hand reveal Wilson with $4.2 million, Zeldin with $3.1 million, Astorino with $1.1 million, and Giuliani with around $300 thousand.
Lieutenant governor candidates
Importantly, running mates of gubernatorial candidates have their separate primary. Whoever wins is paired with that party's gubernatorial primary winner. Gov. Hochul's Lt. Gov. Brian Benjamin was arrested in April. He resigned but was still on the ballot. The law had to be changed in the middle of the campaign season to replace him on the ballot.
Her replacement was Rep. Antonio Delgado (D–NY 19). He flipped a GOP-held House seat in 2018 and thus broke barriers as the first such self-identified African American and Latino from outside New York City.
Delgado is not politically diverse from Hochul. He is ranked "more liberal" than merely 53 percent of the House and "more conservative" than 91 percent of House Democrats. Endorsements mostly come from elected officials but also unions and liberal reform groups.
There has never been a statewide Latino/Hispanic state officeholder. Representation matters and is a legitimate battle to fight. Delgado's self-identification stems from his maternal grandfather's Colombian, Mexican and Venezuelan roots.
Political consultants and one of the other two candidates, Diana Reyna, question the validity of his ancestral claims. Reyna said that a "last name does not make you Latino," and that the first such statewide official holder should be "authentic."
The other candidate, Ana María Archila, accepts Delgado's identification at his word but adds, "will he stand up for Latino New Yorkers in office? Sadly, on that question, his record is mixed."
Suozzi's lieutenant governor mate is Reyna. She was the first Dominican woman elected to public office in the state when she served in the New York City Council from 2002 to 2013. Later, she was a deputy to now-mayor Eric Adams when he was the Brooklyn borough president.
To the left, standing with Jumaane Williams, is Archila. She was a co-founder and leader of Make the Road New York and its political action arm. Archila was also the co-executive director of the Center for Popular Democracy. Like Williams, Archila is often seen in the streets, demonstrating and marching for immigrant, worker, women's, and LGBTQ rights. The most progressive elected officials and mass organizations, including the WFP and NYPAN, endorse her. She vows to change the office from one of ribbon cutting to instead people's advocacy.
Funding disparities exist for this primary, too. Delgado transferred $2 million from his congressional war chest and has raised more than a quarter of a million dollars additionally. Reyna has raised over $350 thousand, and Archila over $300 thousand.
In a debate, Archila rightfully called out Delgado and Reyna for receiving corporate special interest funding. Reyna replied that the WFP and the progressive elected official support for Archila also represented "special interests."
There is no primary for the Republican lieutenant governor spot. Alison Esposito, a deputy inspector for a Brooklyn police precinct, is Zeldin's choice and the only candidate. She repeats the Republican crime-fighting theme by mentioning she not only talks about fighting crime, but she has "actually done it."
"We Can't Wait Slate" and left unity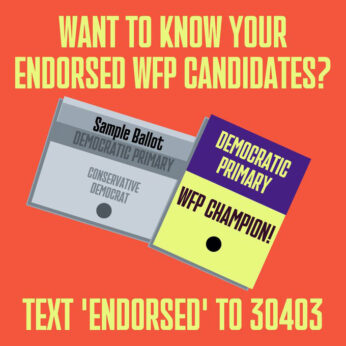 The WFP has endorsed candidates in 64 Assembly districts, ranging from Steve Englebright (District 4–Suffolk County, Long Island) to Jonathan Rivera (District 149–some of both Buffalo and Lackawanna). While both of them are unopposed incumbents, plenty of the other 62 are challengers.
Most prominent is the WFP's "We Can't Wait Slate," nine candidates spanning from Queens to Schenectady. Two are running for open seats while the other seven are challenging incumbents. Rep. Alexandria Ocasio-Cortez has endorsed the entire slate.
Often, the incumbents are voting decently, but that fact is misleading. Voting only happens when the bill manages to make it to the floor. More important is the work of drafting great legislation and getting it from committee to an actual vote. All of the challenged incumbents drag their feet on that score.
Juan Ardila in District 37 (Queens) is running for the open seat due to the retirement of Catherine Nolan. Samy Olivares in District 54 (Brooklyn) is challenging incumbent Assembly member Erik Dilan. Keron Alleyne in District 60 (Brooklyn) is running against Nikki Lucas, the incumbent.
Delsenia Glover in District 70 (Harlem) is challenging Inez Dickens, the incumbent. Jessica Altagracia Woolford in District 81 (the Bronx) is targeting Jeffrey Dinowitz, and Jonathan Soto in District 82 (the Bronx) is running against incumbent Michael Benedetto. Dinowitz has held his seat for 28 years and Benedetto for 18.
Vanessa Agudelo in District 95 (Hudson Valley) is running for the open seat of retiring Assembly Member Sandy Galef. Sarahana Shrestha in District 103 (Hudson Valley) is up against Kevin Cahill, first elected in 1992. Finally, Justin Chaires is running in District 111 (Schenectady) against Angelo Santabarbara.
There is a healthy cross-endorsement beyond Rep. Ocasio-Cortez. NYPAN and DSA are also endorsing Alleyne and Agudelo. DSA is also endorsing Shrestha, and NYPAN is also endorsing both Soto and Chaires.
Overall, NYC's DSA is endorsing nine Assembly and four Senate candidates. Besides the We Can't Wait candidates, four assembly candidates are also endorsed by the WFP, and one is endorsed by the WFP as well as NYPAN. Only one of its State Senate candidates is not endorsed by either the WFP or NYPAN. Rep. Ocasio-Cortez has endorsed the entire DSA slate.
NYPAN is endorsing nine Assembly candidates, and only one is not endorsed by either the WFP or DSA. The pattern generally holds for NYPAN's eight State Senate candidates.
On the other side of the same coin, not one race has a DSA-endorsed candidate up against a WFP-endorsed candidate. (NYPAN and the WFP have contending picks but in only two State Senate races.) At least concerning DSA and the WFP, this united front has been deliberate.
"The issues and the crises that we're up against are just way too massive, and we need to work together if we want to beat back the industries and the right wing that is really organizing in the state," said Sumathy Kumar, co-chair of the New York City chapter of DSA.
Leftover
Senate Majority Leader Chuck Schumer (D) has no primary opponent, so he skips June 28. It might not matter—Senate Majority Leader Chuck Schumer has a 98 percent chance of reelection. The Working Families Party, New York Political Action Network, trade unions representing nearly 2 million workers in the state, as well as a variety of liberal to progressive organizations endorse him. If re-elected, he will serve a fifth term, a record for U.S. senators from the state.
The Republicans also do not have a U.S. Senate primary. Joe Pinion is the Republican (and Conservative) nominee, the state's first major party Black candidate for the seat. He is part of a national trend in the GOP that is doubling its Black candidates compared to 2020, running 81 candidates for the House and Senate. Pinion is endorsed by Rep. Elise Stephanik (R, NY-21), who opposed certifying election results from Pennsylvania and three other states. He was a host for NewsMax.
There is no primary for the other two statewide offices, currently held by Comptroller Tom DiNapoli and Attorney General Letitia James. DiNapoli is endorsed by both the WFP and NYPAN, and James is WFP-endorsed.