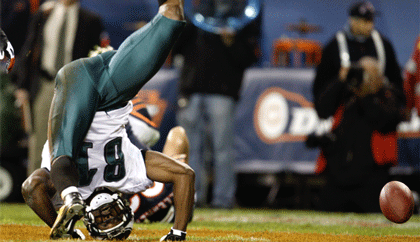 The NFL and its players union recently announced the approval of independent neurologists to evaluate head injuries and treating players due to concussions.
The move comes weeks after lawmakers on the House Judiciary Committee heard testimony from former players and others alleging neglect on the part of the league when it comes to active and retired players with brain injuries.
For years scientific studies have found there is a serious link between players who suffer repeated concussions and long-term consequences such as brain damage, dementia and cognitive decline.
Decisions on when players who sustain concussions should return to play have been made by doctors and trainers employed by the team. The result has raised concerns and conflicts of interests especially when coaches and owners expect players to return to the field more quickly than proper medical care would suggest.
The NFL now says it is requiring teams to find outside experts in neurology to aid their medical staffs when players get concussions. The Players Association medical director, Dr. Thom Mayer and the NFL's medical advisor will lead the selection process.
Both groups will work together to identify and approve specialists for each team and ensure a highly qualified neurologist or neurosurgeon works with its medical staff. The new doctors will start working with teams as soon as the specialist is chosen.
Details still need to be figured out such as to who will pay for the independent doctors, whether the doctors will be on the sidelines at games, and, if so, whether there would be one expert present per team or one per game.
According to Mayer the newly appointed doctors would be independent of the teams. They're not part of the club medical staff and they would be an independent voice with regard to whether the player's ready to return or not, he said.
Goodell is making a startling concession to medical ethics, one that has been resisted by all of his predecessors, writes Dave Zirin, sports editor for The Nation.
In the past the league and Commissioner Roger Goodell have insisted that the NFL's policies are safe and that no third-party involvement is necessary, pointing to research by its committee on concussions as proof. The league and co-chairman of its committee on brain injuries, Dr. Ira Casson, have played down studies and anecdotal evidence linking retired NFL players to brain damage.
Others say improper medical care has occurred in the league for years and the NFL has a reputation of a blanket denial or minimizing the link between concussions and brain injuries.
Former NFL commissioners like Pete Rozelle ignored this issue even when players like the Colts' Hall of Fame tight end John Mackey was diagnosed with front temporal dementia, says Zirin. Commissioner Paul Tagliabue did the same when Hall of Fame center Mike Webster died at age 50, homeless and incoherent who some say was suffering from dementia when he was still an active player in the league.
Even Goodell ignored the problem before last month's congressional hearing, says Zirin. He defended the system even though Patriots linebacker Ted Johnson, who suffered from concussions, said that his coach Bill Belichick bullied him back into games (something Belichick denies). Still no action was taken after the 2006 suicide of Eagles pro-bowler Andre Waters, 44, whose brain tissue was that of an 80-year-old with Alzheimer's.
"The absence of medical oversight has been nothing short of breathtaking," says Zirin. "Goodell has been forced to shift his stance because the issue has simply reached a tipping point."
The new move "marks a major change in policy and would be like the tobacco Industry bringing the American Cancer Institute into its boardroom or Exxon Mobil stating that they needed more input from Greenpeace," writes Zirin.
Saying there is no connection between football and brain injuries is like saying there is no connection between smoking and lung cancer, notes Zirin. The main reason this situation has reached crisis proportions, is that every Sunday we see evidence of the problem and now we are much more aware of the tragic consequences, he writes.
"It's time for a change. A concussion is caused by a blow to the head and can happen to any player, on any play," says Zirin. "Goodell, I believe, sees the handwriting on the wall: Brain damaged players and the perception of indifferent owners hold the potential to permanently damage the sport."
The NFL is a multibillion-dollar operation and football, next to boxing, is one of the most violent modern day sports on the planet. Supporters of the new policy hope it spreads to every level of football including the millions of players at the college, high school and youth levels.
Speaking on live television during Sunday night football Goodell said: "We want to give players the best medical advice. This is a chance for us to expand that and bring more people into the circle to make sure we're making the best decisions for our players in the long term."
At the end of the day critics note consulting doctors beyond the team does not necessarily solve all of the league's conflict-of-interest issues. It's still unclear how guidelines would be defined when deciding who is an independent expert, they say.
Photo: Nam Y. Huh/AP