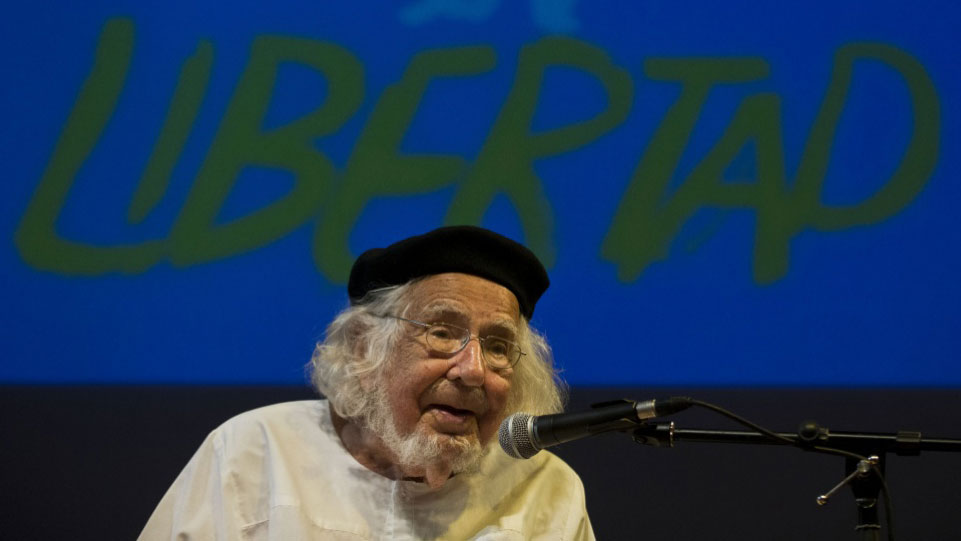 Nicaragua is in mourning for revolutionary priest, poet and former Sandinista government minister Ernesto Cardenal, who died on Sunday aged 95.
The Sandinista government offered condolences to the cleric's family and friends following his death in the capital Managua and recognized his "contribution to the struggle of the Nicaraguan people."
It announced a three-day period of mourning and gave thanks "for his life, his merits and his indefatigable love for Nicaragua."
Cardenal was an ardent proponent of liberation theology — Christianity rooted in Marxism and social justice — and was appointed Nicaragua's first minister of culture after the 1979 Sandinista revolution overthrew the U.S.-backed Somoza dictatorship.
It put him at odds with the Vatican, as Pope John Paul II insisted that Cardenal and four other priests resign their positions ahead of his planned visit in 1983.
But the Sandinista government, led by Daniel Ortega, refused to replace them and the pope publicly berated Cardenal as he was greeted on the tarmac at Managua airport, reportedly telling him: "You must straighten out your position with the church."
His sermons were known for being extremely political, with many of his flock supporting the Sandinista cause and taking part in armed struggle against the Somoza government.
As directed by the pope, Nicaragua's powerful bishops suspended him from the priesthood in 1985 after he explained that Christ had led him to Marx in an interview.
"I don't think the pope understands Marxism. For me, the four gospels are all equally communist. I'm a Marxist who believes in God, follows Christ and is a revolutionary for the sake of his kingdom," he insisted.
He reinforced his views in a later interview with The New York Times when he insisted that he remained a revolutionary committed to changing the world.
"The Bible is full of revolutions. The prophets are people with a message of revolution. Jesus of Nazareth takes the revolutionary message of the prophets.
"And we also will continue trying to change the world and make revolution. Those revolutions failed, but others will come."
His suspension was finally lifted in February last year after Pope Francis granted absolution from "all canonical censorships."
Cardenal's personal assistant Luz Marina Acosta said on Sunday: "Our beloved poet has begun the process of integrating with the universe, with the greatest intimacy with God."