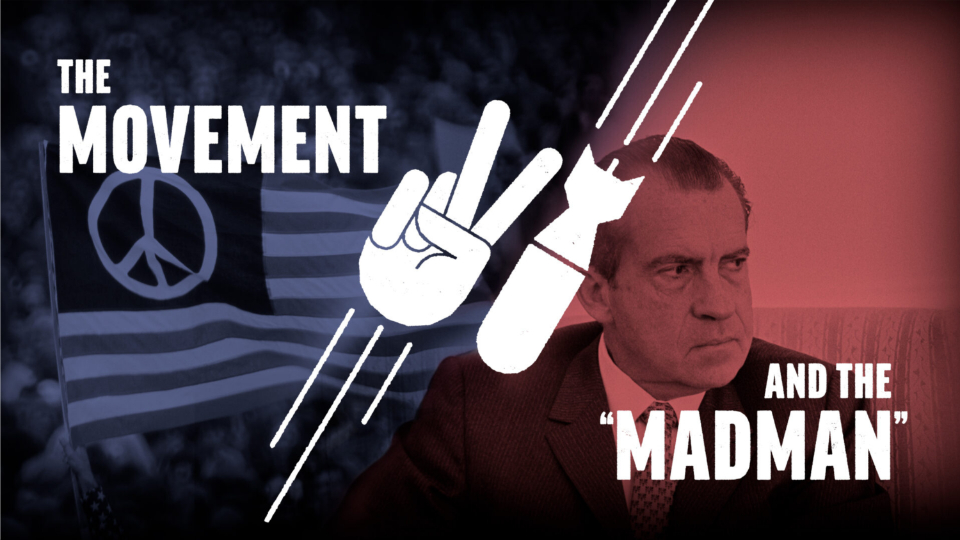 Public Broadcasting's American Experience Series' new film The Movement and the Madman is the colorful, brilliantly told story of an important turning point in U.S. history—how the Vietnam War led to the growth of the American anti-war movement.
In the Fall of 1968, Richard Nixon was elected U.S. President with the pledge to end the controversial war on Vietnam based on his secret plan—which he refused to divulge, but he promised "peace with honor." As archives recently made public revealed, Nixon's actual "peace plan" was to escalate the war, including the use of nuclear weapons.
Nixon told the nation that he had developed new policies to successfully achieve peace. But when the Defense Department's Morton Halpern concluded that the war was hopeless and should be abandoned, Nixon sought to escalate the conflict. He called it his "Madman Theory." As later testimony and actions revealed, the theory called for more troops and more bombing, including the illegal use of bombing in peaceful countries bordering on Vietnam. It also threatened the use of nuclear weapons.
Clearly, Nixon thought he would be able to bully Vietnam into submission. Secretary of State Henry Kissinger—who turns 100 this May, never indicted for his many war crimes—launched a series of harassments. Cargo ships en route to Vietnam were closely followed. Countries abutting Vietnam (Laos, Cambodia) were invaded and bombed. Civilian targets including waterways were threatened. Even the Soviet Union, Vietnam's ally, was warned off further assistance with saber rattling. "I can't believe that a fourth-rate power like Vietnam doesn't have a breaking point," Kissinger moaned.
But the Vietnamese were steadfast. They would not be intimidated. Nixon's aggression failed.
Not only had Nixon underestimated the Vietnamese, but he had also misjudged the American anti-war fervor. In the Spring of 1969, Quakers and other religionists joined politicians, like Congressmembers Shirley Chisholm and George Brown, in demonstrating on the Capitol steps. College students from across the country read the names of the war dead on local television. Progressive unions stood shoulder to shoulder with protestors.
Civil rights activists saw the anti-war movement as another aspect of their own struggles. Celebrities, particularly actors and singers, joined in. John Lennon and Yoko Ono used their wedding to put forward their anti-war anthem "All We Are Saying Is Give Peace a Chance."
Representatives from all of these constituencies joined to shape two huge demonstrations in October and November of 1969, as well as marches, vigils, sing outs, and all manner of other protests. In freezing weather, walkers from the March Against Death trekked 39 hours from Arlington National Cemetery to the nation's capital. Nixon, who claimed he would not be swayed by such public shows of sentiment, wanted helicopters to fly low over marchers to blow out their memorial candles.
The focus of these actions was Washington, D.C., in the East, and San Francisco in the West. On Nov. 15, 1969, somewhere between 500,000 and a million demonstrators converged on the Washington Mall. This New Mobilization to End the War was, at the time, the largest demonstration in U.S. history. Pete Seeger, Phil Ochs, Richie Havens, and Crosby, Stills and Nash sang out for peace. Coretta Scott King spoke about her husband Martin's dream for peace.
Nixon's "Madman" strategy had failed to quiet the popular will, as it had failed to cow the Vietnamese. In fear, the president had turned Washington into an armed camp with troops encircling the White House and bunkers dotting the public buildings. Despite this further show of force, the demonstration was overwhelmingly peaceful.
When a small contingent of Weathermen protesters paint-bombed the Justice Department, overreacting, heavily armed police attacks, and teargas saturation exposed the fear at the root of the failed "Madman" strategy.
Award-winning director of over 40 documentaries and sometimes actor Stephen Talbot has put together a spectacular, telling film of one of the highwater marks of the Sixties. Anyone who lived through that era will be heartened to remember its optimism and good works. Anyone younger should take notes to get ready to oppose the next such useless war.
The Movement and the Madman premieres as a Special Presentation of American Experience on March 28, between 9:00 and 10:30. Please check local listings.
(Full disclosure: The teargas from the 1969 Justice Department demo still burns this reviewer's eyes!)