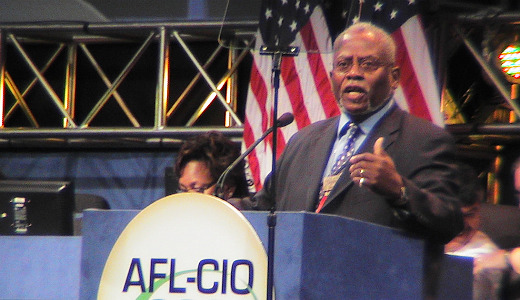 WASHINGTON – Anyone betting that Republicans will take over one or both houses of Congress this November wasn't at the Battleground States Conference run by the AFL-CIO here this morning.
Assembled at the Washington Convention Center were the people the nation's largest labor federation calls its "boots on the ground." They are the leaders it believes will turn the anger and frustration workers across the country are feeling into a resounding defeat for right-wing Republicans hoping to "turn back the clock" by seizing control of Congress on Election Day.
Among the early-morning crowd here were union political action directors, presidents of AFL-CIO state federations and central labor councils, union staff, and labor leaders with close ties to an array of community groups from selected "battleground states."
"Your states will swing this election and you will swing your states," AFL-CIO President Richard Trumka told the gathering.
He addressed what he said has been "a lot of talk" about an "enthusiasm gap" among progressive voters and "a lot of talk" about how progressives "don't want to go out and vote and have a pox on both your houses attitude towards this election."
"The Republican Party of No doesn't want our vote," Trumka declared. "All they want is for us to stay home. They want us to feel hopeless and disgusted so they can come back by default."
Karen Ackerman, the federation's political action director, said right-wing strategy worked when Democrat Bill Clinton was president in 1994 because, at the time, there was no AFL-CIO political program. She displayed charts showing that Republicans elected to Congress in 1994 won by margins much smaller than the number of union members who were subsequently mobilized to vote for union-endorsed candidates in each of those districts.
At today's Battleground States Conference the union leaders are hearing about the importance of reaching out to allies in the communities across the country.
James Andrews, president of the North Carolina AFL-CIO, interviewed here, said it is this coalition-building that has kept the labor movement alive even in the anti-labor, "right-to-work" atmosphere of the South. "It is this approach of coalition-building that also ended up turning North Carolina from red to blue in the 2008 elections," he said.
Andrews, who has a reputation in the labor movement for turning out ground troops for everything from marches and rallies to Election Day operations, himself personifies coalition-building.
As an active member of the NAACP and as a young worker in the early 1970s, he went to work in a pickle plant where he led a tough battle to organize the workers into a union – the old Amalgamated Meat Cutters union which later merged into the United Food and Commercial Workers.
Andrews said he is working now with his staff to see how many buses can be sent from North Carolina to the planned march for jobs here on Oct. 2. His approach, he said, will be to reach out to a large number of community groups, including African American churches.
Nick Unger, an AFL-CIO staff organizer, said the turnout on Oct. 2 will depend on the extent to which unions across the country and their allies, particularly civil rights organizations and African American churches, get involved. He said he would not rule out a possible turnout of 100,000 or more at this point.
"One New York union, alone can bring tens of thousands," Unger said. "If, let's say, the federation in North Carolina brings 10 buses, that's 5,000, if 2,500 busses are filled that's 100,000. The AFL-CIO is endorsing this demonstration but it is the unions and the churches and the organizations across the country who, if they decide to make this their thing, will turn out the 100,000."
Unger said a big demonstration will boost labor's entire election program because "it gets people talking and it gets them energized, which is what you need for an election."
Trumka took pains to address concerns of conference participants themselves who have been frustrated with the slow pace of change, the high jobless rate, continuing wars and other problems.
In defense of the Obama administration, Trumka ticked off a number of issues on which "we have to keep it going."
He said that in a year and a half the president has had to "dig out of a deep economic hole" and "face extremist opposition on every point."
"Against these odds," he said, "we no longer are losing 700,000 jobs a month but are gaining a few. It's not enough, but we have to keep it going.
"By the end of this year we will have created or saved 3.5 million jobs. It's not enough. But we have to keep it going.
"We have fulfilled the dream of every president since Harry Truman and started to move down the road to health care for all. We're not there yet but we have to keep it going.
"We've halted taxpayer bailouts and have won some strong Wall Street reform. We have to keep it going.
"We have a Labor Department enforcing the law, an NLRB that believes in the right to organize and an OSHA that tries to do what it is supposed to do. We have a Wage and Hours Division looking out for workers. We have to keep that going.
Trumka said it was the job of the people at the conference to tell workers, "We know you are angry but we have made progress. No one said this was going to be easy. Ask African Americans how long they have fought and continue to fight. If they had given up after a year and a half they would still be in chains."
Calling this "the most crucial election in 75 years," Trumka said defeat would mean "corporate lap dogs, rather than Harry Reid," running the Senate, "a chairman of the House energy committee who apologizes to BP after they spill their oil," and "a tea party senator from Nevada who is against Social Security and says people who collect unemployment benefits are lazy."
"The message I have is that we must work like there's no tomorrow in this election. Because, guess what: There might not be."
Photo: North Carolina AFL-CIO President James Andrews, speaking at last year's AFL-CIO convention. (North Carolina's Union Movement)