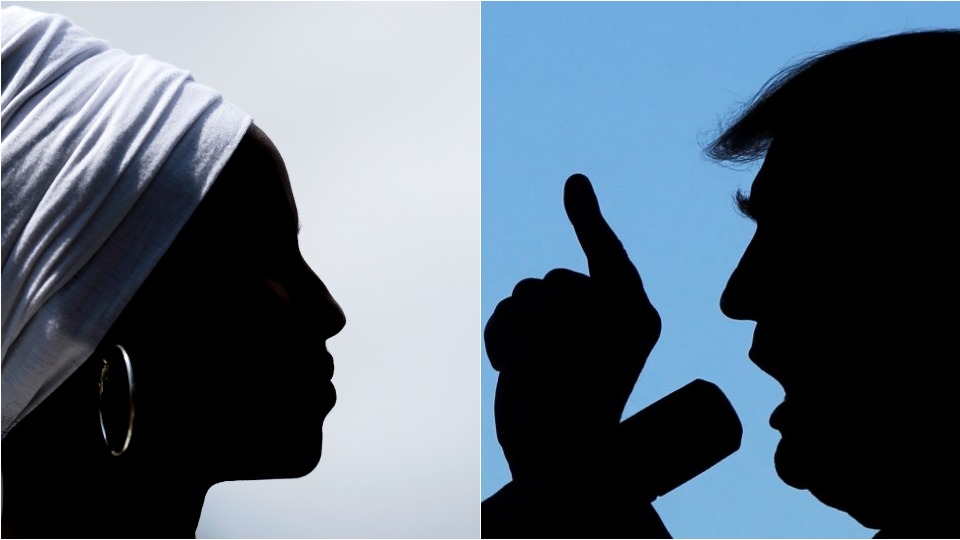 During President Donald Trump's Wednesday night "Keep America Great" rally in Greenville, N.C., he targeted Rep. Ilhan Omar, DFL-Minn., once again, claiming she has a history of "launching vicious anti-Semitic screeds." The man who currently occupies the highest office in government basked in the rabid chants of "Send her back!" and "Traitor!" that burst out from the crowd. Trump has a plan for re-election, and it involves making Omar, a young Black Muslim immigrant woman, the symbolic figure to galvanize the hate and fear of his base.
This week, and in the weeks leading up to this moment, Omar and her progressive colleagues of "The Squad" (Reps. Ayanna Pressley, Rashida Tlaib, and Alexandria Ocasio-Cortez) have had a range of insults and accusations hurled at them from Trump and his supporters. Phrases such as "build the wall" and "lock her up" have been replaced by more racially charged overtures with a side of red-baiting to boot. Trump's administration wants to create a narrative that these four women of color who challenge his anti-worker policies and presidency are un-American. Of course, nothing could be further from the truth.
What Trump and his class truly fear is being drowned by the wave of change that these women exemplify. A power shift is underway, heralded by the mid-term elections of 2018, and Trump and his backers are determined to block it at all costs.
One day after Trump was inaugurated into office women took to the streets to protest his election, making it the largest single-day protest in U.S. history. One year later, unprecedented numbers of women ran and won elections. African Americans, women, youth, Latinos, LGBTQ, and other marginalized groups showed up and showed out, successfully using the electoral process to make themselves heard. Trump wasn't in the race as an individual in 2018, but it was clear that the elections were a resounding rebuke to many of the ideas and policies he pushes.
Trump's 2016 campaign relied on the not-so-subtle message that making America "great again" meant making it great for white people. Trump wanted his base to believe he was "draining the swamp" when, in reality, he wanted to bring the swamp to the White House. Instead of addressing the concerns of working people when it comes to poverty wages and exploitation, he lied to white working people, making them believe that their real problem was the "others."
This tactic has been reinvigorated yet again. Earlier this week Trump declared The Squad should "go back" to wherever they came from. Omar is a naturalized citizen. Ocasio-Cortez was born in New York, and her family is from Puerto Rico, a U.S. territory. Pressley was born in Cincinnati. Tlaib was born in Detroit. Yet, untruths become "facts" on Trump's platform, as Omar is being made the face of his base's enemy.
Perhaps Trump sees her as the most vulnerable target, as she is not only a Black woman but is also Muslim and was born in another country. Trump lies when he says Omar supports the terrorist organization Al-Qaeda. He lies when he says that because she criticizes Israel she must hate Jewish people. These are the claims which have caught fire among his most loyal followers. They've painted Omar as hating America, but her political campaign history says differently.
When it comes to her criticism of Israeli policy and in defense of Palestinian rights, Omar has framed her message in terms of global solidarity and human rights. The Boycott, Divestment, and Sanctions (BDS) movement is in the same vein as the South African anti-apartheid movement of the 1980s in that it calls for action to pressure Israel to comply with international law. Inside the borders of modern Israel, one–fifth of the population is Palestinian, but discriminatory laws keep them in second-class status. According to its own laws—especially the "Jewish nation-state" measure which was passed by the Netanyahu government and turns away from democracy and equality—Israel is a state defined by discrimination and segregation.
Omar's introduction of resolution H.Res.496, which affirms that "all Americans have the right to participate in boycotts in pursuit of civil and human rights at home and abroad," is well within the very American tradition of people standing up against something they think is wrong. She was joined by co-sponsors Rep. Tlaib and civil rights leader Rep. John Lewis.
To frame this fight for justice as anti-Semitic implies that Israeli enjoyment of life must be in direct opposition to the same right on the part of Palestinians. It doesn't have to be, and it is not. Omar is in good company in recognizing this, as American revolutionary Dr. Angela Davis has also been targeted for waging a similar fight against injustice.
The film Time for Ilhan, which was screened at the 2019 Netroots Nation conference, showcased that as early as her 2016 campaign for the Minnesota House of Representatives, on the Democratic-Farmer-Labor Party line, Omar has made issues such as affordable housing, living wages, healthcare, and student loan debt forgiveness—all issues affecting a majority of American people—cornerstones of her work. The film took us on a journey of Omar overcoming her self-doubt as a woman of color in order to defy gender norms and the status quo of the local Democratic Party.
At the Netroots Nation keynote "Making Herstory: The Women Who Are Shifting the Balance of Power in Washington," Omar addressed the changing power dynamics in the country and within the Democratic Party. The congresswoman asserted, "We are not really in the business of asking for a share of that power. We are in the business of trying to grab that power and return it to the people."
Omar has been unapologetic in her criticism of the system we live under. It is her unwillingness to back down that Trump and his supporters revile. Right-wing pundit Tucker Carlson called her a "living fire alarm" and a "warning" for the need to change immigration reform. Republican Sen. John Neely Kennedy called members of The Squad the "four horsemen of the Apocalypse"  (wording he no doubt borrowed from right-wing Fox host Laura Ingraham, who said the same back in 2018).
Trump's tirade against Omar and her colleagues isn't a solo venture, but rather a strategically executed effort to make The Squad and those who agree with many of their ideas seem like outliers who are part of an insignificant fringe.
Yet, as we know from history, challenging the oppressive status quo is not fringe or foreign to the people of the United States. The colonists of the 1776 Revolutionary War did so by severing ties with the British monarch. Those on the side of the Union in the U.S. Civil War did so in abolishing slave labor. The Civil Rights movement did so with challenging the segregationist Jim Crow system. Pushing back against exploitative forces, and taking one more step towards a truer democracy for the people, is one of the most patriotic acts there is. Trump and his administration, on the other hand, have done nothing but pass policies that enrich a few to the detriment of the many.
Trump and his administration have carried out acts that go directly against bettering the lives of the majority of our people. This has included opposition to raising the minimum wage, targeting the rights of the largest sector of the population (women), and challenging the right of everyone to health care. Trump has made a "business" out of abusing the rights of the key component that built this nation and makes it what it is today—working people.
His aggressive re-election campaign, which uses the tool of white supremacy to divide the nation, would have his base think differently, though. In Trump and the right's narrative, Omar and anyone similar to her are the "enemy." But the enemy of what, or whom? That's the real question. Trump's "team" is made up of the wealthy who want to preserve the exploitative capitalist system that chokes American and world progress and puts our very planet in peril. For the sake of humanity, we all need to be on the team that opposes him and his rhetoric.