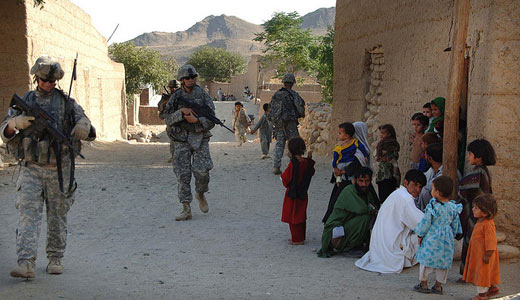 In this week's news has come a sobering wake-up call for anyone hoping the end of 2014 will really mark the end of the U.S. war in Afghanistan.
In what may be a premature revelation of what's happening in negotiations for a Bilateral Security Agreement, Afghan President Hamid Karzai on May 8 proclaimed that his country "can agree" to give the U.S. nine bases he said Washington seeks.
Karzai told an audience at Kabul University that the U.S. "staying on after 2014 is for the good of Afghanistan. The condition is that they bring peace and security and take action quickly … on the basic strengthening of Afghanistan, helping the economy of Afghanistan."
He added, "We are trying to ensure the interests of both countries are satisfied in this agreement. We want roads, electricity, hydropower dams, and strengthening of the Afghan government."
The White House was quick to back away from Karzai's statement. Answering a reporter's question, Press Secretary Jay Carney asserted that "the United States does not seek permanent military bases in Afghanistan, and any U.S. presence after 2014 would only be at the invitation of the Afghan government and aimed at training Afghanistan forces and targeting the remnants of Al Qaeda."
Carney declined to answer a question about how close President Obama is to deciding U.S. troop levels there after 2014.
Despite the denials, it sounds like Karzai has let a very big cat out of the bag.
Negotiations between the two countries for an agreement on what will happen after the stated deadline for U.S. withdrawal of combat troops began last November.
Karzai's spokesperson Aimal Faizy told the Los Angeles Times in a telephone interview this week that the bases the U.S requested last month include facilities in and near the capital, Kabul, and in Helmand and Kandahar in the south, Herat near the Iranian border, Gardez and Jalalabad in the east, and the northern city of Mazar-i-Sharif.
Much of what is happening in the ongoing talks remains unclear. But what is clear is that despite more than 11 years of war and occupation and attempts to train Afghan armed forces, the military situation in Afghanistan remains highly unstable. Taliban forces can mount actions in supposedly secure areas, while the situation of the civilian population remains dire.
And Al Qaeda, the pretext for continuing U.S. engagement in Afghanistan, is virtually nonexistent there.
Despite efforts to paint U.S. training efforts with a rosy glow, Afghan forces continue to face problems with corruption, "attrition," coordination and combat ability.
Meanwhile, over 2,200 U.S. soldiers have died in Afghanistan-related actions, and civilian deaths have by some estimates soared well over 100,000.
So what to do?
As international affairs commentator Conn Hallinan pointed out earlier this year that the only sane course is for the U.S. "to get out, and as quickly as possible."
And leading peace advocates in Congress have been pressing for exactly that approach.
U.S. Representative Barbara Lee, D-Calif., earlier this year reintroduced her "Responsible End to the War in Afghanistan Act," which would restrict Afghanistan war funding to that needed for "safe and orderly withdrawal" of all U.S. military and contractor personnel. The measure has 40 co-sponsors.
The bill, H.R. 200, is currently before the House Committees on Armed Services and Foreign Affairs. Helping to build support for this measure is one very positive way to respond to the latest news.
Photo: U.S. soldiers in Afghanistan, via The U.S. Army.