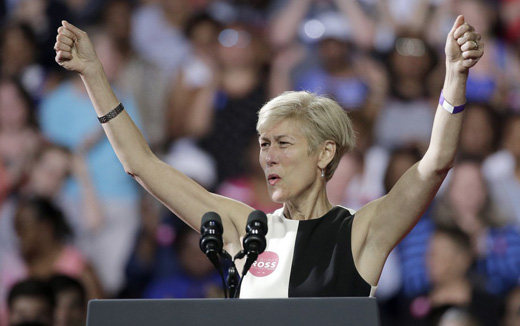 North Carolina has a key Senate race going on and it's getting intense. The incumbent Republican, Richard Burr, is being challenged by Democrat Deborah Ross. The conventional wisdom had been that Burr would be a shoo-in.
Ross is changing that.
I encourage all progressives in my state to get involved.
There's no question that the Presidential campaign is in the center of the struggle against the ultra-right forces seeking power and legitimacy. Many commentators, myself included, have noted the fascistic elements in Trump's declarations. But this should not overshadow the importance of other races. If the Democrats, even with all their pro-corporate practices, take back control of the Senate, it will make it harder for the right wing to push their agenda. And it will help ensure that the Supreme Court does not take a hard right turn for the next generation.
Most important, if the Democrats win control of the Senate it will help create a climate in which a real people's movement, on the streets and at the polls, has room to grow and succeed.
It's very possible that North Carolinians will help put the Senate in Democratic hands.
In a state where the governor's seat and both houses of the legislature have been captured by Republicans, the polls show Deborah Ross has a chance. Earlier this month, a CBS poll showed her ahead of Richard Burr by one point. Fox News and the Quinnipiac poll have Burr up by 6 points, yet Real Clear Politics currently has Burr leading by 1.9 points, down from 3.5 just a week ago. Public Policy Polling finds them tied, while the New York Times has Ross up by 4 points.
Burr is the senior senator from North Carolina, having served since 2005. He was in the House of Representatives before winning his Senate seat in November 2004. He won the seat vacated by John Edwards.
Burr voted against the Dodd-Frank financial reform bill. "Too much regulation," he believed. He also voted against background checks for internet and gun show firearms purchases. Furthermore, he voted for the extension of bulk collection of cell phone metadata (although this was ultimately defeated.)
He opposes the Affordable Care Act, and — like all house-trained North Carolina legislators — he consistently votes against regulation of the tobacco industry.
To be fair, he voted in favor of the Violence Against Women act and was one of only two Southern senators to support the repeal of Don't Ask, Don't Tell.
On the whole, Burr is still considered a safe vote by the Republican leadership. While he is rather lack luster, he is a "rank and file" Republican, not obviously driven by ideology. For example, if the Republicans should suddenly decide to provide a pathway to citizenship for undocumented immigrants, Burr would discover that he had been for it all along.
Burr's top contributors include Reynolds America, Wachovia Bank (which merged with Wells Fargo, noted for fraudulent practices) and the Bank of America. All these corporations have prominent interests in North Carolina.
He has received significant amounts from the pharmaceutical industry, a total of $1.09 million since first running for Congress in 1991.
Thirty-one percent of his contributions come from PACs.
Furthermore, in the current election cycle, he has received $357,000 from the NRA.
Burr's personal net worth has ballooned from around $615,000 in 2004 to over $3 million in 2012. The Senate seat has been very, very good to Richard Burr.
Deborah Ross, on the other hand, is a progressive Democrat running for statewide office for the first time. She has served five full terms and one partial term in the North Carolina legislature. She is pro-choice, voted for gender pay equity, supported gay marriage, favors expanding Medicaid, is against privatizing Social Security and voted against fracking in North Carolina.
She served as the head of the North Carolina ACLU prior to her involvement in politics, a fact that is being used against her by Republicans.
She has been endorsed by Planned Parenthood, the North Carolina Association of Educators, the AFL-CIO, Democracy for America, and the League of Conservation Voters.
Eighty-eight percent of her funds have been contributed by individuals. She is not getting big money from corporations or PACs.
The NRA is taking Ross very seriously. So far, it has spent over $1.5 million to oppose her. Furthermore, the anti-women's choice group, Women Speak Out, has spent $100,000 campaigning against her.
Likewise, the Koch-funded Americans for Prosperity (AFP) has spent over $300,000 against Ross. This is the bunch that helped transform the Tea Party from a fringe protest movement into a political force. (While the Koch brothers do not appear to be directly funding the Burr campaign, they are sure working on his behalf.)
Other well-known Democratic senatorial candidates the AFP is working against include Russ Feingold in Wisconsin, Evan Bayh in Indiana and Ted Strickland in Ohio.
So far, there have been relatively few TV ads for either candidate.
That could change dramatically. The Democratic Senate Campaign Committee announced two weeks ago they will put $2.5 million into TV ads on behalf of Ross, while the Senate Leadership Fund is ponying up $8.5 million on behalf of Burr.
So no matter who wins the race, the TV stations will profit big time.
The Raleigh News and Observer notes that North Carolina senators have a long history of vulnerability to national trends. When Republicans do well across America, they do well in North Carolina. When Democrats are winning, they win here. With the Republican Party in disarray over the candidacy of Donald Trump, and the high approval rating Barack Obama has among North Carolinians, the stage could be set for Deborah Ross to make a serious challenge to Richard Burr.
Photo: Deborah Ross. |  AP