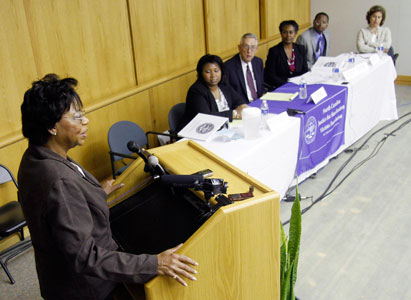 A North Carolina task force has recommended that victims of forced sterilization be awarded $50,000 as compensation for the tobacco state's eugenics program.
Eugenics, a racist theory that calls for achieving racial purity by selective breeding, gained wide prominence in Nazi Germany prior to and during World War II.
Several prominent U.S. capitalists were behind the American program. Among them, were Dr. Clarence Gamble of Proctor and Gamble and James Hanes of the stocking and underwear company with the same name.
In the U.S. in the last century it was the Human Betterment League that attempted to popularize selective breeding.
Over 7,600 people, mainly women, were sterilized under North Carolina's program. Most of the surgical procedures happened after World War II. Forty percent of those sterilized were African American women.
Although state eugenics programs operated in over 30 states, North Carolina was one of the most vigorous in the pursuit of forced sterilization.
In the 1990s, the state law allowing the program was repealed and in 2002 North Carolina apologized to the victims. North Carolina is the only state that has offered a cash settlement, however.
According to AP, "The panel recommended that the money go to verified, living victims, including those who are alive now but may die before the lawmakers approve any compensation. The Legislature must still approve any payments."
The Amsterdam News writes that according to Hilda Schmitz, a spokesperson for the North Carolina Final Solution Task Force, the $50,000 award will be taken up this spring.
Those eligible have three years to apply.
Between 1,500 and 2,000 people who are believed to be still alive would receive payment at an estimated total cost of $100 million.
North Carolina's laws allowed for sterilization of: "People with a mental illness, such as schizophrenia. People with epilepsy. And people who were classified as 'feebleminded' – which generally meant they had an IQ of less than 70," according to the Charlotte Observer.
Photo: Mary English testifies before the Justice for Sterilization Victims Foundation task force compensation hearing in Raleigh, N.C., June 22, 2011. Jim R. Bounds/AP