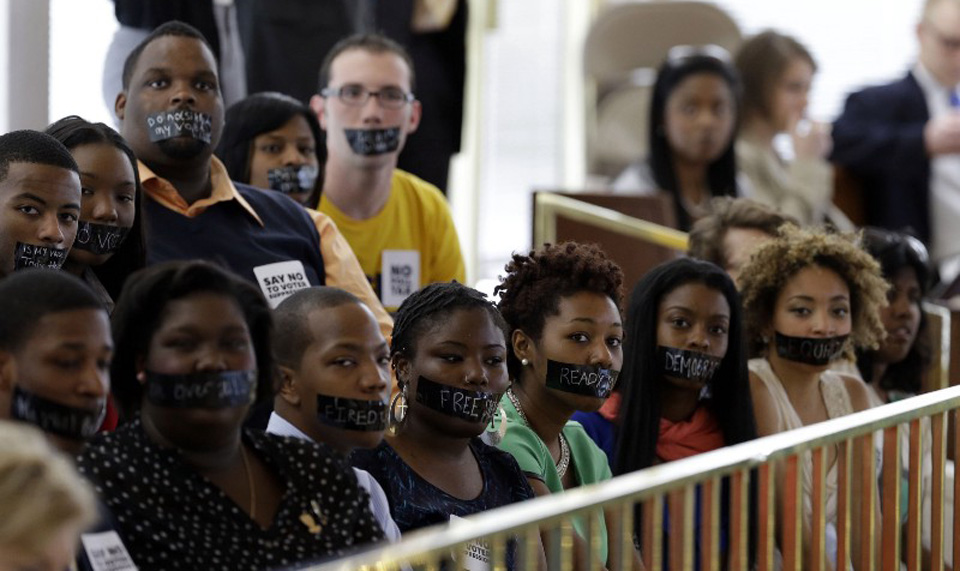 The Supreme Court has effectively killed North Carolina's controversial 2013 voter ID law, by rejecting the appeal of a Fourth Circuit Court of Appeals decision that struck it down. Passed within hours of the Supreme Court decision to gut the voting rights act, North Carolina's HB 589 was to be the model for voter suppression across the country.
The law which, among other things, sought to reduce early voting by one week, end same-day registration, and mandated that citizens present a state ID to vote, was described in the Fourth Circuit's decision as having been crafted to target African Americans "with almost surgical precision."
There was no shortage of shoe leather spent on the road to this major victory for democratic rights.
North Carolina's Moral Monday movement, which has since spread across the country, was formed shortly after the passage of HB 589. Its call to action was framed by Rev. William Barber III as a spiritual struggle for freedom.
"We have no other choice but to assemble in the people's house where these bills are being presented, argued, and voted upon, in hopes that God will move in the hearts of our legislators as he moved in the heart of Pharaoh to let His people go," wrote Barber, "Some ask the question, why don't they be quiet? Well, I must remind you, that it has been our collective silence that has quietly opened the city gates to these undemocratic violators of our rights."
This call brought a diverse coalition of organizations into the streets every Monday. Labor activists, LGBT persons, advocates of health care reform, all stood together every Monday, and many participants risked their liberty to highlight the threat Governor McCrory and the Republicans posed to democracy.
The final victory against HB 589 is one more notch in the belt of the Moral Monday movement, which has claimed victory against North Carolina's notorious anti-trans "bathroom law" and cost Governor McCrory his job in the 2016 election.
The new governor, Roy Cooper, moved to dismiss the appeal to the Supreme Court that was filed by his predecessor, so it was the North Carolina General Assembly's request for appeal that was denied. However, Chief Justice Roberts stressed that the denial of appeal implied nothing about the merits of the law.
"Given the blizzard of filings over who is and who is not authorized to seek review in this Court under North Carolina law, it is important to recall our frequent admonition that 'the denial of a writ of certiorari imports no expression of opinion upon the merits of the case,' " he said.
"This law, enacted with what the appeals court called discriminatory intent and 'almost surgical precision' targeting African-American voters, is meeting its much-deserved demise," said Dale Ho, director of the ACLU's Voting Rights Project. "An ugly chapter in voter suppression is finally closing."
MaryBe McMillan, Secretary Treasurer of the North Carolina AFL-CIO, told People's World that it was "a good day for voting rights," adding, "Our state's legislative leaders should be ashamed of themselves for making it harder rather than easier for citizens to exercise their right to vote. So while we celebrate today, we must remain vigilant because the majority in our legislature continue to attack voting rights–there is a bill this session to make it more difficult for precincts to extend polling hours in the case of any irregularities.
"The North Carolina AFL-CIO and our allies will steadfastly oppose any efforts to stifle voting rights, and we will organize across the state to make sure our voices are heard and our votes are counted in 2018."