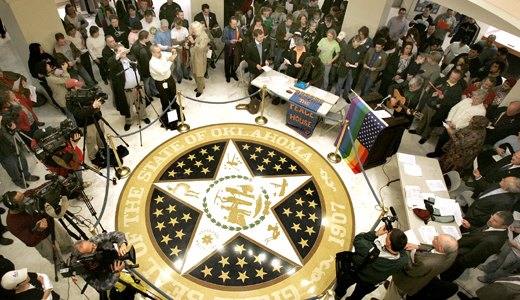 "Being gay is an abomination. Gay people are going to Hell." That's what Rep. Marcus Brandon heard a speaker say at the House Rules Committee meeting Sept 12. Soon after, reported NC Policy Watch, in keeping with that nasty sentiment, the House opted to allow anti-gay hatred to be written into North Carolina's state constitution.
Designed to repress, and pushed forward by a collective prejudice, the amendment that outlawed gay marriage in the state was passed by a vote of 30-16. What's more, this law also makes gay civil unions illegal.
This move clearly suggested the following: Firstly, that the state lawmakers viewed the LGBT community as a group unworthy of equality and tolerance. Secondly, that an alarming number of politicians in certain states may not have their priorities straight.
One such state – Oklahoma – offers proof of this, particularly when you examine the words of State Rep. Sally Kern, who would rather be fighting homosexuals than, oh, say…terrorists. Kern remarked, in an interview with anti-gay activist Peter LaBarbera, that homosexuality poses a larger threat to the U.S. than terrorist activities. Moreover, she said this right around the time of the tenth anniversary of 9/11.
In her opinion, "hundreds of thousands who have died of having AIDS," – which she inexplicably associates with gay sexual activity alone – probably outnumber those who have died at the hands of terrorists.
Kern's narrow-mindedness seems to embody the current feelings of the Right Wing in this country – and now, North Carolina is one more state that will have to suffer for it.
The White House responded to this new legislation via spokesman Shin Inouye, reported Washington Blade. Inouye issued a statement in which he outlined the President's position on this matter.
"The President," he said, "has long believed that gay and lesbian couples deserve the same rights and legal protection as straight couples. That's why he has called for a repeal of the so-called 'Defense of Marriage Act,' and determined that his administration would no longer defend the constitutionality of DOMA in the courts.
"While the President does not weigh in on every single action taken by legislative bodies in our country, the record is clear that the President has long opposed divisive and discriminatory efforts to deny rights and benefits to same-sex couples. The President believes strongly in stopping laws designed to take rights away."
Back in North Carolina, several black ministers attacked those who equate gay marriage support with civil rights. Speaking at a news conference, they claimed that same-sex marriage was contradictory to the Christian faith.
Black filmmaker Thomas Allen Harris's documentary, "Marriage Equality: Byron Rushing and the Fight for Fairness," addressed the gay marriage issue from the perspective of the Black community. It focused on Mr. Rushing, an African-American Massachusetts state representative who avidly agrees that gay rights, like the struggle against racism, are a civil rights issue.
American civil rights groups like the NAACP, and leaders like Rev. Jessee Jackson and Rev. Al Sharpton, have agreed that LGBT rights are indeed civil rights issues.
In reality, many people, African-American or otherwise, agree that the current struggle to earn support for gay marriage is, in a very strong way, a revisitation of those old civil rights struggles; discrimination is, as during the 60s, once more running rampant in modern America.
And on Monday, the North Carolina Senate did nothing to solve that problem. In fact, they made things even worse.
Photo: Caption: Around 300 people gather at the State Capitol in Oklahoma City, demanding that State Rep. Sally Kern apologize for making anti-gay remarks. Jaconna Aguirre/AP Photos