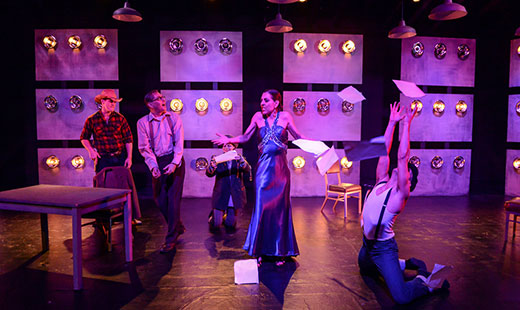 LOS ANGELES – A bevy of Beat Generation feature films and documentaries have recently been released, some featuring high level talents. Just to rattle off a few titles (Google them for more details): Ferlinghetti: A Rebirth of Wonder, Howl, On the Road, The Beat Hotel, Kill Your Darlings, and Big Sur. In 2012 the University of Kentucky Press published the erudite The Philosophy of the Beats.
The latest addition to the Beatnik canon is on the stage. Bill & Joan, world premiering at the Sacred Fools Theater in Los Angeles, is about William S. Burroughs (Curt Bonnem) and his common-law wife Joan Vollmer (Betsy Moore). The two-acter written by Jon Bastian focuses on the tumultuous pairing of the gay/bi Burroughs and Vollmer, "soulmates" born on the same day of the year whose relationship went way off the tracks.
Much of the action – involving much substance abuse and debauchery, plus a little bit of writing – is set south of the border when Bill and Joan were expatriates. In particular, the play tries to unravel what really happened that night in Mexico in 1951 when, as cognoscenti of Beat history know, Bill shot Joan in the forehead while they were playing what they fondly called their "William Tell game," and something went terribly wrong.
Bill & Joan is a deeply dark, disturbing play with lots of sex (mainly gay), male nudity in the dark, explicit language, drug (take your pick) use, and violence. No peacey-lovey counterculture, these Beatniks! Bonnem's Burroughs is a bit of a dandy, the well-dressed scion of the Burroughs business machine fortune. Moore's Vollmer is adventurous, desperate, and frantic. Bill's peccadilloes with Mexican rough trade and others seem, among other things, to drive her to substance abuse – just as her infidelity and hijinks getting high further propel Bill's heroin addiction.
A number of the dramatis personae played by the nine-member cast seem to be characters from Burroughs' novels and give form to his roiling unconscious. Among them Lauren Campedelli is a standout as the sultry Lilly Lee who entices the conflicted would-be writer with her allure. Donnelle Fuller is creepy as the Dickens-esque Willy Lee, who seems to incarnate Bill's addictions. This drama, as well as the murder mystery at the heart of Kill Your Darlings, sheds a whole new and not very flattering light on the Beatniks.
The play is extremely expressionistic, although there is also something of a linear narrative. The set consists largely of 72 lights composed of large bulbs mounted onto the wall; the lighting designers Matt Richter and Christina Robinson attain evocative effects. The abundance of lights evokes an interrogation effect: During much of the action Burroughs is in custody at the Mexican hoosegow, where he is being held on suspicion of shooting Joan and under interrogation by two Mexican detectives (Alexander Matute and Richard Azuria).
Director Diana Wyenn, who is also the production designer, does bravura work in pulling everything together – some of the nine actors play multiple roles – in this complicated mosaic that explores the surreal psyche of the author who wrote books entitled Queer, Junkie, and 1959's Naked Lunch.
This scorching drama is not for the faint of heart, but for those who prefer their live theater edgy, imaginative, and adventurous – a Sacred Fools house specialty. Bill & Joan tries to explain what Burroughs meant when he confessed that "I am forced to the appalling conclusion that I would never have become a writer but for Joan's death, and to a realization of the extent to which this event has motivated and formulated my writing." One thing's for sure: William S. Burroughs was to the Beat novel what Edgar Rice Burroughs was to adventure fiction – Bill's life and work no less adventurous than Tarzan's as he explored the jungles of the unconscious.
Why all this attention focused on the Beat Generation now? Well, 2014 is the Burroughs centennial, and anniversaries resonate with the public. But however we interpret this phenomenon, I'm glad that Sacred Fools and the silver screen are remembering these early proto-countercultural rebels.
Bill & Joan is being performed through March 1 on Fridays and Saturdays, and Thursdays Feb. 6 and 13 at 8:00 pm at the Sacred Fools Theater, 660 N. Heliotrope Dr., Los Angeles. For more info: (310)281-8337; www.sacredfools.org/.
Photo: A scene from Bill & Joan. Jessica Sherman/Sacred Fools Publicity.