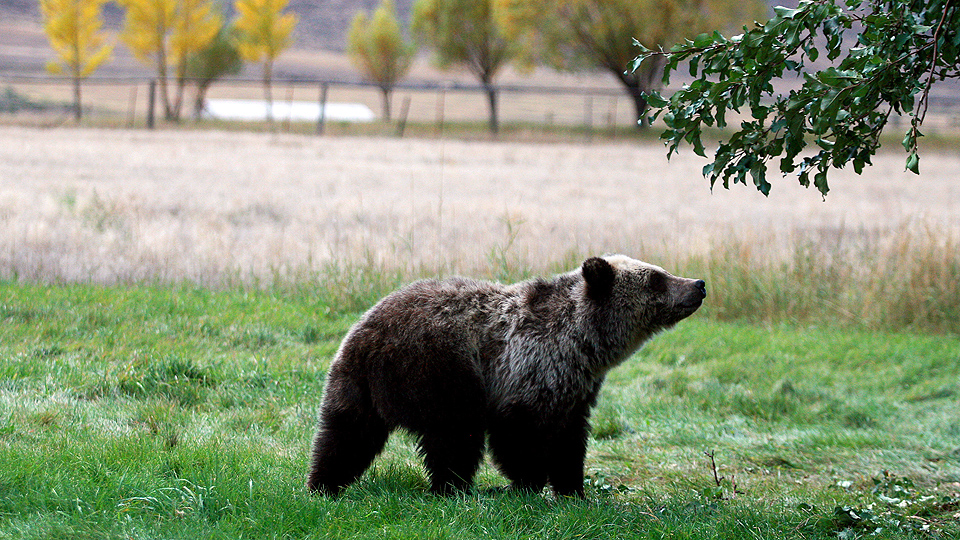 Over the past two years, hundreds of Tribal Nations across North America have come together to oppose removal of  Endangered Species Act protections from grizzly bears in the Yellowstone region, and to fight trophy hunting. The grizzly bear is integral to Tribal Nations' religious and cultural practices. "The Grizzly: A Treaty of Cooperation, Cultural Revitalization and Restoration" is the most-signed treaty in history, and calls for grizzlies to be restored to biologically-suitable habitat on Tribal lands in the grizzly's historic range, rather than senselessly hunted for trophies.
Since September 23, 2016, some 170 Tribal Nations have signed this document of inter-tribal solidarity, only the third of its kind in 150-years. In terms of representation, with leaders from the Assembly of First Nations (AFN) and National Congress of American Indians (NCAI), it translates to over 700 Tribal Nations.
"We now face unprecedented times, the likes of which we have not encountered in our lifetimes, but that our ancestors confronted and left us with the examples to follow. This treaty between our nations is not just about the preservation of this sacred being, the grizzly bear, or the protection of one river, this is a struggle for the very spirit of the land – a struggle for the soul of all we have ever been – or will ever become.
"Within this struggle to protect the grizzly, and thus the land the grizzly, in turn, protects with the water, we find many of our struggles: the struggle to defend our sovereignty; the struggle to defend our treaty rights; the struggle to preserve and enforce consultation mandates; the struggle to defend and strengthen our spiritual and religious freedoms. In summary, the ongoing struggle to make the government uphold its trust responsibility to Tribal Nations. Should we lose this collective fight, we may lose any part of those fundamental issues at any time, for if the government can ignore us all, then the precedent will be set – a precedent that will threaten all that our people have fought through and endured to retain since Contact." Chief Stanley Grier, Chief at Piikani Nation, Brocket, Alberta, Canada
"Having respect for wildlife isn't all about being Native, it has more to do with being a human being. You don't have to be an Indian to be part of this. I grew up in grizzly country and so my experiences with bears are extremely personal, and hunting them is absolutely crazy. Why would you hunt a grizzly bear?" Zahn McClarnon, Standing Rock Sioux.
"Let's work on a draft of the key issues summarized in this treaty and let's see if we can't start advocating around that, and start educating by using social media and our friends in Congress." Senator Bernie Sanders of Vermont.
"Proceeding with this premature, piecemeal and politically driven approach would violate the ESA and grievously undermine tribal rights." Congressman Raúl M. Grijalva (D-3rd Congressional District, Arizona).
"I sign this treaty as an indigenous person from the Philippines to show my support for this great effort and for all of the indigenous nations that have signed it. I urge the government to continue to honor its treaty and trust obligations. I recommend that for any extractive industry project affecting indigenous peoples, regardless of the status of the land, the United States should require a full environmental impact assessment of the project in consideration of the impact on indigenous peoples' rights." Victoria Tauli Corpuz, UN Special Rapporteur on the Rights of Indigenous Peoples
Grizzly bears are going to be trophy hunted in the Greater Yellowstone Ecosystem (GYE) by September of this year as part of Trump's regressive assault on America, and his sustained attack on tribal people and the environment.
The "Not in Our Name" series of short info-bulletins is a counterweight with people from many diverse cultures and backgrounds come together to stand by this sacred being and tell the State of Wyoming and the Federal government "Not In Our Name!"
Watch the premiere of the "Not In Our Name" short film, produced by Alter-Native Media to learn more about Tribal opposition to this unethical hunt!
Sources include: Bonnie Rice of Sierra Club, Protect the Sacred and Alter-Native Media