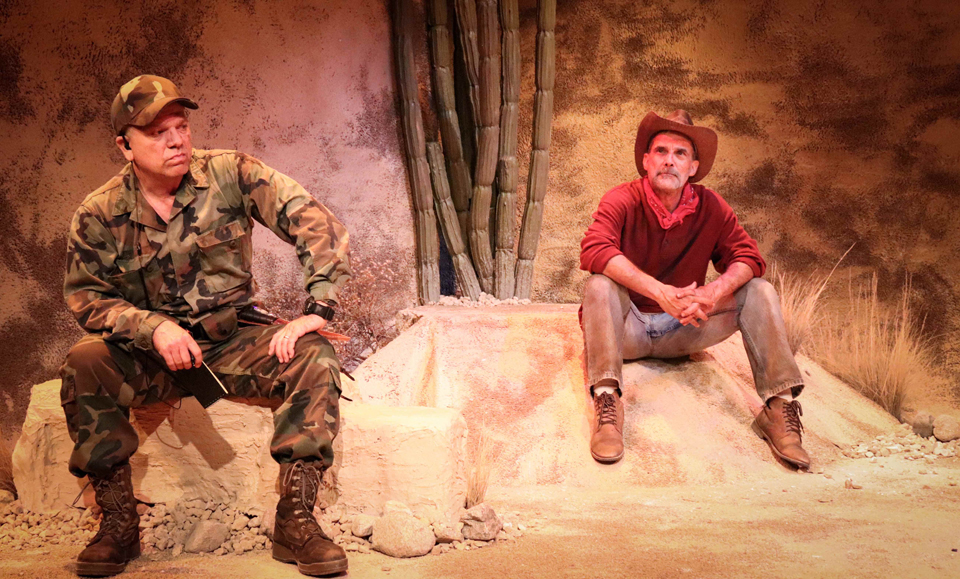 NORTH HOLLYWOOD, Calif.—The very fine Road Theatre Company is currently staging Carlos Lacámara's Nowhere on the Border (seen Jan. 18), a soul-wrenching, laser-beamed treatment of the emotional and economic issues around cross-border migration from Mexico into the U.S. Southwest.
Gary (Chet Grissom), a border watch volunteer/vigilante from Pennsylvania with a son serving in Afghanistan, confronts Roberto (Jonathan Nichols), a Mexican man who claims to be looking for his missing daughter. Their scenes together take place in the present, in an unforgivingly hostile wasteland between nations (the playwright specifically names the Cabeza Prieta Wildlife Preserve in Arizona), revealing both of their personal dramas, while other scenes taking place in Northern Mexico show the forces that drive desperate people to risk their lives to reach the United States.
Stewart J. Zully directs a dedicated cast that also includes Roberto's daughter Pilar (Natalie Llerena) and another border-crosser Jesús (Leandro Cano), Don Rey (Thom Rivera), the fixer who arranges for their crossing, Montoya (Diana DeLaCruz), the coyote who escorts them across into the desert, and Mackenzie Redvers Bryce, a superb guitarist who wordlessly comments with his music on the action.
In a program note from the company's artistic directors, they say, "This hot-button, electric piece of theatre couples the politics and prejudice of our border with Mexico with the humanity of the people who navigate it daily as a matter of life-and-death."
The emotional weight of the play rests on the shoulders of proud Roberto's family. Against his wishes, Pilar has paid a coyote to get her across the border so she can live a normal married life with her husband Nardo, who has been gone for three years now, evaporated into the maw of low-paid immigrant-wage agribusiness. When we meet Roberto, he is waiting in a stretch of desert that he located on a map drawn by someone who believes he saw Pilar.
This happens to be the area Gary is patrolling, officiously geared up like an overgrown Boy Scout with a spanking uniform, advanced communications systems, and weapons—gun, knife, pepper spray, and rope. He obviously enjoys pushing his limited authority around. While Roberto's story as a former copper miner is patently pathetic, Gary's isn't much better. He's a former steelworker now reduced to helping out in his wife's Hallmark store. He recites what he deals with on a daily basis: greeting cards, ribbons, bows, wrapping paper. Quite a comedown from his former livelihood.
Gary would appear to be on the cusp of a radical awakening as to the source of his troubles, as the steel plant has moved to Mexico. But instead, he makes a sharp turn right, fueled by hypermasculinity, xenophobia and racism, à la Donald Trump. He seems like an ideal candidate to fill out the ranks of those pulling down the average life expectancy in America, from poor health coverage to loss of self-esteem to depression to opioids and suicide. He also feels his impotence in his role as father, not having been able to persuade his son to give up his plan to enlist in the armed forces. "He knew I couldn't do nothing. I work at a goddam Hallmark store."
Lacámara portrays his characters right where neoliberalism wants them: Fearful, angry, ineffectual, struggling for survival, punitive, bigoted and disunited.
At the same time, Gary is capable of warming up to Roberto once he gets to know him. They whistle tunes to one another—Gary ironically performs the melody of "This Land is Your Land." For a brief moment, they actually share recipes!
The desert itself is almost a character in the play. Having already found seven bodies, some clawed by wild animals, none of which remains he believes to be his daughter, Roberto remarks, "The desert is a hungry monster." Later, escorting Pilar and Jesús across the border, Montoya says, "The sun here wants us dead."
The design team includes scenic design by Paul Dufresne, lighting by Derrick McDaniel, projections by Nicholas Santiago, sound by David B. Marling, costumes by Mary Jane Miller, properties by Christine Joëlle and Megan Moran, and fight choreography by Bjørn Johnson.
Probably no single play or any work of art could encompass all the dramatic factors that make up the borderland story—the current predicament of so many immigrants from Guatemala, El Salvador, and Honduras goes unmentioned, for example—but the intermissionless Nowhere on the Border is absorbing theatre and an intensely human capsule interpretation of the issues.
Nowhere on the Border plays through March 8, with performances Fri. and Sat. at 8 p.m. and Sun. at 2 p.m. The Road on Magnolia is located at 10747 Magnolia Blvd., North Hollywood 91601. Sunday performances are Pay-What-You-Can. Special group rates are available for parties of 8 or more. For tickets, visit www.roadtheatre.org or call (818) 761-8838.