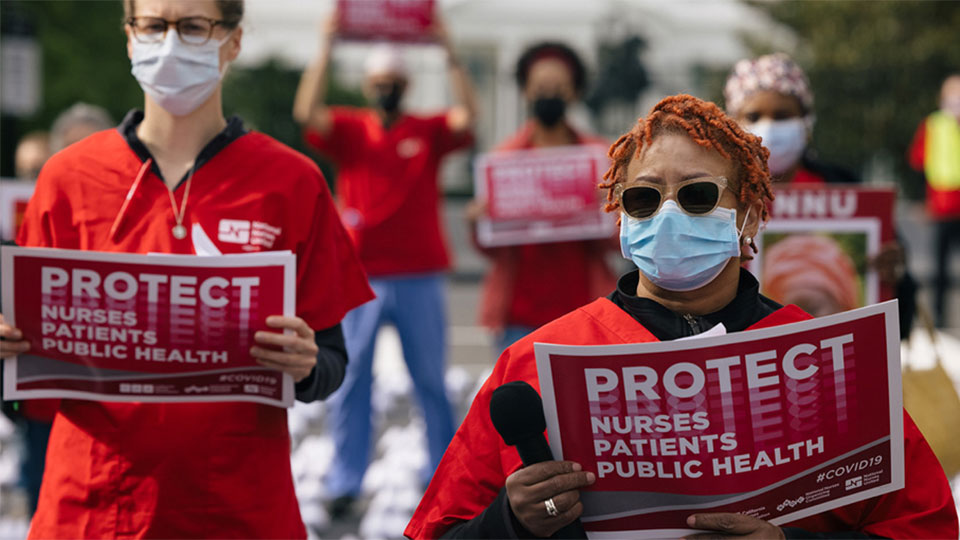 OAKLAND, Calif.—National Nurses United, the nation's top union for registered nurses, who have been on the front lines of the war to curb the coronavirus, is criticizing the federal government's latest coronavirus safety guidance change. NNU calls it a rollback.
Meanwhile, the leaders of the nation's two big teachers unions have been under political pressure—in red states and several big "blue" cities such as Chicago–to agree to reopen schools. They say, teachers and staffers, as well as school boards and parents, must be in on the local reopening decisions the new guidance permits.
And all these developments may be overtaken by the latest variant of the modern-day plague. Called BA.2, it's the first variant of omicron, itself a variant of the original virus, called Covid-19. Scientists and medical professionals warn that BA.2 could prolong omicron's impact.
It's already accounting for 8% of all new coronavirus casts in Washington, Oregon, and California and double that share in New England, the Centers for Disease Control reported on March 1. Studies show BA.2 spreads 1.5 times as fast as omicron. Nevertheless, CDC did not revoke its latest anti-coronavirus guidance. NNU wants CDC to reconsider.
The concern over BA.2 came as Democratic President Joe Biden addressed the coronavirus plague in his State of the Union address the night of March 1. Biden has toned down his prior optimism that the U.S. turned the corner in battling the virus. From the official pandemic proclamation on March 13, 2020, through 5 pm on March 1, the virus and its variants have killed 952,224 people.
At its current rate of 1,415 deaths every seven days—down from a winter high of 1,952 on January 12—the U.S. would pass the million-deaths mark from the coronavirus 34 weeks after the two-year anniversary of the pandemic proclamation. The nurses worry CDC's new safety guidance relaxation could speed up that date, and hospitalizations.
"Regrettably, the CDC is once again responding to political pressures from those desperate to remove any safety protocols during this deadly pandemic that is still causing unacceptable numbers of infections, hospitalizations, and deaths every day," said NNU President Zenei Triunfo-Cortez, RN, responding to CDC Director Dr. Gail Walensky's explanation. The NNU leader said the political pressure comes from U.S. hospitals.
But it also comes from politics. Political pressure from the right produced resistance to safety measures, which include physical distancing, masking, vaccinations, sanitization, and frequent hand-washing. And the teachers unions faced political pressure from school boards and red-state governments to reopen all the schools, regardless of how unsafe that is.
"With widespread population immunity"—now at 65%, data shows—"the overall risk of severe disease is now generally lower," Walensky explained. Hospitalizations are down, too, to 45,601 per seven days now, compared to more than 158,000 in mid-January.
So instead of focusing totally on "community spread," of Covid-19, CDC wants to "direct our efforts toward protecting people at high risk for severe illness and preventing Covid-19 from overwhelming our hospitals and our healthcare systems," Walensky added.
The CDC's low-medium-high Covid density measures will cover not just caseloads and numbers of positive tests, but "factors that reflect the severity of disease, including hospitalizations and hospital capacity," she explained. That's no good, NNU replies.
"The new color-coded scheme will create confusion and public distrust in what is safe and what is not," Triunfo-Cortez said. "The danger to our most vulnerable populations, including immunocompromised individuals and young children, is especially worrisome." So is lifting mask restrictions, she added.
"Under the new metric, anything up to 200 new cases per 100,000 could still be 'low' so long as Covid admissions and hospital capacity stay under a new threshold," she added. "The new 'low' could now be up to 20 times higher than the previous standard, which is certainly not warranted with the ongoing numbers of hospitalizations still occurring, and ever-escalating reports of…the BA-2 variant now spreading in many countries, including the United States."
Chicago now reports 16.3 new daily cases per 100,000 people. Manhattan reports 20.8 new cases per 100,000. Case rates in New York's other four boroughs are far lower. Los Angeles reports 17.4 new cases per 100,000, with San Francisco at 24.5/100,000, and San Diego at 38,5/100,000.
The two big teachers unions took another tack. Both Teachers (AFT) President Randi Weingarten and National Education Association President Becky Pringle want teachers, parents, and staff to be in on the decision of whether and when to unmask the kids.
"We welcome these long-needed new metrics for a safe off-ramp from universal masking," Weingarten said. "CDC's guidance is informed by science, not politics, and sets us on a path to a new normal in schools and other public places."
School districts can combine hospitalization and community transmission numbers to decide, "in collaboration with educators, staff, and families," when to ease mask requirements. "We would urge everyone to apply it."
But there's still a political problem: Trumpite crowds descending on school boards, and disrupting them, demanding an end to mask mandates and distancing. "Some parents, students, and educators will still choose to wear masks, and there should be no stigma for those who do so," Weingarten warned
"We have always known there would come a time to consider whether mask mandates were still necessary and have insisted this decision be informed by science and medical experts, not politics," said Pringle, who heads the nation's largest union. NEA has three million members. "Local governments must bring educators to the table with our in-school experience when determining how to keep school communities safe."