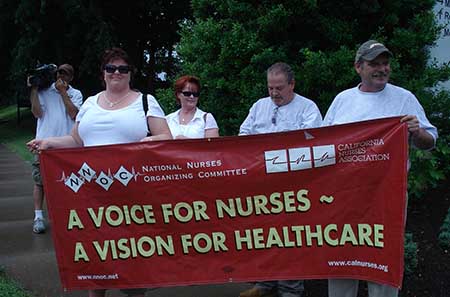 As lawmakers continue to debate legislation to overhaul the country's health care system, three nurses unions merged Dec. 7 to form the largest-ever labor union of registered nurses in U.S. history.
At its founding convention in Phoenix, the new union, National Nurses United (NNU), consists of 150,000 members and said its top priority would be to work toward organizing the overwhelming majority of nurses without union representation in the country and give them a stronger voice in health care reform.
The unanimously approved merger brings together the California Nurses Association, with 83,000 members in California and several other states; the United American Nurses, with 45,000 members, mostly in the Midwest; and the 22,000-member Massachusetts Nurses Association.
"The promise of the future has arrived with all the unlimited potential, creativity, vision, and power represented by the delegates in the room," said Karen Higgins, an RN from Massachusetts, and one of the three newly elected co-presidents of NNU.
Secretary-Treasurer of the UAN and NNU Co-President Jean Ross added, "This is where we need to be, together as one, moving across the country."
Deborah Burger, also NNU co-president and RN with the CAN/NNOC notes, "We are going to make sure we organize every single direct care RN in this country. RNs and our patients deserve to have a national nurses movement that can advocate for them."
Leaders of NNU pledge to fight for universal quality health care for all. They also seek to give nurses greater leverage in collective bargaining after decades of growth in national hospital chains that have largely resisted union organizing.
National studies have shown that nurses who are represented by a union make an average of 5 to 10 percent more than nonunion members. Of roughly 1.5 million nurses that provide direct patient care in U.S. hospitals and clinics, about 80 percent are nonunion, NNU officials say.
National Nurses United promises to move quickly with its ambitious agenda of organizing nurses nationwide, defending and advancing the interests of direct-care RNs and patients. They also plan to establish a more influential voice for RNs in Washington, helping to pass key patient care reforms, such as national nurse to patient ratios, and building stronger international ties with nurses around the world.
The day after its announcement NNU hit the ground running with a rally outside the Phoenix offices of the Arizona Hospital and Healthcare Association. Organizers emphasized nurses would step up efforts to challenge hospital industry attacks on nurse's rights, economic and workplace standards, patient care conditions, opposition to ratios and other critical legislation. The group also says it will work to pass the Employee Free Choice Act to enhance the ability of nurses and other working people to form unions.
At the rally Ross said NNU plans to send a signal to the Arizona hospital association and the American hospital industry.
"We will not be silenced, we will not be stopped," she said. "Hospital associations around the country oppose safe staffing legislation that guarantees patients the care they need, and with their allies intimidate RNs when we try to organize a union. That intimidation must stop."
Ross continued, "We know that union RNs provide quality care, better care because we have real power on our units, to speak out and advocate for our patients. We also know that America is hurting. As nurses we see the consequences every day. We know that at the heart of the current crisis is the stagnation of wages, the erosion of living standards, and the loss of buying power for American workers that has coincided with three decades of attacks on the rights of American workers to form unions and bargain collectively."
Ross also pointed out, "When workers have a greater voice to lift up their standards, all of America prospers. That's why we need the Employee Free Choice Act, to restore balance to our system of labor law," she said.
"The greatest economic stimulus, economic recovery plan would be to restore the right for more American workers to from unions and raise standards for themselves and their families and their communities," said Ross.
Rose Ann DeMoro, a national vice president of the AFL-CIO was chosen to be NNUs executive director and said RNs can be the most powerful voice in the country.
"It is our responsibility, as NNU to be agents of change, to be the warriors we've admired in history, to inspire the nurses of this country that this is their home," she said.
The new nurses union comes at a time when President Barack Obama is battling to rally support for one of his top domestic priorities, reforming the current U.S. health care system and extend coverage to millions of uninsured people nationwide.
Obama faces sharp divisions among lawmakers in the Democratic-controlled Congress over his proposal for a new government-run insurance plan, or public option, a measure fiercely opposed by Republicans and private health insurers.
NNUs formation was eight months in the making and will be governed by an executive council comprised of three co-presidents, a secretary-treasurer and 11 vice presidents.
Photo: http://www.flickr.com/photos/labor2008/ / CC BY 2.0