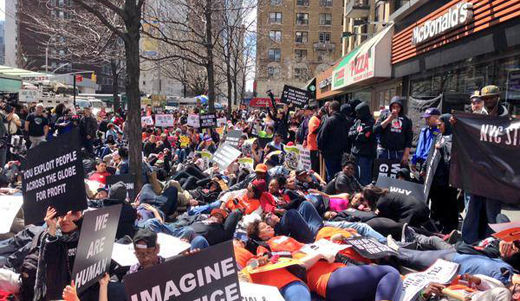 NEW YORK — Union Square, the historic site for mass rallies for labor and progressive causes, resonated with the clarion call for a living wage in New York City last week.
One of the city's largest municipal unions, SEIU 32BJ, along with the Hotel Trades Council, called on the NY state legislature to raise the minimum wage to $15 an hour. Many progressive organizations including New York Communities for Change, Make the Road, La Fuente, and the Communist Party joined in the rally to bring justice to low wage workers. "Together we can win" the crowd chanted throughout the afternoon.
In a surprise appearance, Governor Andrew Cuomo told the crowd, "It's a question of simple math. You cannot support a family in New York for $18,000 a year." The governor went on to say that the working families of New York are subsidizing the CEOs of corporations like McDonald's: because they do not receive living wages, workers for such corporations cannot afford food or health care for their families, requiring the city and state to foot the bill.
President of 32BJ, Hector Figueroa spoke eloquently of the extreme inequality in the city and the importance of the growing people's fight back. "This is big," he said. "After all the work we've done to come this far we need to make sure that the wage board recommends $15 per hour and that Governor Cuomo implements that recommendation."
He applauded the governor for taking an "important step " and "offering hope and a path forward for the 200,000 fast food works in NY, along with the millions of others in our country making too little for too long."
In an effort to sidestep the State Senate that has balked at considering a raise in the minimum wage, Cuomo has called for the state labor commission to convene a panel to consider hiking the minimum.
With the Republican leadership of the NY State Senate in shambles in light of the indictment of Dean Skelos, the current majority leader, and the likely indictment of the Number 2 Republican, Thomas Libousm progressive legislation may stand a better chance of passing.
Responding to a nearly decade long on-the- ground organizing by groups like OurWalmart and Fastfood Forward for a $15 minimum Mayor De Blasio has called for raising the to $13.13.
The results of that ongoing unity and activism was apparent in the celebratory mood in Union Square. When fast food worker Ralph was asked about the day, he said, "I am feeling hopeful that I will be able to make a living wage." Ralph, who has worked at his job for 12 years, agreed with the crowd that "Together we can win."
Photo: Hundreds participated in a die-in in New York City because economic justice IS racial justice, April 15, 2015. Fight for $15, Facebook.