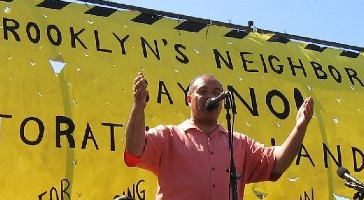 NEW YORK – While media pundits have been predicting doom and gloom for progressive forces and Democratic candidates in the November elections, last week's primaries here showed a different trend. Progressive candidates either held onto or gained seats. Meanwhile the local Republican Party followed the national trend of becoming more and more dominated by radical right extremists.
In perhaps the most highly watched race, Gustavo Rivera, an insurgent challenger backed by an alliance of labor and community organizations and the Working Families Party, defeated state Senate Majority Leader Pedro Espada Jr. for the Democratic Party nomination.
Espada was despised by many for his involvement in corruption and scandals – including his seeming residency in suburban Westchester County instead of the district he represented in the Bronx – as well as his role in helping to keep the state Senate in turmoil. He, along with former Sen. Hiram Monseratte, led a coup d'état in 2009 in which the two senators switched to the Republican Party, thereby flipping control of the Senate. He was made majority leader as part of a deal to restore the Democratic caucus's control.
He also harmed the interests of ordinary New Yorkers. "When a plan to halt MTA fare hikes was on the table," said the Working Families Party in an e-mail after the elections, "State Sen. Pedro Espada shut it down."
"Together," the e-mail continued, "we shut Espada down."
The WFP, working with others, organized volunteers to knock on more than 50,000 doors and brought hundreds of anti-Espada volunteers to the Bronx. That all paid off, as Rivera won with more than 62 percent of the vote.
In other state Senate races, progressives under fire from the right held onto their seats by healthy margins.
State Sen. Bill Perkins, D-Harlem/Upper West Side, was challenge by Basil Smikle, and charter schools were the main issue. Perkins has been an outspoken opponent of the movement for charter schools, arguing that they move the public school system towards privatization. Despite support from this city's tabloid press, Smikle lost overwhelmingly, 24-77 percent.
Another senator, Velmanette Montgomery, D-Brooklyn, who along with Perkins was targeted by candidates put up by Wall Street hedge fund managers, was challenged by Mark Pollard, who took a puny 19 percent of the vote.
Montgomery is well-respected in Brooklyn for her role in the fight to defend the borough from the Atlantic Yards project, which would lead to displacement of thousands of lower- and middle-income people by luxury condominiums built with public money.
Pollard's main line of attack against Montgomery, as was Smikle's against Perkins, was her incumbency. Pointing to the morass in Albany (caused by shady characters like Espada in the Democratic Party as well as the Republican Party overall), Pollard argued that Montgomery was an "insider" and must therefore have something to do with the problems. Voters saw through this in both cases, keeping in office candidates who have long fought for working New Yorkers.
Notwithstanding the records of Montgomery and some others, the Brooklyn Democratic Party machine has long been a hotbed of corruption. With Brooklyn's population of 2.5 million, the party there is the second largest Democratic Party, behind Chicago, in the nation. The former party boss, Clarence Norman, now sits in prison. The current boss, Vito Lopez, has been often accused of using the party organization as a patronage machine. Consequently, a spate of reformers ran insurgent candidacies for the position of Democratic district leader. The machine thought it could use popular anti-incumbent attitudes to defeat progressives and replace them with its lackeys.
Progressive reformer Chris Owens, won a whopping victory in the three-way race for district leader. He received 2,154 votes. Coming in second was Jesse Strauss, with 1,361 votes, while the candidate backed by Lopez received a mere 771 votes. This, combined with reform victories over Lopez-backed candidates in the 2009 City Council elections, suggests a weakening of Lopez's power base.
At the congressional level, Democratic voters rejected what many see as a right-wing smear campaign against incumbent Rep. Charles Rangel, D-Manhattan, in which he has been charged with ethics violations. Many have suggested that while Rangel has done some wrong, the Republican Party has made a much greater deal of the issue than warranted. Voters seemed to agree: in a five-way race, Rangel took 51 percent of the vote.
This is just a snapshot of a few races, but these and others, including the nomination of current State. Sen. Eric Schneiderman for attorney general, suggest that progressive ideas and candidates can win elections – if there is enough mobilization. No one actually expected Schneiderman to win, as conservatives in the Democratic Party and other right-wing forces poured in to support Kathleen Rice. She and Sean Coffey went after Schneiderman for being "soft on crime," while he campaigned to the left and would not back down from his support for labor and minority communities, even going so far as to offer Rev. Al Sharpton's National Action Network offices in Albany. In the end, Schneiderman beat four other candidates.
Then there's Carl Paladino, who won the GOP gubernatorial nomination. Instead of running for statewide office on one of the major parties' tickets, he seems more like someone clutching anti-government screeds while ranting and tearing at his hair in Union Square. Paladino, backed by the extreme-right tea party, trounced slightly less far-right Rick Lazio, suggesting that the state Republican Party has become as much a haven of fringe radicals as anywhere else in the country.
The overall lesson of the New York primaries can be summed up this way: the Republican Party is even more dangerous than it was in 2008, but Democratic and progressive victories can be won.
Photo: Progressive Chris Owens won a three-way race for Brooklyn district leader, trouncing the machine candidate. (0wensforchange.com)