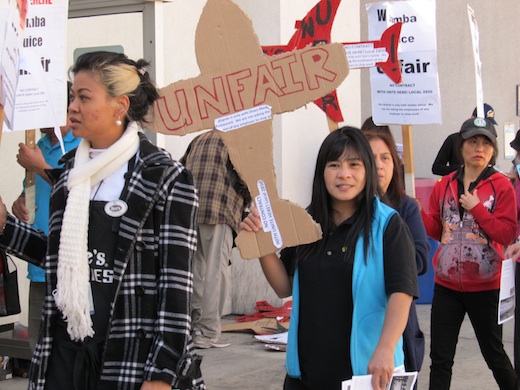 OAKLAND, Calif. – Workers who make sure travelers eat well and enjoy their transit through Oakland International Airport are continuing their long struggle for good working conditions and labor rights.
Dozens of workers held an informational picket outside the Port of Oakland's headquarters April 11, as they prepared to urge port commissioners, meeting inside, to make sure potential new food concessionaires uphold existing union rights. They also sought to press the port to make sure a non-union worker fired for protesting poor working conditions is reinstated to her job.
That worker, Hakima Arhab, was present to share her story and to call on the commissioners to use their authority to ensure she can return to her job at non-union concession operator Subway. Arhab pointed out that at an appeal hearing the previous day, her former employer had called her a good worker, demolishing allegations she could not do her job properly.
The effort to win the right to organize for all food concession workers started last June, and has been marked by repeated informational pickets at airport terminals as well as visits to Port Commissioners' meetings.
Workers at companies leasing concessions directly from the airport – including the main food service provider, HMS Host – already have the right to organize when a majority sign cards saying they want to join a union.
Some 240 Oakland airport workers have joined Unite Here Local 2850 under this provision. But the pact doesn't apply to workers at concessions subcontracting from HMS Host – among them Subway, Burger King, See's Candy and Jamba Juice. Their pay is lower, they don't have affordable health or retirement benefits, and workers complain of part-time employment, last-minute schedule changes and inadequate rest periods.
After they started campaigning for their labor rights, many workers at the non-union concessions have been subjected to aggressive anti-union campaigning, and several have been fired.
The union workers at HMS Host stand with their non-union colleagues on every picket line.
A new issue in the struggle is the possibility that some food concessionaires may leave the airport as a result of financial difficulties.
Adrianna Carranza, who works at another non-union airport concession, Auntie Ann's, emphasized that issue as she urged the commissioners to press HMS Host to operate any vacated concessions directly, hiring the displaced workers who would then be part of the union, with health and retirement benefits and full labor rights.
Photo: Concession workers and their supporters picket outside Oakland Airport terminals, Oct. 26, 2012. (PW/Marilyn Bechtel).