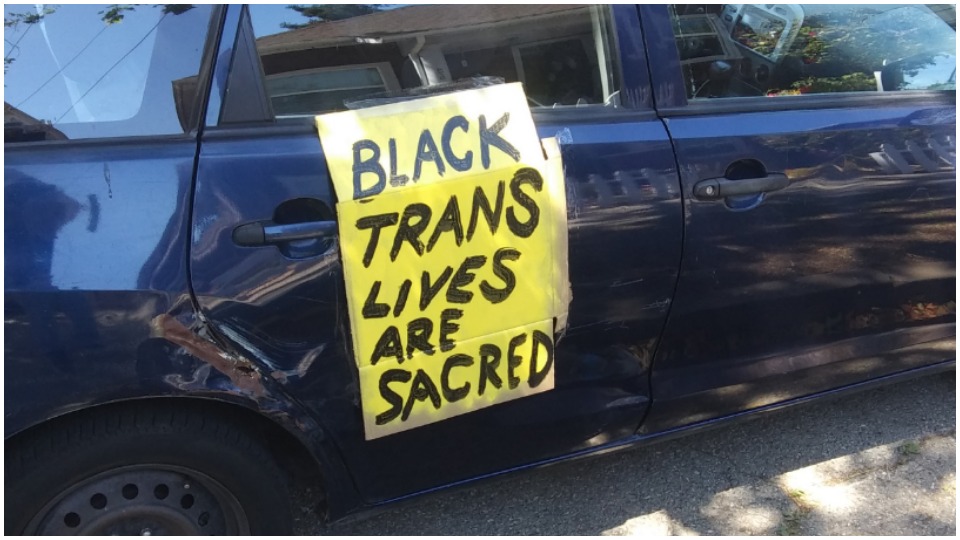 OAKLAND—At the invitation of our godson, David Johnson, we headed to the "Black Trans Lives Matter" demonstration at Lake Merritt in Oakland June 12 with eager anticipation. It was another unique manifestation of the massive Black Lives Matter protests that have resulted from the police murders of Black people. In this case, it was members of the Black trans community who were the victims.
Once there, we found the demonstration included members of the Black trans community joined by the broader LGBTQ+ community and their supporters. As elders, it was a joy to see the overwhelmingly young and multi-racial crowd standing together in defense of Black trans lives.
Meanwhile, as cars were lining up for the caravan, organizers were busily posting signs on the vehicles with colorful and catchy slogans demanding justice for the Black trans community.
The car caravan got started while the rally of several hundred continued. Altogether, more than 450 people participated in the caravan, with horns blaring while chanting at the top of their lungs, "Black Trans Lives Matter!"
"We're in a time of change," David J, one of several African-American organizers, told us. "If we're struggling for humanity, then we must fight to include everyone, including members of the Black trans community."
David J said he decided to get involved because he was "very upset" by the recent murders of George Floyd by Milwaukee police as well as the brutal murders and beatings of members of the Black trans community. He was troubled that Black trans lives were being ignored.
When asked whether he thinks this is a movement, he replied, "Most definitely."
Demonstrations specifically about the atrocities perpetuated against members of the trans community have taken place nationally and internationally that were mostly ignored by the media. The actions in Oakland as well as several other cities were specifically aimed at highlighting the plight of Black trans community members who've faced discrimination both for being trans and Black.
"Seeing the large turnout at the event instilled hope in a future when Black trans lives will indeed matter," David J concluded.