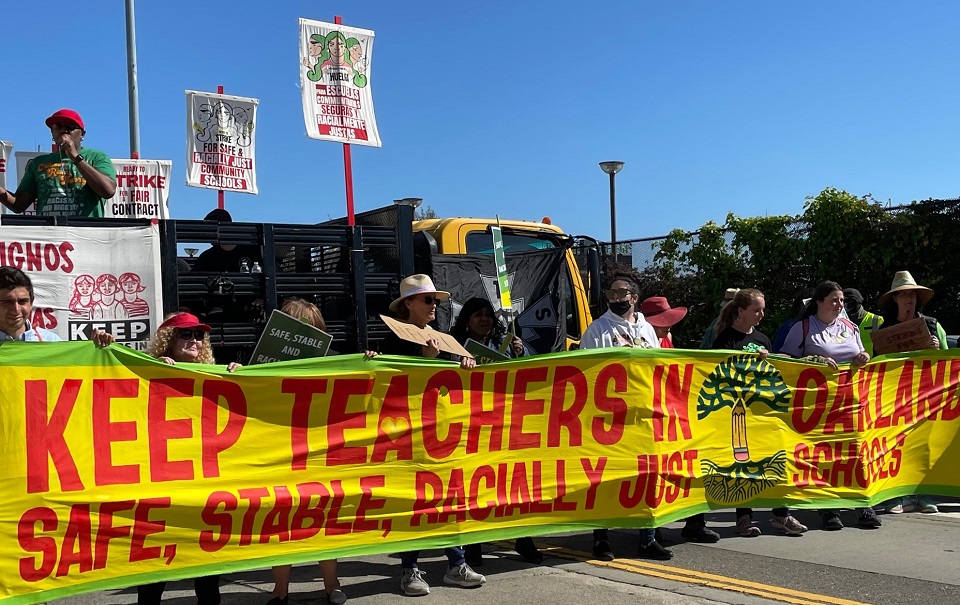 OAKLAND, Calif. – As their strike reached the one-week mark on the afternoon of May 10, hundreds of Oakland teachers, counselors, social workers, substitutes and other educators gathered with parents, students and community members outside the hall where a meeting of the Oakland Unified School Board had been scheduled to take place.
Although the School Board had cancelled its meeting just hours earlier, hundreds of teachers and supporters who had started the day picketing at 80 school sites came together outside La Escuelita Elementary School to send the Board a powerful message: The struggle for safe, stable and racially just community schools is continuing!
After a festival of music by area performing groups and Oakland school music teachers, with many rally participants joining in, Oakland Education Association bargaining committee member and teacher-librarian Samia Khattab greeted the gathering with the news that the educators are "stronger than ever right now. We have 98% of our members on the picket lines!"
"We're fighting for the schools that our kids and our educators and our community deserve," Khattab said. "It's a righteous fight, a good fight, and I feel so proud to be in this fight with you all."
OEA launched its Unfair Labor Practices strike on May 4, after working since October with an expired contract. The union says its 50-member bargaining team, representing all the professional disciplines among the educators, has put forward comprehensive proposals on class size, community decision-making, compensation and greater support for high-needs students, but the School District has canceled bargaining sessions, failed to offer proposals or counterproposals or to discuss the union's proposals in a meaningful way.
Compensation is an important issue, as Oakland educators are the lowest-paid in the surrounding Alameda County, and among the lowest-paid in California. The striking teachers have emphasized the detrimental effect that has on students' education, as many teachers leave to work in neighboring school districts, and crucial positions remain unfilled or must be covered by educators trained in other disciplines.
But OEA emphasizes that salaries are not the only significant issue. The union has put forward Common Good proposals based on its member bargaining survey, and discussions with large numbers of OUSD parents and community members. Among them: shared decision-making involving parents, educators and students; keeping schools safe from gun violence, infestations, leaks, asbestos and lead; investing in Black thriving community schools; and using District-owned, now-vacant buildings to house some 1,500 unhoused OUSD students.
OUSD's six School Board members are divided over the union's proposals, with three – Directors Valarie Bachelor, Jennifer Brouhard and VanCedric Williams – expressing regret that the Board meeting had been canceled and urging Board President Mike Hutchinson to schedule a meeting so the Board can give the school district's bargaining team clear authority to negotiate OEA's Common Good demands.
At the rally, early childhood special education teacher and OEA bargaining team member Noelle Winter told the crowd she had just come from the bargaining room, where many team members were still working to win a fair contract with safe, racially just and stable schools, "so we can get back to our students, because that is where we really need to be."
The Rev. Jeremy McCants, a faith-rooted organizer with the East Bay Alliance for a Sustainable Economy and Faith Alliance for a Moral Economy (FAME) called on Board President Hutchinson and Directors Sam Davis and Clifford Thompson, "to stand on the morality not only of your faith but on the morality of your humanity … How are you in a position to serve, if you're not serving the most vulnerable? Why are you in a position to serve, if you are not serving the least, the lost and the left-out?"
Parent Michael Alexander, whose two children began receiving special education in OUSD schools at age three, told the educators, "If there's one thing my kids have learned – and I believe it's the most important lesson – is that fairness matters. Stand up against injustice no matter where it is."
Alexander drew loud cheers and applause as he declared, "We are with you, and we will be with you no matter how long it takes!"
Educators and supporters greeted filmmaker and organizer Boots Riley with applause and cheers as he told them, "You're not just teaching in the classroom, you're teaching millions of people who are looking at you for guidance. You're setting an amazing example with this set of demands that says not only do we want these material resources right here, now, but we want a say over them in the future and we want to provide for the kids who come into our classrooms. That's a radical demand, and these are radical times. Thank you for leading the way!"
OEA President Ismael Armendariz had spoken early in the program, sharing the sad news that a member of the Bargaining Team, substitute teacher Laura Rice-Hall, had passed away. "She was at the table, day after day, month after month," he said. "We carry Laura Rice-Hall with us until we win, and forever after that."
As the rally came to a close, Armendariz came to the mike again to tell the crowd, "We will continue to pressure the Board. Why do you think they canceled this meeting? Because we are winning at the table! We are winning in the streets! They can't hide from us!"
And the crowd responded with a final chant, "When we fight, we win!"
We hope you appreciated this article. At 

People's World

, we believe news and information should be free and accessible to all, but we need your help. Our journalism is free of corporate influence and paywalls because we are totally reader-supported. Only you, our readers and supporters, make this possible. If you enjoy reading 

People's World

 and the stories we bring you, please 

support our work by donating or becoming a monthly sustainer today

. Thank you!