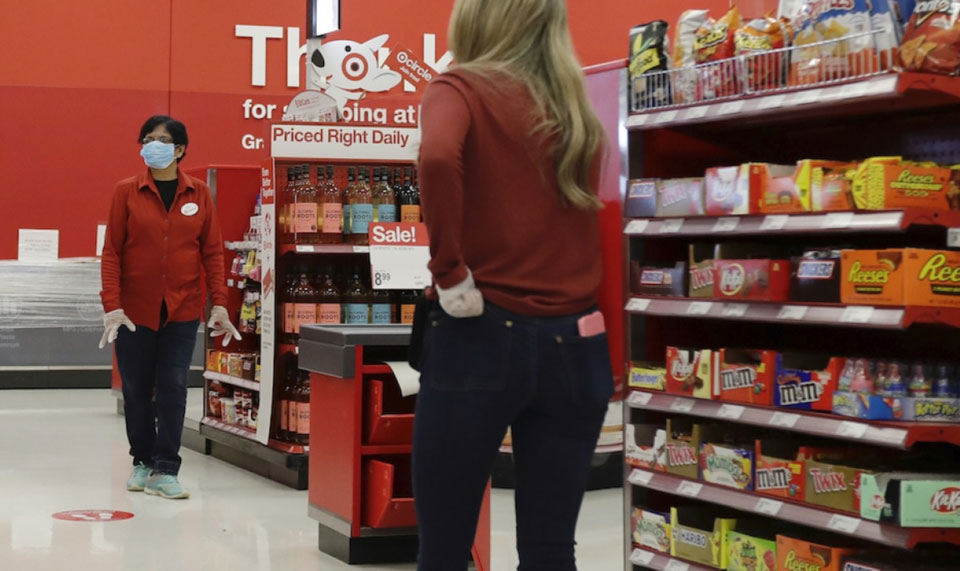 This article won the 2022 Saul Miller Award for Political Action, from the Labor Media Awards by the International Labor Communications Association.
OAKLAND, Calif. – Cities around the Bay Area have joined, or are on the road to joining, the growing list of West Coast cities requiring large grocery outlets to provide their workers hazard pay while the COVID-19 pandemic continues.
The San Francisco Board of Supervisors is calling on large grocers to pay their frontline workers $5 more per hour, while San Jose's City Council has just voted to require an additional $3 per hour. Among cities considering hazard pay measures: Berkeley, San Leandro, Concord, Antioch, San Mateo, and the city and county of Santa Clara.
Seattle, Long Beach and Montebello have also passed hazard pay ordinances, and Los Angeles is considering one.
Last week the Oakland City Council joined that list, voting unanimously on Feb. 2 to require large grocers to provide an additional $5 per hour in hazard pay. The emergency ordinance, effective immediately, requires the city's large grocery stores – those with at least 15,000 square feet of retail space and employing 500 or more workers nationwide – to provide the hazard pay to full-time and part-time employees at their stores in the city. An estimated 2,000 grocery workers are covered. The hazard pay requirement is slated to continue until coronavirus spread in the surrounding Alameda County is deemed "minimal" by the State of California.
Council President Nikki Fortunato Bas and Councilmember Noel Gallo introduced the measure, which was supported by United Food and Commercial Workers Local 5, which represents some 1,200 grocery workers in Oakland.
Bas calls just compensation "long overdue" for essential grocery workers who have been on the frontlines throughout the pandemic providing the community with food and necessities. "While the largest grocery retail companies have earned record-high profits during this devastating pandemic," she said, "these profits have not transferred to workers and their families."
Bas said Safeway/Albertsons, a major grocery chain in the Bay Area, in 2020 increased its profits by nearly 150 percent over 2019. "We must join other cities like Seattle in taking bold steps like this – inviting and ensuring our largest corporations invest in everyday working people, to help ensure a just economic recovery from COVID. Oakland is a leader in protecting our most vulnerable."
Besides Safeway/Albertsons, employers covered include Cardenas Markets (formerly Mi Pueblo), Foods Co. (a Kroger subsidiary), Grocery Outlet, Smart & Final, Sprouts, Target, and Whole Foods (owned by Amazon).  Lucky's/Save Mart/Food Maxx has continued to provide hazard pay throughout the pandemic, and Trader Joe's has just announced a temporary pay raise for hourly non-management workers throughout the country.
Speaking during the council meeting's public comment period, John Gomez, who said he is an essential grocery worker, called the proposed action "a measured ask to reward workers who have been taking risks," adding that council approval will ensure that the big companies "share the profits they made with their workers, grocery workers."
He was followed by UFCW Local 5 President John Nunes, who applauded the council for acknowledging the health risks neighborhood grocery workers and their families face as they continue providing groceries and services to their local communities. While the large grocers initially provided workers with hazard pay, he said, most stopped the extra pay in June. "Nonetheless, the pandemic did not miraculously disappear … At the same time, these big grocery companies have seen sales and profits explode, without sharing these increased profits with their employees that have made huge sacrifices to the health and safety of themselves and their families."
While the workers and their union are clearly pleased to see the new ordinance pass unanimously, the large grocers have made their unhappiness clear. The day after Oakland's action, their trade group, the California Grocers Association, sued the city, contending the measure is unconstitutional under both U.S. and California law and that it will harm both customers and workers. The Association is seeking a preliminary injunction; no court date has yet been set.
The Association has also sued Montebello and Long Beach.