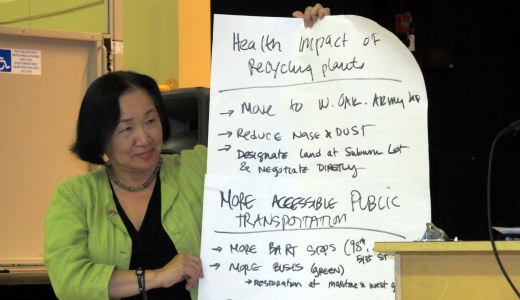 OAKLAND, Calif. – Over 240 residents of West Oakland gathered Feb. 5 to share their concerns about life in the economically hard-hit area at the first in a series of town hall meetings Mayor Jean Quan is holding around the city. The recently-inaugurated mayor has pledged to hold five such meetings in her first 100 days and to hold at least one town hall in each City Council district every year.
The gathering, representative of the area's diverse population, was the latest in a series of actions in different neighborhoods, which Quan has initiated as part of her goal to be a "people's mayor."
Quan told the crowd "transparency, making government accessible" is a top priority. Among others, she cited public safety, working with the schools, "making Oakland green," and "making this part of Oakland as green as any other part" of the city.
"We are also looking at jobs," she said. "I have to tell you, about four blocks from here I met a young man, on a really cold winter afternoon, and he said, 'Ma'am, if I had a job, I wouldn't be selling drugs.' And I believe him. So jobs are a key thing."
Eight breakout sessions on topics ranging from jobs and economic development to housing and homelessness, public safety, youth and education were at the heart of the proceedings. Quan said her staff would write up the groups' input, which will be shared with participants and will feed into the city's planning process.
High on the list at the session on housing were the many area homes abandoned after foreclosures, with group members hoping the homes could be refurbished through "sweat equity" for use by low-income families. Housing for homeless children and homeless veterans were other priorities, with one participant observing, "Real poverty – people don't know what that is!"
The jobs and economic development group stressed the need for local hiring provisions and higher wages, more funds for job training, and bringing a grocery store to the area. Public safety group members hoped to reduce the armed robberies near a rapid transit station through walking groups, better lighting, real-time Internet cameras and more police. Preventing illegal dumping and cleaning up after it were priorities for those discussing blight and beautification. High among environmental concerns was air pollution, including from trucks serving the nearby Port of Oakland.
Quan participated in every aspect of the town hall – circulating among the breakout groups, helping to hold up sheets of notes during the groups' report-backs, taking photos, and at one point picking up and briefly holding a toddler whose mother was reporting from one of the groups. Meanwhile, city staffers made it a point to talk with residents about their concerns.
Joining Quan in addressing the town hall were the area's City Councilmember, Nancy Nadel, and county supervisor, Keith Carson. Among many initiatives in her district, Nadel called on local artists to participate in a contest "to see what else we can have under these freeways" besides the old trucks and other debris currently occupying many of the spaces.
During Martin Luther King weekend in mid-January, Quan led some 100 volunteers, including volunteer city staffers, in a block-by-block cleanup of a neighborhood in another economically hard-hit area, this time in far East Oakland. The action, which was joined by U.S. Representative Barbara Lee, who represents the area, was part of Quan's call for volunteers – as she said during her inauguration – to help Oakland become truly "a city of dreams."
Image: Mayor Quan holds notes as breakout groups report back. Marilyn Bechtel/PW