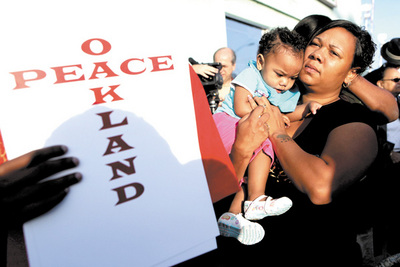 OAKLAND, Calif. ― The fatal shooting of four Oakland policemen by a lone gunman March 21 has prompted a weeklong outpouring of condolences and solidarity with the families of the slain men and with the police department.
People from all parts of the community are calling for the city, which has been wracked by homicides and by the Jan. 1 police killing of Oscar Grant, an unarmed young Black man, to join together to end violence from all quarters.
The multiple slaying has also brought calls to examine the functioning of the prison and parole system.
Some 21,000 people jammed the city's Oracle Arena and the nearby Coliseum March 27 for funeral services for police officers Mark Dunakin, 40, John Hege, 41, Ervin Roman, 43, and Daniel Sakai, 35.
Among the mourners were Sens. Dianne Feinstein and Barbara Boxer, Governor Arnold Schwarzenegger, Oakland Mayor Ronald Dellums and dozens of other state and local officials and community leaders. A message was read from President Obama.
During the days following the shootings, streams of Oaklanders poured into City Hall to sign a condolence book for the slain men. A candlelight "Hope and Healing" vigil March 24 at the East Oakland site of the slaying was joined by over 1,000 residents from all parts of the city.
Dunakin and Hege were killed by 26-year-old Oakland resident Lovelle Mixon after what started out as a routine traffic stop. An hour later, after Mixon was found to be hiding in a nearby apartment, he fatally shot SWAT team members Romans and Sakai, and was then fatally shot by another officer.
Mixon was on parole for a 2002 assault with a deadly weapon. He was suspected in a rape and was being sought on a warrant for violating his parole last month. His family said he had been despondent over his inability to get a job, and had talked of moving out of the area to search for work.
Mayor Dellums told the crowd at the vigil, "We gather this evening in the spirit of community … It is my hope that each of us in our own way will leave this gathering and say to ourselves that we will renew our commitment to burden ourselves with each other's humanity, thereby expanding our respect for human life, and finally opening a wider door to a vision of a community without violence, without killing, without war."
One step toward realizing that vision would be to examine the functioning of the prison and parole systems, Oakland City Councilwoman Jean Quan said in a March 24 interview with radio station KPFA.
Emphasizing that there was no excuse for the slayings, she said, "We have to stop spending 10 percent of our state budget just to lock people up and give them no job preparation."
Noting that Mixon dropped out of school in the ninth grade, and had spent 10 of his 26 years in prison, Quan added, "If we're going to spend so much money on prisons ― more money than it takes to send a kid to Stanford University ― we've got to help people turn their lives around while they're there, with education and a chance for a job."
Recalling the widespread community outrage and concern over the murder of Oscar Grant, the Oakland-based online organization Color of Change said in a statement, "These more recent killings are testament to how destructive the climate of distrust that exists between law enforcement and many people in our community truly is."
Color of Change, which highlights issues involving the African American community and other communities of color, condemned a handful of extreme reactions that sought to justify the officers' slayings as retribution for Grant's death, or to say Mixon's killing spree justifies brutal treatment Oakland residents of color have received from police.
"We join the people of Oakland in seeking a common understanding from which we can achieve meaningful change," the organization said.
mbechtel@pww.org